Introduction
Its incredibly hard it is to find suppliers for amateur and small-volume watch designers, tinkerers and those considering making their own watch. I'm willing to provide advice, design reviews, watch reviews and similar, for either an hourly rate or in exchange for review watches. I'm in it for the watches, as you might have guessed!
Please feel free to email me with additions, comments or to ask about consulting.
Small run of customized watches
I've had a few emails asking for a source of 100-ish customized inexpensive watches.
Moment Watches, which I found via "Dear Coffee, I love you". DCILY had a run made and they look decent. (Have not seen one in person).
Butler Watche Co, found via this WUS post. Custom designs and engraving.
121 Time private label is quite good. ETA 2824 movement. Minimum order 50, with fewer for more expensive watches. This is their 'private label' site, which is targeted at low-run customized watches, mostly for companies, but it might be a good way to do an initial proof-of-concept, Kickstarter/fundraiser production. See Watch examples.pdf for details and samples, some quite elaborate. In addition to the basic movements, they also have the ETA 7753 and 2892 - good stuff.
One-off and low-volume custom designs
121 Time has a few different cases plus quartz of mechanical (ETA 2824 mostly)  They contacted me on 1/28/16 with an updated URL and the promise of a review sample... yay! From the PDF they sent me, they have other mechanical movements based around the ETA 2892 and maybe the Dubois-Dupraz modules. I've now gotten mine (early 2016) and, review pending, its a very nice watch and a very fair price. Recommended. 
Undone Watches is similar to 121 Time, they have a case (appx 42mm by 52mm by 16mm) you can build a custom watch around. I'm not a cyclops fan, but reviews are strongly positive and they do have a wide variety of dials, colors and finishes. Lots of pics on their Instagram feed.
Just found this April 2012, Fewsome is a really slick way to produce a single watch, with optional diver case and/or custom dial. Prices from $160 for a basic automatic, around $200 for a diver. Looks good. Basic Miyota 8205 movement.
One-stop-shops
These will work with you to do the entire thing. Design, sourcing, movements, etc. The most expensive option, of course.
Switzerland & Germany
Hong Kong and China
Montrichard seems to be a full solution, complete with market research. Sent to me by a reader, I have no direct experience with them yet.
Fullswing makes Helson and Armida - very very good stuff, and well priced. See my Helson Blackbeard and its review.
Furitime does OEM/ODM, used to make OWC Watch Company. I've heard from a friend that I trust that Furitime's pictures include cases they didn't make: Specifically Halios and Korsbek. Those are not Furitime, and so at this I do not recommend Furitime.
MPI Limited Great website, looks very promising as a partner company.
Unknowns and read-abouts
Designers
Casemakers
Casemaking is often quite difficult. Machine tooling and line production setup both cost big bucks, so if you're starting out expect to have to choose a case from a catalog or spend a heckuva lot of time getting one made to order.
Quartz and analog-digital
I have to be vague, but I can vouch for these two personally.
Everything else/outsourcing
Modification / customization companies
For if you want modifications to a watch you already have, one-off. New hands, lume, bezel, Cerakote, etc.
Hands
Dials & redials
Case refinishing and replating
If you have a a plated or coated case, I've read excellent reviews of the work at replateit.com from Christian at the watch guy repair blog.
For DIY finishing, K&H links to Merard, looks pretty good.
Lume
There are two choices here, tritium tubes or Superluminova. Tritium is expensive and a major hassle, as a warning, so you almost certainly want superluminova.
Movements
This area is changing rapidly, mostly due to ETA's decision to stop selling movements and ebauches. Start with this killer page from Prometheus Watches for a complete rundown of the alternatives. Just magnificent information, and huge props to Prometheus for honesty.
Materials suppliers
(Many of these links are cribbed from Montres) Parts, movements, tools, gaskets, etc, etc.
NAWCC also has a huge list of suppliers
Design Software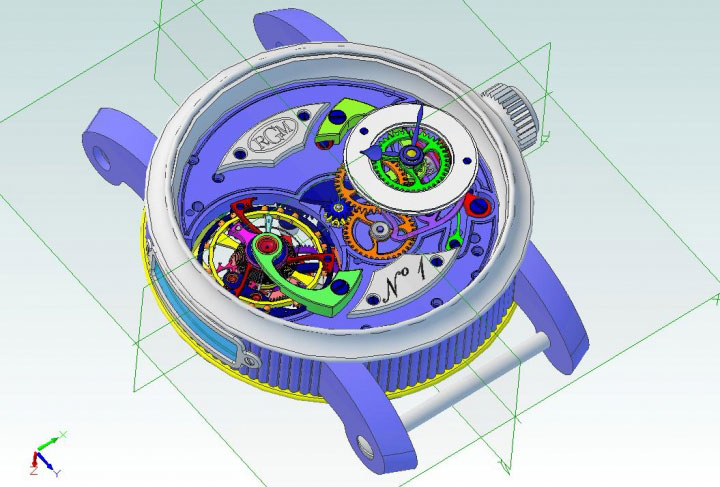 (Image credit: RGM via Alibre)
Crystals
I found http://www.crystaltimes.net via a WUS for-sale post, they carry sapphire for lots of Seiko SKX and similar. Also available with AR coatings and prices seem reasonable.
From 5/2010 Watch Journal, R.Montavon is one of the high-end Swiss sapphire makers.
According to a now-404 WatchTime article, Swiss company Stettler Sapphire AG produces the best dive watch crystals, for brands like IWC, Breitling and Panerai.
GS Supplies makes custom crystals, in sapphire, mineral and acrylic.
Stettler Sapphire is the highest of the high-end suppliers, complex shapes and machining.
Anti-reflective coatings
Econorm is probably the best out there. Their site vanished, as of 10/2014, leaving link here in case I find a new one.
2geeks will do single crystals for 50 Euros if you want to add AR to an existing watch.
Bracelets
Presentation cases & shipping boxes
natpak Found via Twitter, natpak looks decent for boxes and presentation material.
Luxury-pak For European market
Chippenhook does watch and jewelry packaging - looks good also.
HKTDC
For less-expensive watchmakers-to-be, the one conference to hit is HKTDC (ttp://hkwatchfair.hktdc.com/), every September in Hong Kong. Umpteen zillion square meters of exhibitors for parts, components, movements, complete watches, ODM/OEM, you name it and more. It took me 4 days just to /see/ all the booths!
HKDTC also has a good online directory for online shopping and previewing.
Commentary
The HourTime podcast has a good episode with Jeff Kuo of Xetum watches, where he discusses design, sourcing and more. He's a little vague on specific companies, but overall an excellent tutorial and well worth a listen.
Attachments:

nickslater1.jpg
(image/jpeg)

tourbillon2.jpg
(image/jpeg)

Watch examples.pdf
(application/pdf)