Definition
Tritium is an isotope of hydrogen with a 12.3 year half-life and decay via electron emission. When mixed with phosphorescent compounds and encased, it makes for semi-permanent watch lume. (Luminox claims 25 years, which is more than most watches' useful lifetime.)
Tritium is rare and expensive, requiring permits and handling expertise, so is confined to just a few brands:
Ball Watches makes mechanicals with tritium.
Luminox is the top vendor for quartz with tritium
(Links below)
See superluminova for the compound used in virtually all luminous watches.
Here's one of Luminoxes:
Tubes are about 1mm across and varying in length.
Here's a PR picture of a stack of mixed color tubes: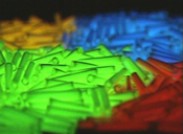 (Image credit: Bonding Ltd)
This is called GTLS, or gaseous tritium light source. Primary vendor is mb microtec from Switzerland.
Links
Attachments:

183_Tree-_images-gtls_tube.jpg
(image/jpeg)