Say hello to my IWC 3536 Aquatimer: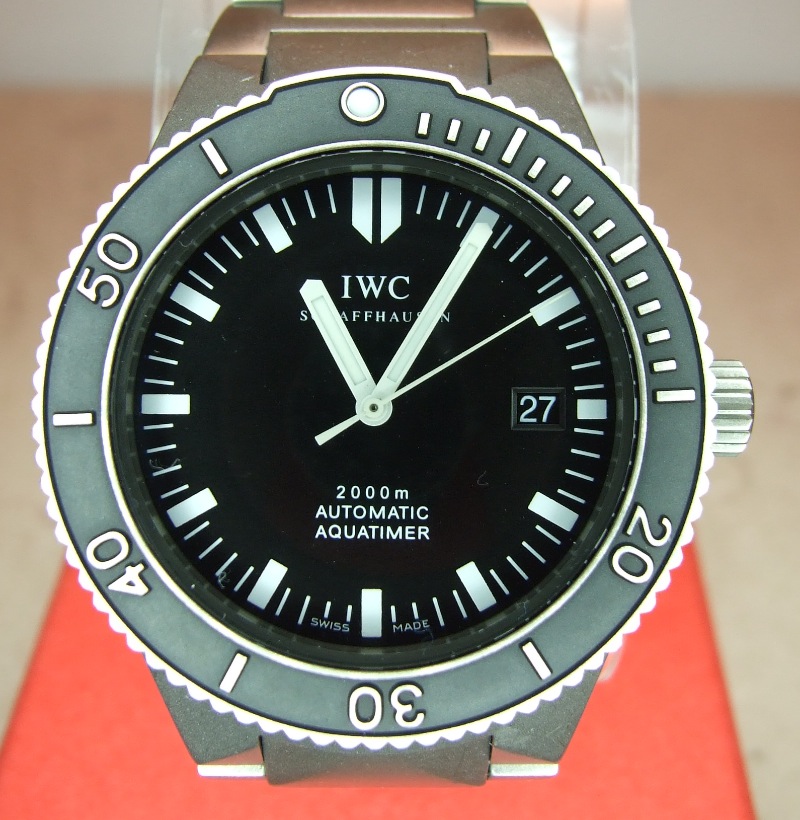 More details on the watch page; it's an older model made between roughly 1998 and 2004. Plus or minus a year on either side. I swapped it for my 2010-vintage IWC 3568 Aquatimer.
Differences: titanium versus steel, non-lumed metal bezel, non-AR coated sapphire crystal and nary a polished surface anywhere to be seen. IWC, before they got bought by the luxury group Richemont.
I've had it about a month, so time for a first-impression review.
Notes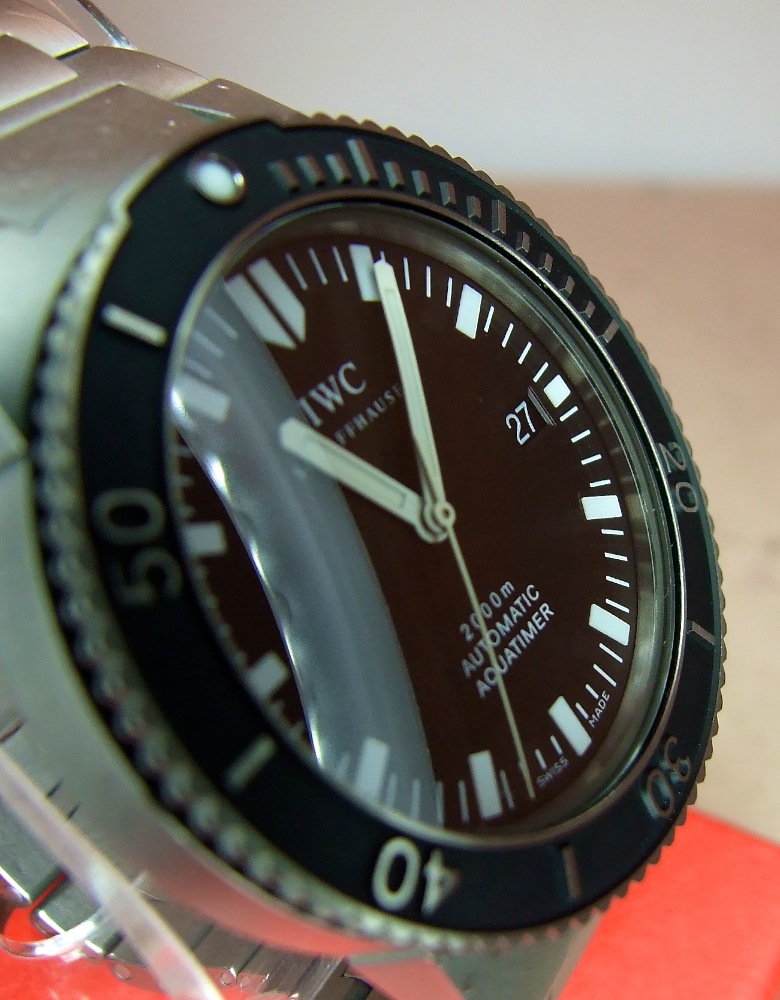 This particular watch is about ten years old.
The bezel is a recent replacement, indicating to me that a) the hardened titanium case holds up very well indeed; it's not much more worn than the 3-year-old 3568 in steel and b) the bezel is less durable.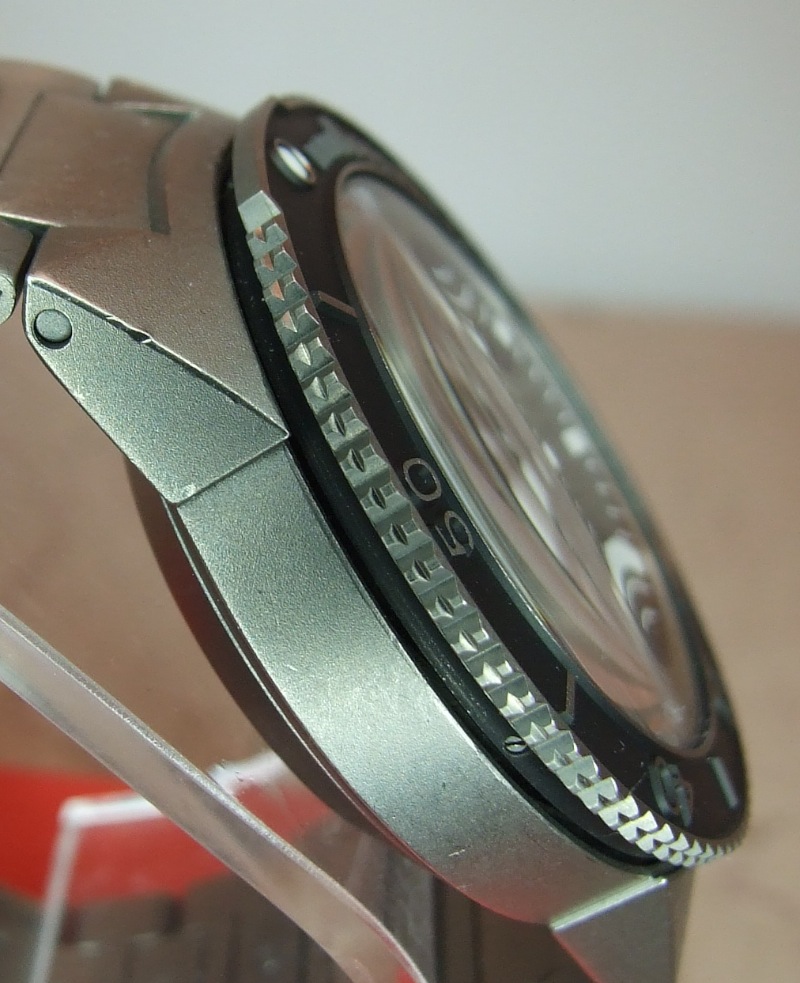 Big Picture

I have my complaints and annoyances, but despite the initial watch crush, I think this is a long-term keeper. It solves the criteria from my quest, is quite versatile in style, and its an understated joy to wear. Unlike heavier watches, the weight is low enough that you quickly forget its on, the white-on-black legibility is excellent and... I like it!
The style in some ways reminds me of the current JLC Navy Seals Automatic, which is high praise.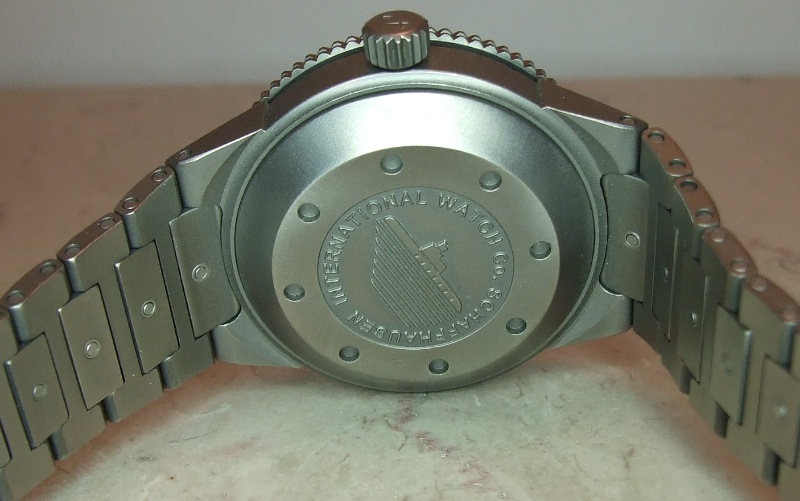 Pros
Super light and thus comfortable - 120g. Much, much more comfortable!
2mm smaller in diameter (42mm) than the 3568, about the same thickness. A good size.
The Velcro band is pretty good. More comfortable than the 3568 version, no bling on the lugs, long enough to go over even a thick wetsuit.
The bracelet is very, very comfortable. A nice, slim clasp, not too thick, doesn't pull hair or catch on cuffs.
Just utterly low-key and understated. Nothing extra, nothing polished, logo and text very subtle, just a totally functional design. What the Submariner could have been if they hadn't discovered that Veblen goods are more profitable.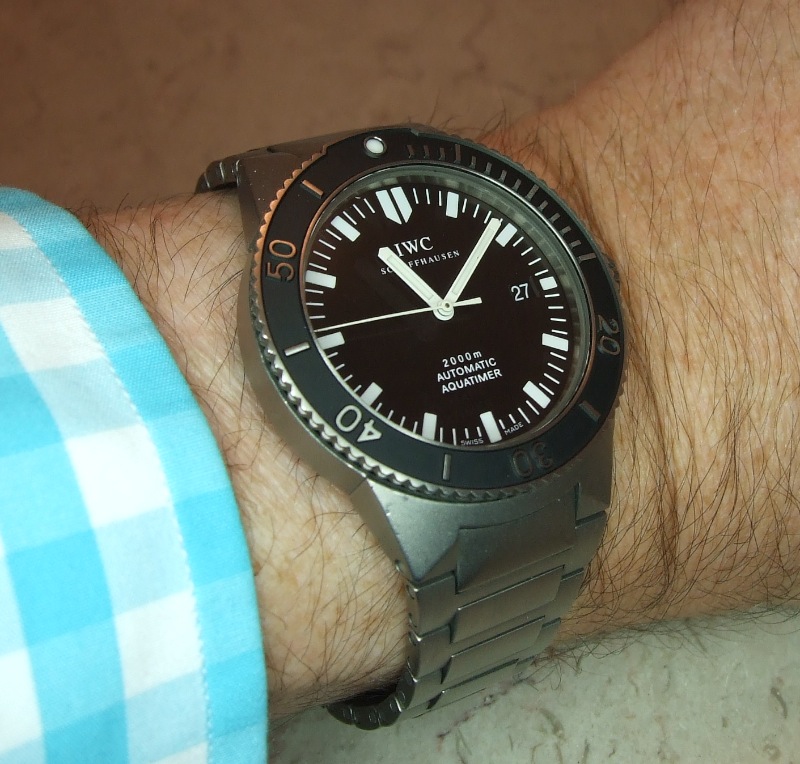 Cons
Although the bracelet is wonderfully made and solid, it lacks both quick release ends and micro adjustments; it just has a single wider link to add or remove. Took me three tries to get the size right, and it's still a smidge too large when I'm cold and a bit snug when I'm warm. C'mon, IWC!
The non-coated crystal reflects. A lot. If they come through for Dan, I might send it off to 2geeks for coating.
Lume is quite dim. Not surprising, since lume ages, but probably worth sending off to Reluming. It does, I am surprised to say, remain visible all night, but compared to modern multilayer Superluminova there's no contest. I need to measure the luminosity here soon when I have some time.
Timekeeping - needs a service - consistently -10s/day.
Movement - the IWC 37524, like the IWC 30110, is an extensive modification of the tractor ETA 2892. One of my all-time favorite movements.
Non-standard lugs again. Sigh.
I took most of the bracelet links apart when I got the watch to clean and inspect, about a third of the links were unremovable due to junk in the push release. An ultrasonic cleaner might solve it, combined with a mild solvent.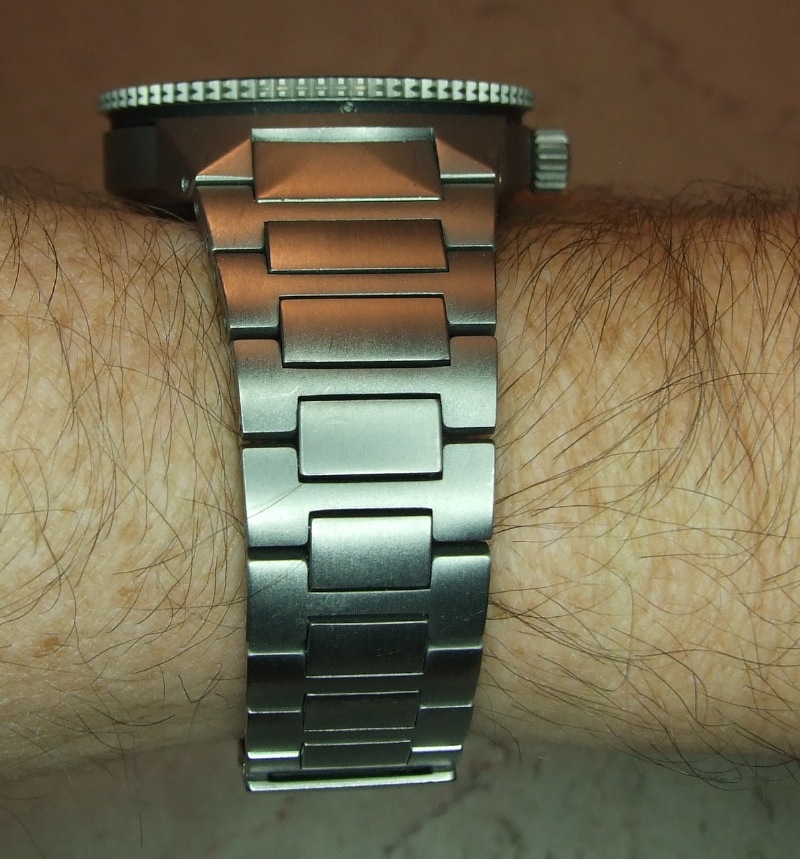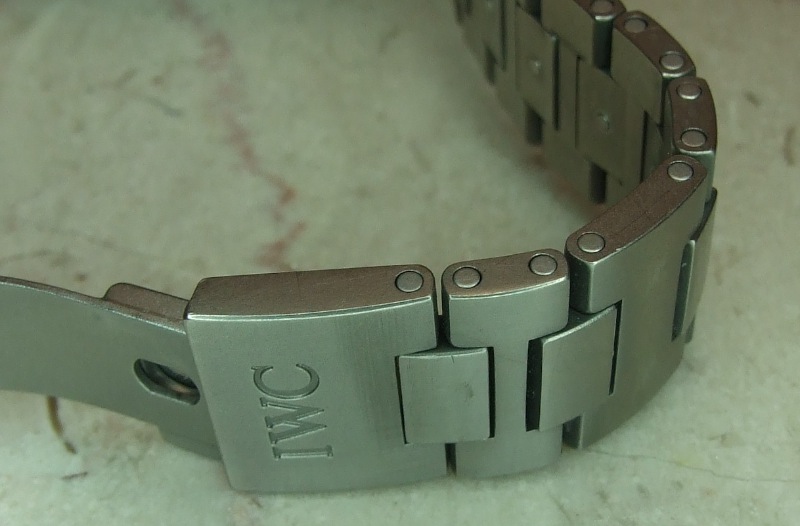 That Bezel
This is worth its own section. The bezel on the 3536 is a very rare design, in that instead of simply being a unidirectional ratchet, you have to press down (towards your wrist) on two sides to unlock the ratchet. In theory, another safeguard against moving a dive timer; in practice an annoying and fault-prone complication.
The watch originally came with a tiny screwdriver for removing the bezel. The Z-axis movement leaves a gap where sand and such can get into the gap; oops.
The bezel, a 60-click ratchet, moves a half-minute after releasing it. Every time.
Setting it accurately is hard, as the lume dot is round, not a triangle, and the 1-minute marker was left off!
I prefer 60 minute markers on a bezel, but clearly others do not agree.
I suspect that the thin outer edge is susceptible to impact damage.
Stay Tuned
Full review in a few months, please feel free to leave comments or questions here.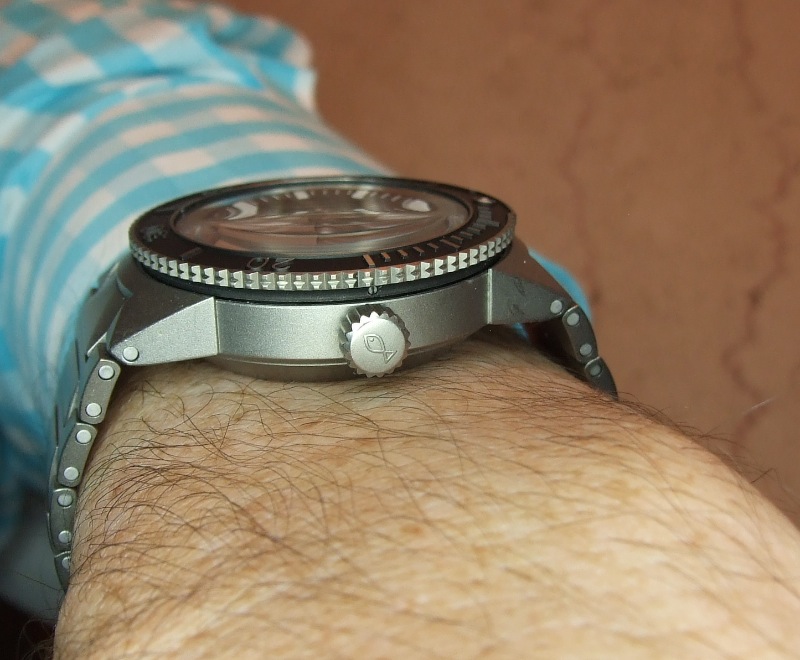 Attachments:

3536-1.jpg
(image/jpeg)

3536-3.jpg
(image/jpeg)

3536-4.jpg
(image/jpeg)

3536-6.jpg
(image/jpeg)

3536-8.jpg
(image/jpeg)

3536-12.jpg
(image/jpeg)

3536-13.jpg
(image/jpeg)

3536-14.jpg
(image/jpeg)

3536-9.jpg
(image/jpeg)

3536-10.jpg
(image/jpeg)