IWC 3536-01 'Aquatimer'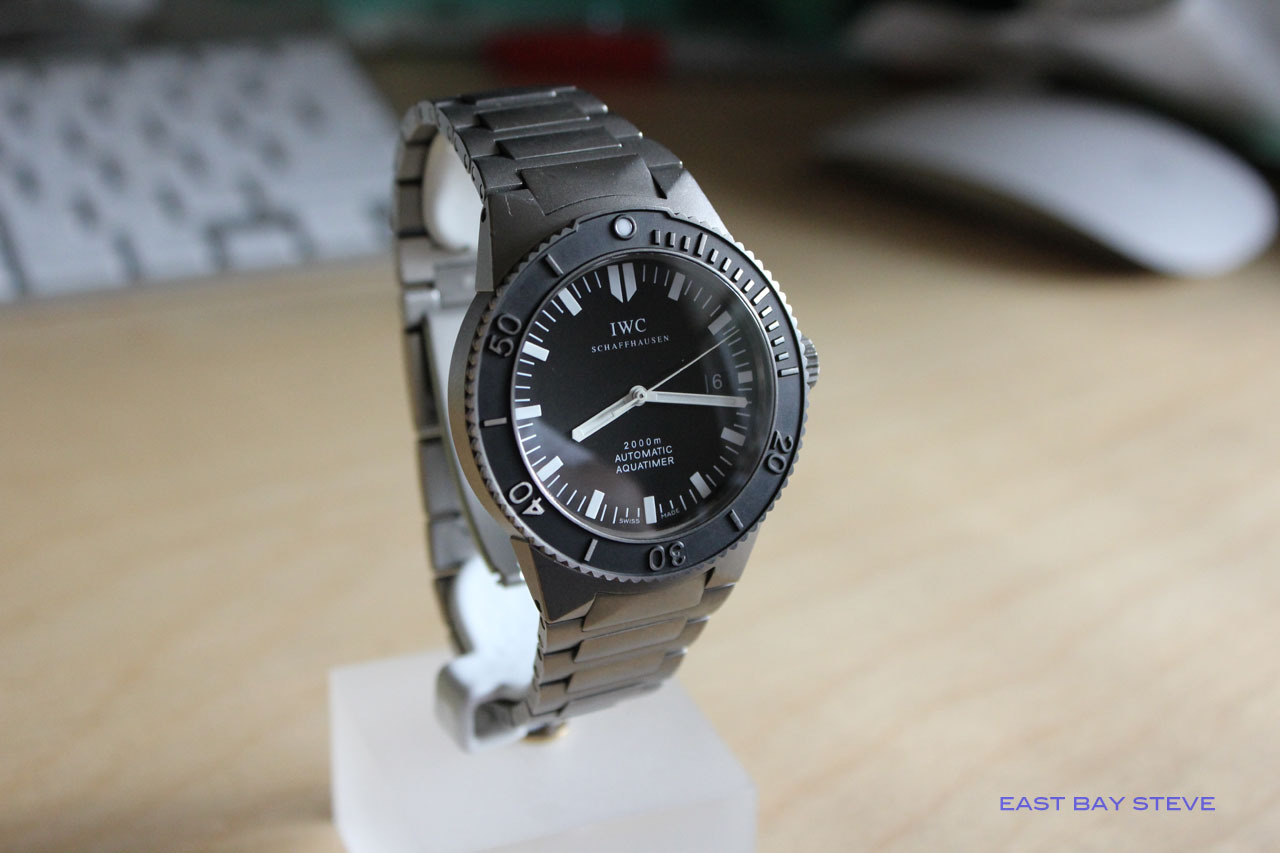 (Image credit: East Bay Steve)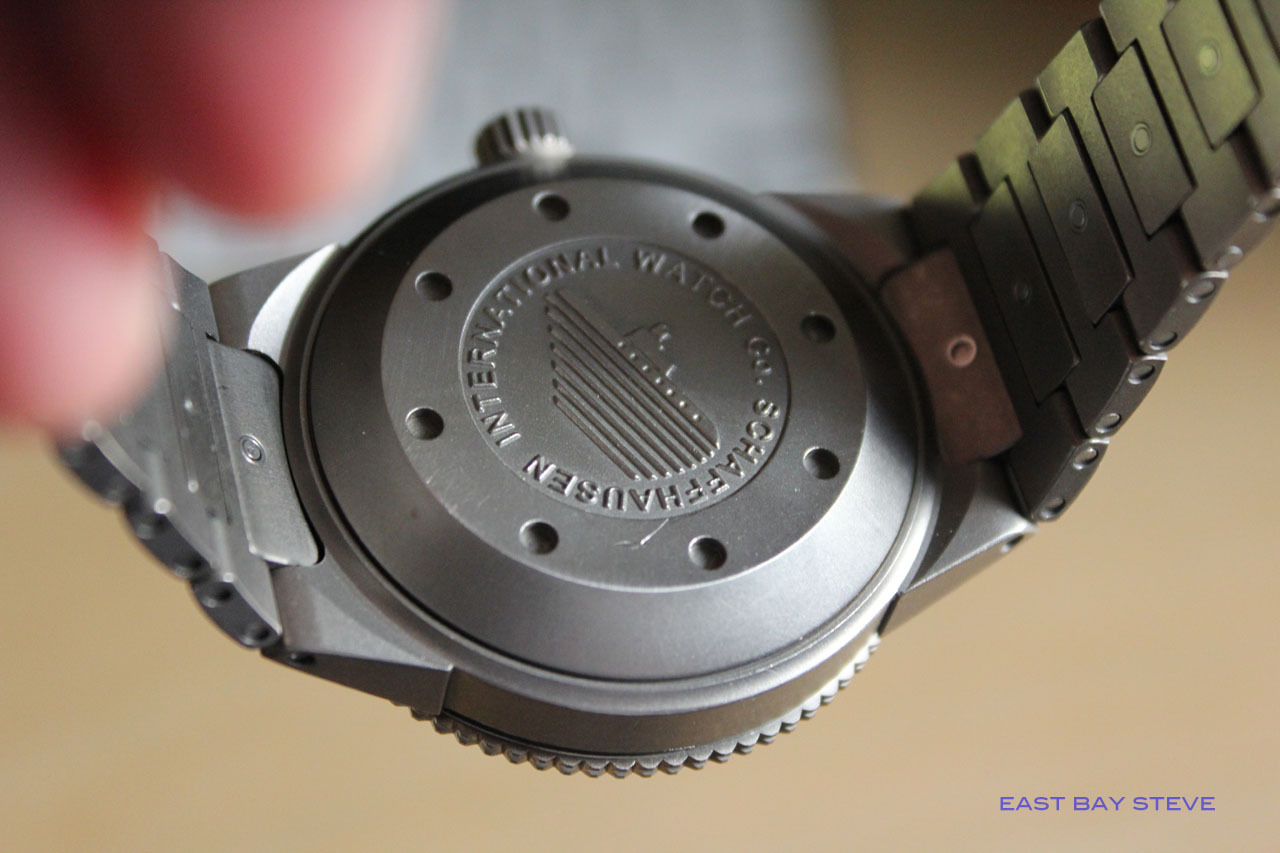 (Image credit: East Bay Steve)
About the watch
IWC's second-generation titanium dive watch, the last of the pre-Richemont designs. Much more subdued and functional, and with the titanium I hope it'll be better for daily wear than the steel version. Nice high-contrast design.
Surface-hardened titanium, obviously this one has seen some miles. As with all of my watches, that's ok as I buy 'em to wear.
The 3536 was introduced in 1998/99 and discontinued in 2003 or 2004.
(See also this thread on the history of the Aquatimer line.)
No helium escape valve, but according to IWC doesn't need it for saturation diving; as with the Marinemaster it's sealed well enough without one.
Quick specs
Movement is the IWC 37524.
The first versions of the dial used mixed tritium and Superluminova; they gradually switched over to all-Superluminova. The early dials show 'T SWISS MADE T' to denote the tritium. The later dials simply have 'SWISS MADE.'
Bezel is push-down-to-unlock.
42mm by 14mm, a super-light 120g on the bracelet
Available with bracelet, velcro strap and rubber dive strap. Similar construction to the 3568 bracelet, but without the Cartier quick release ends.
Sapphire crystal, domed/flat, uncoated.
The titanium version is pretty rare, I see maybe one or two a year for sale.
Surface-hardened titanium, bead-blasted finish, surface hardness 2,400 Vickers
Other models
3 versions were made:

white dial steel, ref 3536-03
black dial steel, ref 3536-02
black dial titanium, ref 3536-01

The steel versions were flashier - reflective hands, polished bits on bracelet and case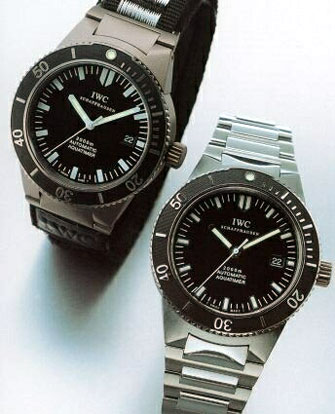 Titanium on the left, steel on the right:
(Image credit: IWC via Friedberg)
White dial: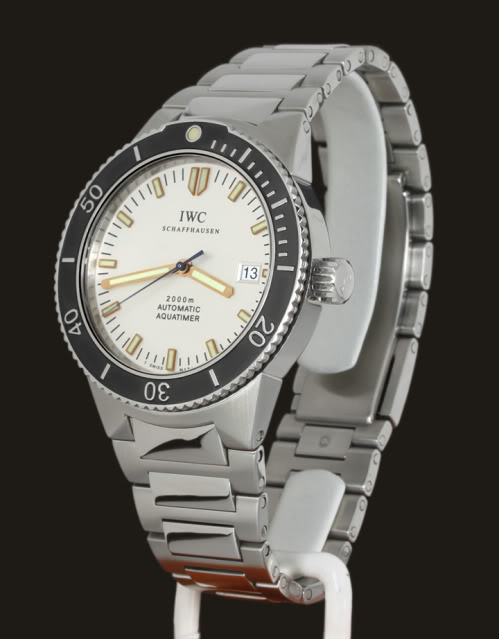 (Image credit: noiseboyuk on TZ-UK)
Straps
Part numbers for Velcro and adapters: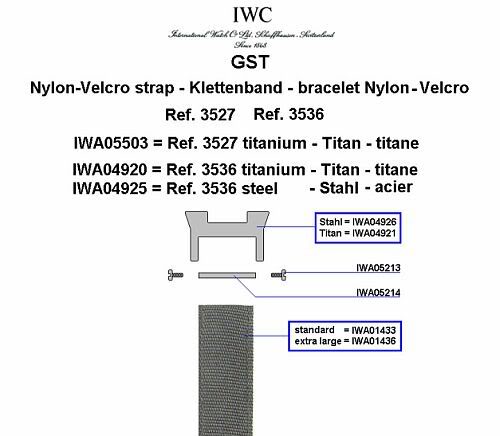 The composite strap from the IWC Jan Ulrich chronograph (ref. 3715-36) also fits, part number IWA16242: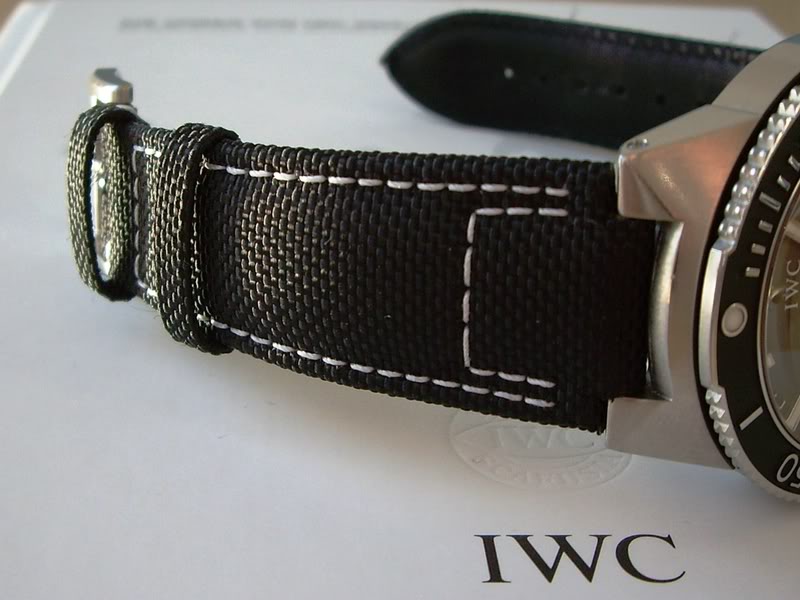 (Image credit: u2112 on TZUK)
Via drster on TZ, you can call Richemont in Texas and get any of these parts as they are still stocked. Phone number is 800-492-6755 1-800-492-6755, Ext.2. They have them in stock, cost is $250 as of 3/13/2012.
Bracelet part number is IWA 04531 (source WUS)
Rubber strap, part number IWA15761 or IWA15761XL: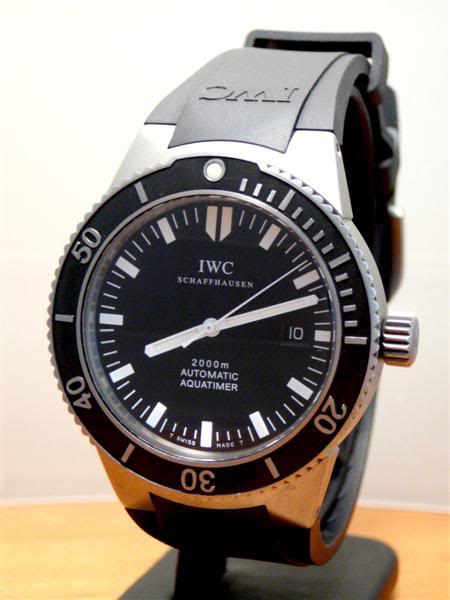 (Image credit: zambo on WUS)
Stone Creek Straps can make compatible straps, think I'll be contacting her: (via WUS):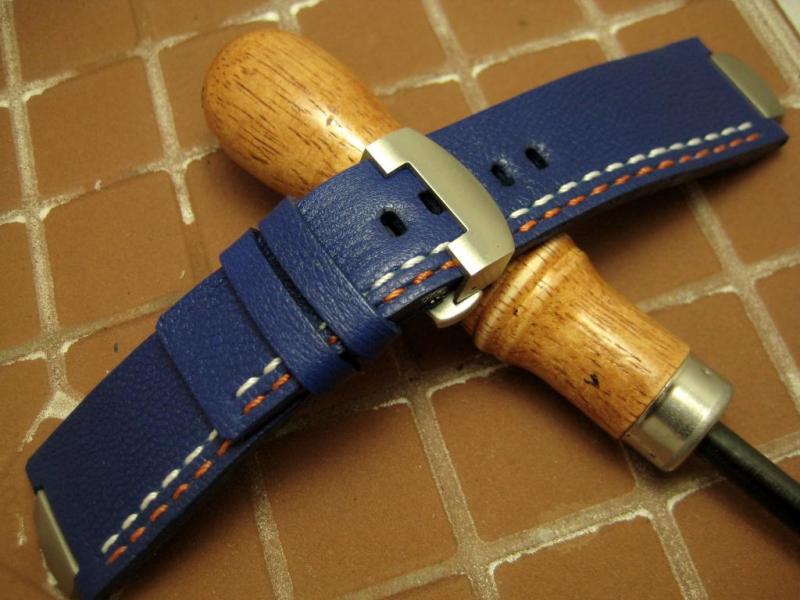 (Image credit: Stone Creek Straps)
Acquisition details
Timeline
Links
Quick notes and overall review
 Thought it was The Grail... I was wrong. Poor vis, expensive parts, see
the IWC 3536 postmortem
.
Attachments:

IMG_6280.jpg
(image/jpeg)

IMG_6281.jpg
(image/jpeg)

IMG_6305.jpg
(image/jpeg)

IMG_6311.jpg
(image/jpeg)

VelcroStrap.jpg
(image/jpeg)

GSTAquatimers.jpg
(image/jpeg)

I3cIWCGST3536.jpg
(image/jpeg)

comp_IMGP2796-Detail.jpg
(image/jpeg)

8186bafe66fa222925bcb38acaf3d253.JPG
(image/jpeg)

P1010641Medium.jpg
(image/jpeg)