IWC 3536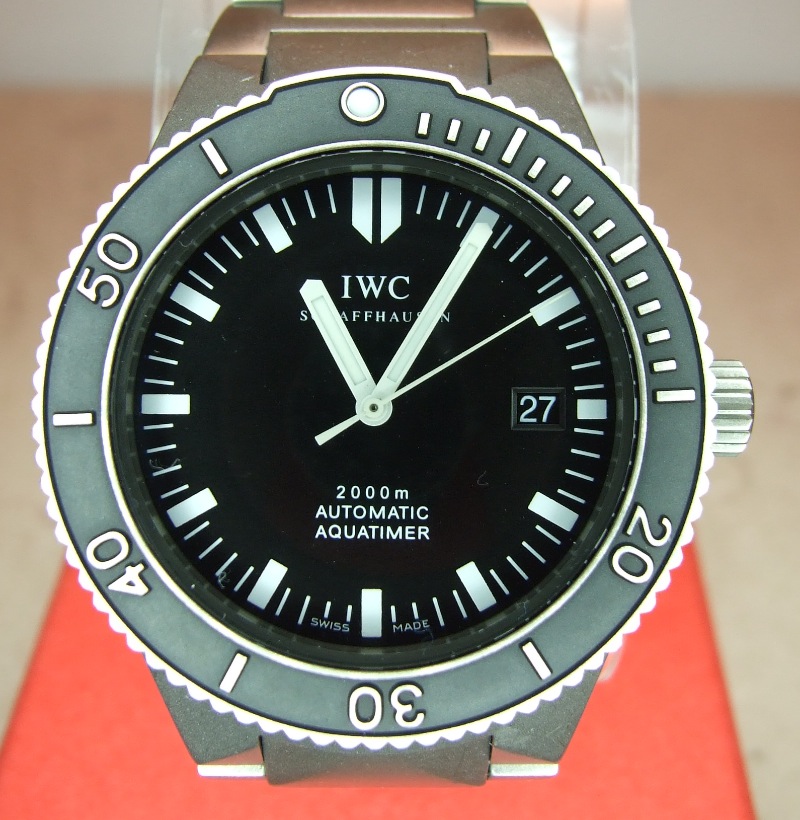 Yep, it's gone. Didn't stay long, either.
Pros
Nice and light
Very high-status watch; the 3536 is highly valued by watch geeks. Sometimes its nice to have instant respect.
Very smooth winding and setting.
Cons
Tons and tons of reflections - domed, non-coated crystal is a lose.
The bezel sucks hard. Sharp edge chews fingers and clothes, the push-to-turn is poorly implemented, and the gap underneath lets in sand and dirt. Just a bad design.
So-so lume.
No crown protection
Everything is too expensive - IWC 3536 strap and parts for example. Poor value.
Like the IWC Aquatimer 2000 ref 3568, the lovely bracelet construction lacks Micro adjustment or fine adjustments. So the size is never quite right.
Summary
I really wanted to adore this watch. The least blingy IWC diver ever made, a lovely legible dial, interesting bezel design and got bracelet plus velcro in the deal. But it was still too large, the bezel sucks rocks, the bracelet has sizing issues inherent in the design and the dial is hard to see behind all of those specular reflections.
The thing that really changed my mind was when I spent over four hundred bucks on IWC 3536 strap and parts and hated the results! Enough is enough. Sold it, bought the Damasko DA44 and haven't missed it at all.
Interestingly, the Damasko is devoid of the the luxury goods aspect but my arrived-later OWC MS-5517 mid 2012 scratches that itch nicely.
With the funds from the IWC, I've got the Damasko, a cheap-o skeleton, a dozen canvas straps and have money left for more. I'm happier.
Links