IWC Aquatimer 2000 ref. 3568 (3568-02)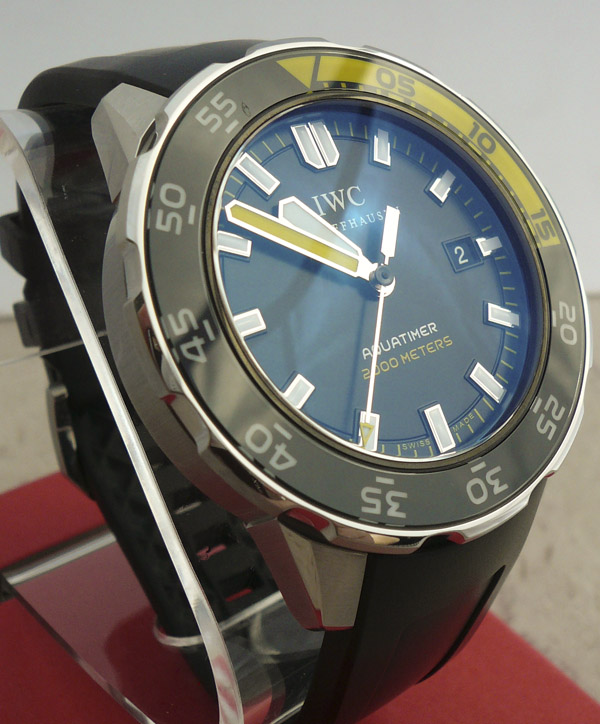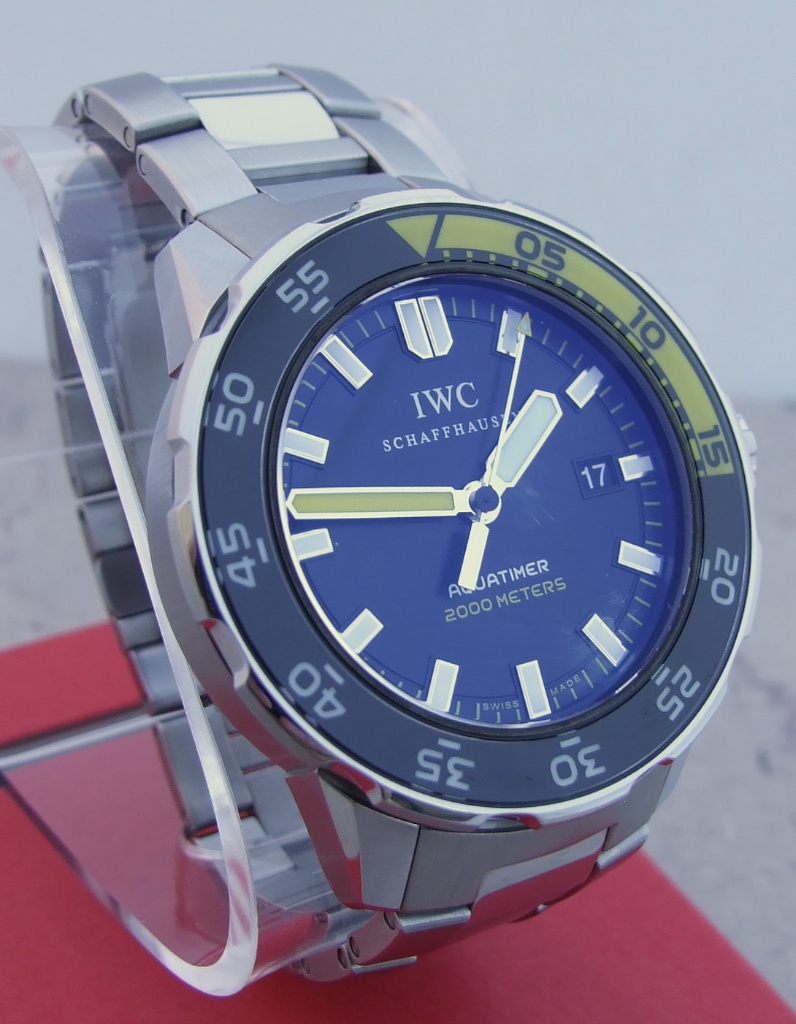 Acquisition details
Specs
Timeline
Links
Quick notes and overall review
I went long on
my grail
, and got lucky with a local deal.
It's gorgeous.
Reviews
Related pages
Related pages
IWC buckles, bracelets and bands - the Aquatimer at six months

(WatchOtaku)

— I've had my IWC since August, about six months, and it seems time to do a midterm review. As with postmortems and first impressions, my opinion changes over time.

I've also found a bracelet and velcro strap, which deserve writeups, so here's a combined review and essay on quick-release straps. Enjoy!

The Watch

IWC 3536 strap and parts

(WatchOtaku)

—

After some research and fundraising, I ordered a strap and some parts for the IWC 3536 Aquatimer.

That's a composite strap, two end pieces, 4 screws and 4 tubes. Since I had an 18mm IWC buckle already, that was all I needed to assemble the composite strap. (That's the IWC16242 part, ghastly overpriced at $270) It's nylon, textured like carbon fiber, with a stitched leather backing and sewn-in metal end piece.
Here are the other bits:


Assembling it, here you can see the sewn-in pushbutton bits:

All done:


On the wrist:

Quick review

So how is it? Alas, it's the stiffest and least comfortable strap I've ever tried to wear. It's actually so unyielding that it presses on the outside wrist bone despite attempts to curve it into shape. Just getting the end of the strap into the keeper took five attempts!

Jason Heaton on Twitter commented that he didn't like the contrast stitch with this watch, and I'm not decided yet myself. The color scheme works, but with the texture of the strap its definitely a casual look. And since there's a leather lining, it's not one to get wet either. Kind of limits the usefulness.

For now, I took the parts you see above and attached a plain canvas strap. Post to follow; it doesn't look as integrated but at least it's comfortable.

Watch crush and IWC for sale

(WatchOtaku)

—

My IWC 3536 is for sale

Read on for reasons. If you're interested, please see

Watch includes

Head, with replaced-just-before-I-got-it bezel
Titanium bracelet
Velcro strap
IWC composite strap and buckle, less than 2 weeks old
IWC titanium strap adapters, with two spare threaded bars. You can use any 20mm strap with this!

I've got more into it (4420) than it's worth, and am doing price research now. Feel free to email me and make an offer.

If there's no interest, I will send it off to Richemont service for a refinish, as I suspect that'd more than pay for itself.

Watch crush

Which leads me to why I'm selling the IWC. Always interesting, and I am frequently irritated when people get all vague about the question. Here's where I'm at:

The IWC is a fantastic watch, but as explained in "Looking for The One Watch" I want thinner and smaller. The titanium is great, but it's still about 14mm thick by 42 across. Smaller than the current trends, but I prefer smaller yet.
Rank, cost and social capital. There's more than a few places where the IWC will open doors and get you taken seriously. While that's delightful, it's not as important to me as it used to be, so a less expensive watch is actually better. This is one of the odd benefits of telecommuting; there's no jousting for rank with one's peers.

My current object of affection, the Damasko DA44:


(Image credit: Damasko

Highlights and awesomeness:

Modified ETA 2836 movement - they lowered the day and date windows below the centerline. I do like having day and date.
Super tough steel case, by all accounts quite scratch and ding resistant.
According to their site, the DA44 improves from the DA46 by having a better, more scratch-resistant AR coating.
Bidirectional toughened steel bezel with ceramic bearings.

Read the full specs here.

As well as a bunch of nicely obsessive engineering with things like better gaskets and such. Importantly, it's 40mm by 12.2mm! 42 if you count the bezel. And 99 grams sans strap. That's a really nice size and weight.

Negatives and drawbacks

The DA44 is similar in appearance to the Sinn U2. I don't much care, personally.
The hands have a bit in the center that's black instead of white; annoyingly useless.
Damasko does not make a bracelet; that's annoying.

Other alternatives from Damasko:

DA46 - my initial candidate.


(Image credit: Damasko)

Tempting. Very tempting. There are three reasons I eventually decided on the DA44 instead:

The Arabics are nice, but I think for me I slightly prefer the cleaner dial of the DA44. A close call here.
The DA44 has better lume and AR coatings.
It's hard to be sure, but I think I will prefer red highlights over yellow. Could be wrong, though.

DK10 - the high end


(Image credit: Damasko)

This is the newest model, not sure its even shipping yet. Looks like one of the new ETA Valgranges movements, and they've gone to ceramic bearings and a silicon hairspring. Awesome, wonderful, but at 3,200 Euros it's more than I'm willing to spend.

Learn more

IWC in the flesh

(WatchOtaku)

—

Since I'm missing my IWC, I thought I'd post a picture from a couple weeks ago. Notice here how the color is barely noticeable:

as compared to

In person, it's pretty inconspicuous.

IWC 3536 first impression review

(WatchOtaku)

— I have my complaints and annoyances, but despite the initial watch crush, I think this is a long-term keeper. It solves the criteria from my quest, is quite versatile in style, and its an understated joy to wear. Unlike heavier watches, the weight is low enough that you quickly forget its on, the white-on-black legibility is excellent and... I like it!

The style in some ways reminds me of the current JLC Navy Seals Automatic, which is high praise.
Attachments:

AQ1.jpg
(image/jpeg)

dial-angle.jpg
(image/jpeg)

iwc-bands-1.jpg
(image/jpeg)

iwc-bands-2.jpg
(image/jpeg)