Calvin Jr Velocita Extreme and Velocita Color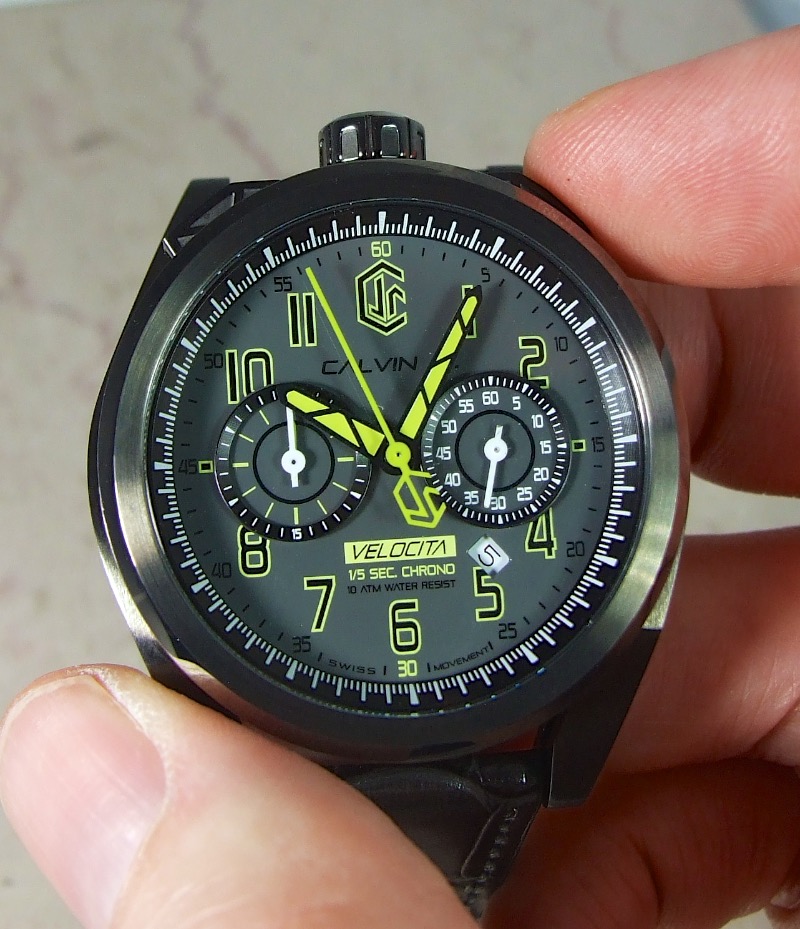 Introduction
These are two prototypes from the Kickstarted Calvin Jr brand. One of a large number of Kickstarted watches, these are the creation of Calvin Ng, representing two of the six variants for sale. These two are quartz chronographs in a bullhead form factor, with strong style cues from racing. Here's a picture of the model line:
These two have been making the watch-reviewer rounds, I am indebted to KC Kim at Watch and Worn for sending these my way for a review.
A note on naming - the casebook says Extreme and Color, but on the web I find 'Series 1 Spacecraft' and 'Series 2 Fire Red.'
One of the hard parts of being a watch geek is the existence of styles I wouldn't buy. There are lots and lots of racing-themed watches, e.g. Tag Heuer F1, Seiko Sportura, Rolex Daytona, Chopard Mille Miglia and many others. They are popular, long-lived and well-defined, but personally its not my style. So please keep that in mind as you read!
Specifications
Size: 52.4mm lug to lug, 43.0mm wide at the outside of the bezel and 45.5mm wide at the widest, 15.0mm to 21.7mm thick with an 8.5mm threaded crown.
Weight: 129g for yellow model, 138g for red.
Water resistance: 50m
Movement: Ronda 3520.D quartz
Lume: None
Crystal: Sapphire
Price, availability and discounts: $399
Packaging
These are build prototypes, so I got them with no packaging.
Case, caseback, crown
The first thing you notice is the asymmetric bullhead case. It's wedge shaped, thicker at the top, with a swoopy lug that reminds me of the Eterna Kon-Tiki Concept Diver. The red version has enamel, the yellow is skeletonized.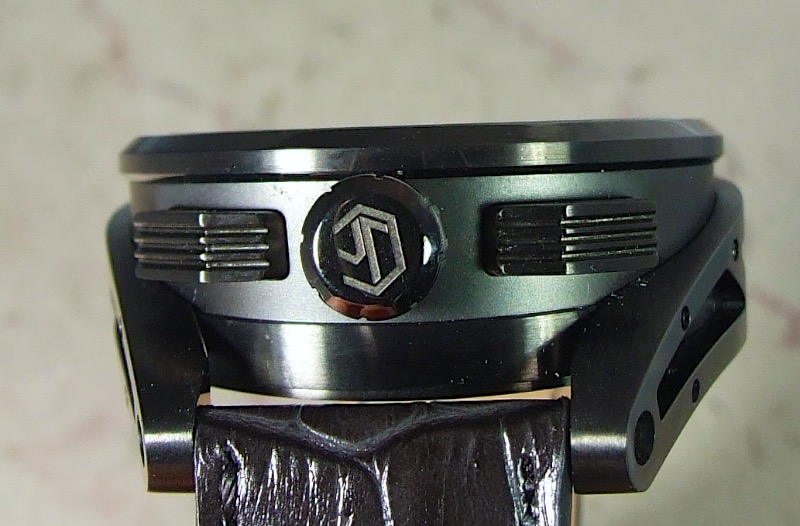 Note the deeply cut grooves on the buttons - another race theme.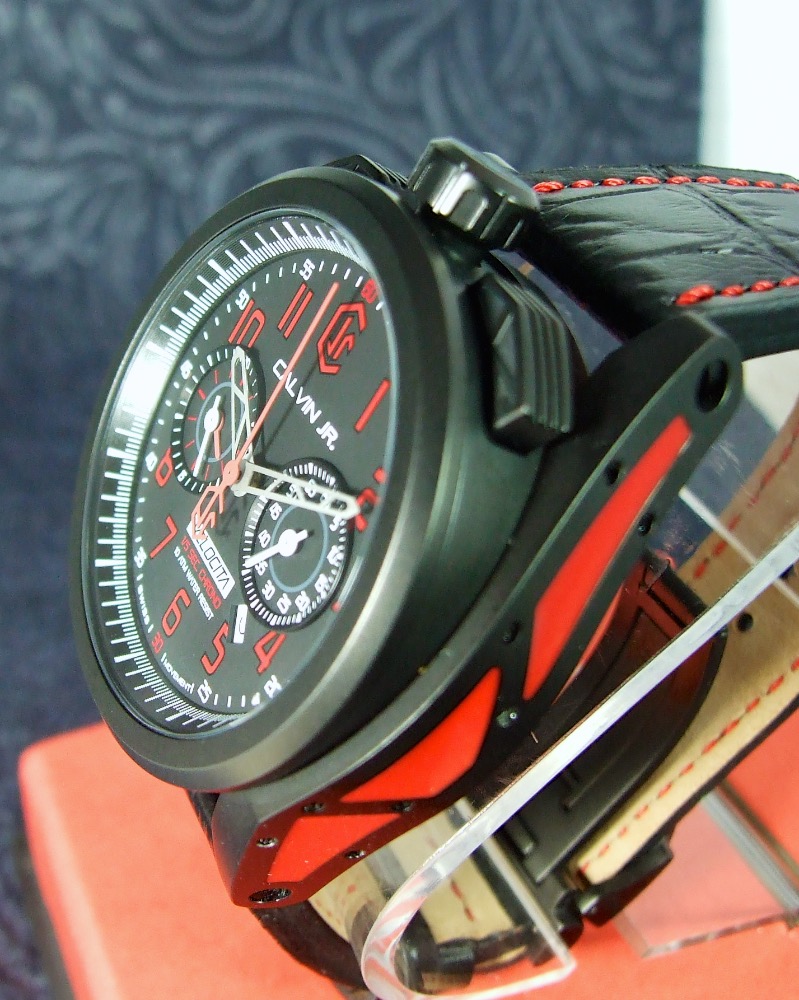 The angled case pops the buttons out for quick use. 12-hour chronograph with 30 minute register, constant seconds at three and date at 4:30.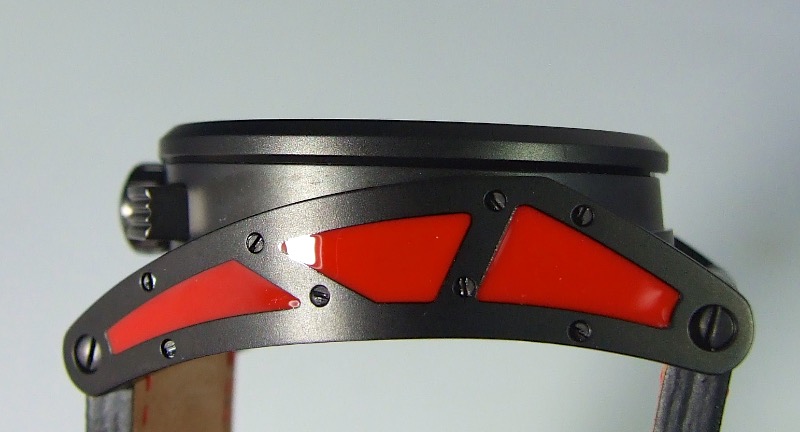 The enamel-filled lugs on the red version add 9 grams to the weight and greatly increase the 'look at ME' factor.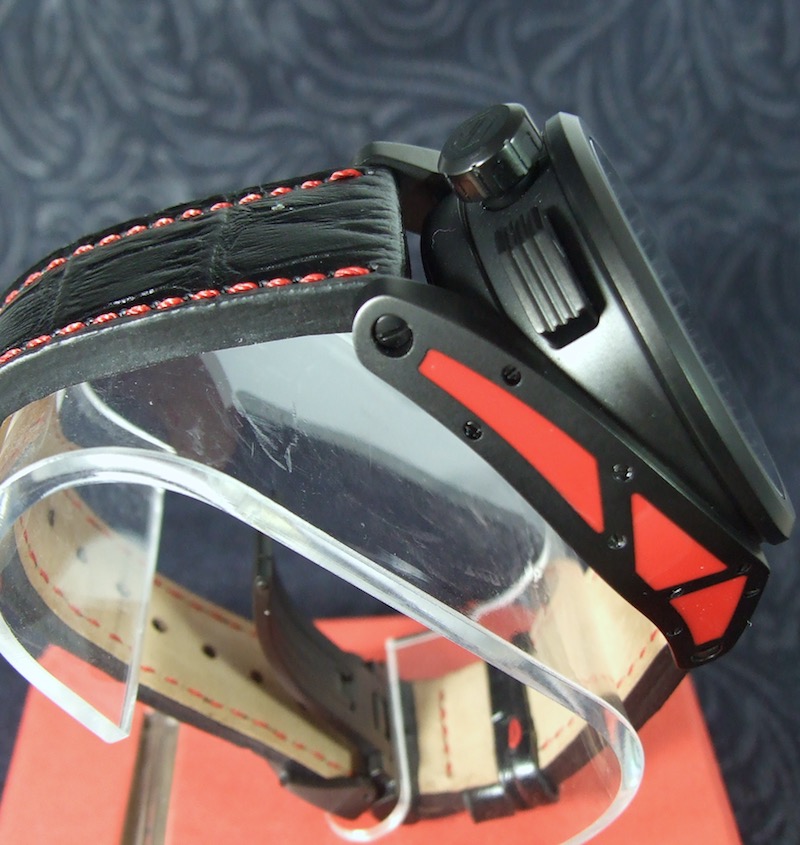 Especially with the matching red stitching. Not a watch that will be missed. The yellow version uses a glossy finish for the frame and bezel.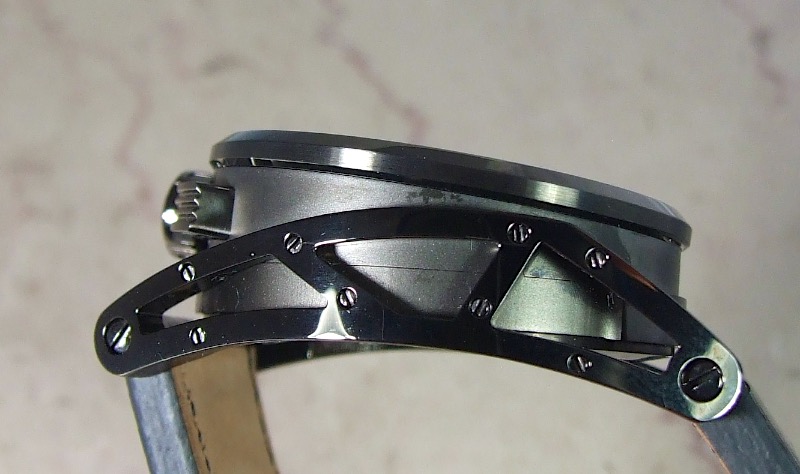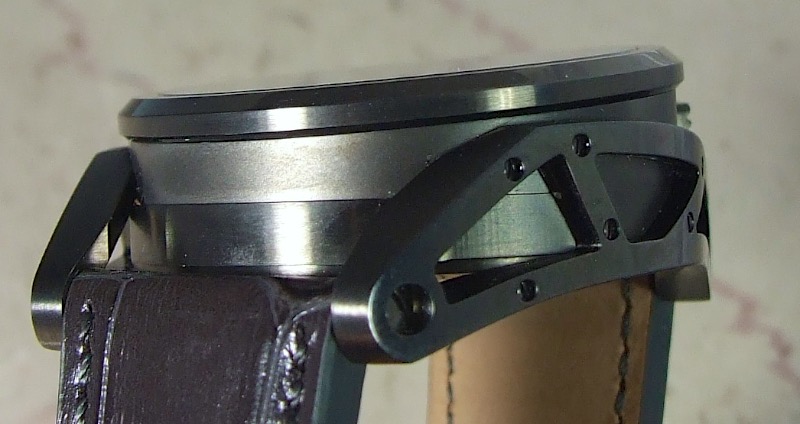 An interesting mix of gloss and matte finishes there, lots to look at and very complex. Very unusual to see at this price. It does remind me of the frames of motorcycles.
Dial and bezel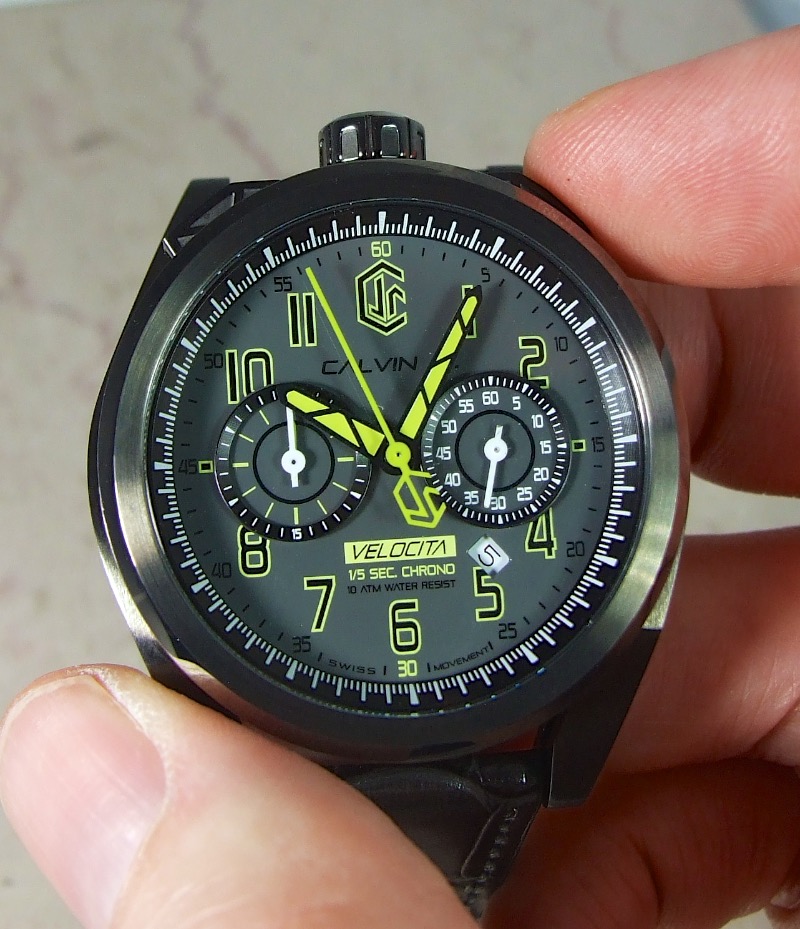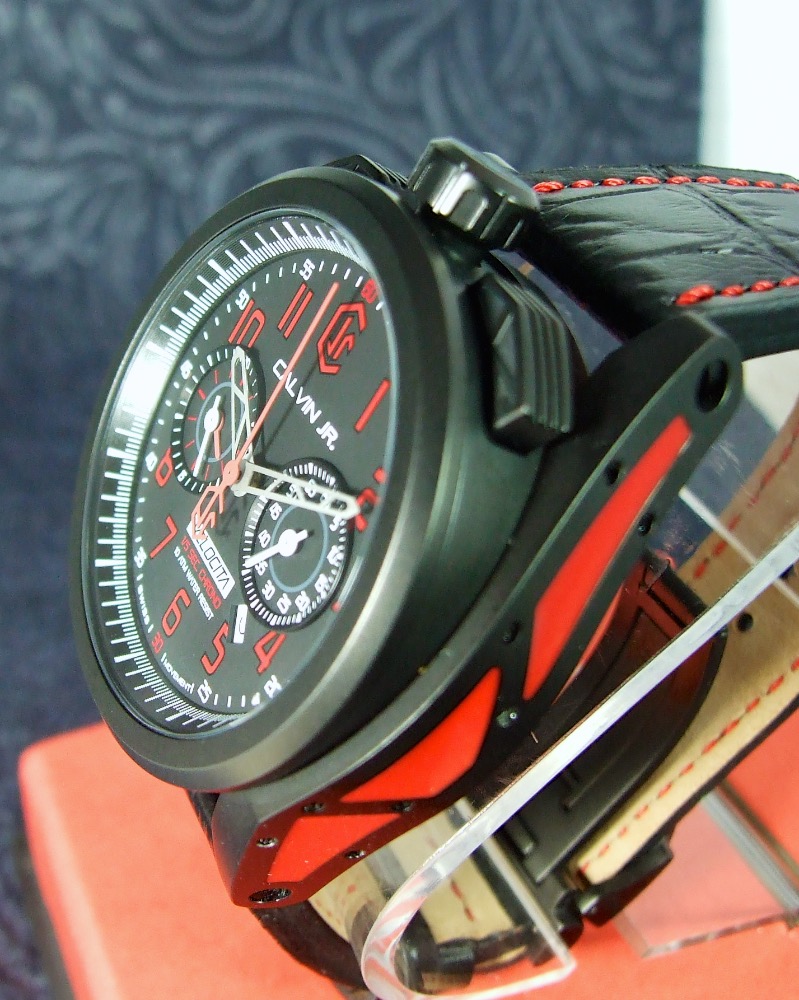 The filed hands on the yellow version are easier to read than the truss-shaped skeletons on the red. Neither has lume, so they are daylight only. I'd rate legibility as 'good.' As with all analog chronographs, the subdials are difficult to read precisely. Really, if you need precise timing, a digital quartz chronograph / stopwatch is the best tool possible.
Note the central-seconds counterpoise - it matches the logo at twelve. Bold and colorful.
Bracelet/strap
Decent single-fold deployant, and a sturdy leather strap that creaks but will likely break in nicely as expected from cowhide. 22mm lugs, which is a good match for the case size. The matching stitching is a nice detail.
Movement
Ronda 3520.D, from their 'startech' line. 4 jewels, gold plated, repairable, long-life battery. As quartz goes, this is high-grade stuff. The chronograph can measure down to 1/5th of a second, which is pretty good match for the reflexes of the human using it. By rotating the movement, into the bullhead orientation, you get a classic two-register dial with date and 445. Nice!
Timekeeping
It's Swiss quartz. I didn't even bother checking. Assume 15s/month or better.
Opinion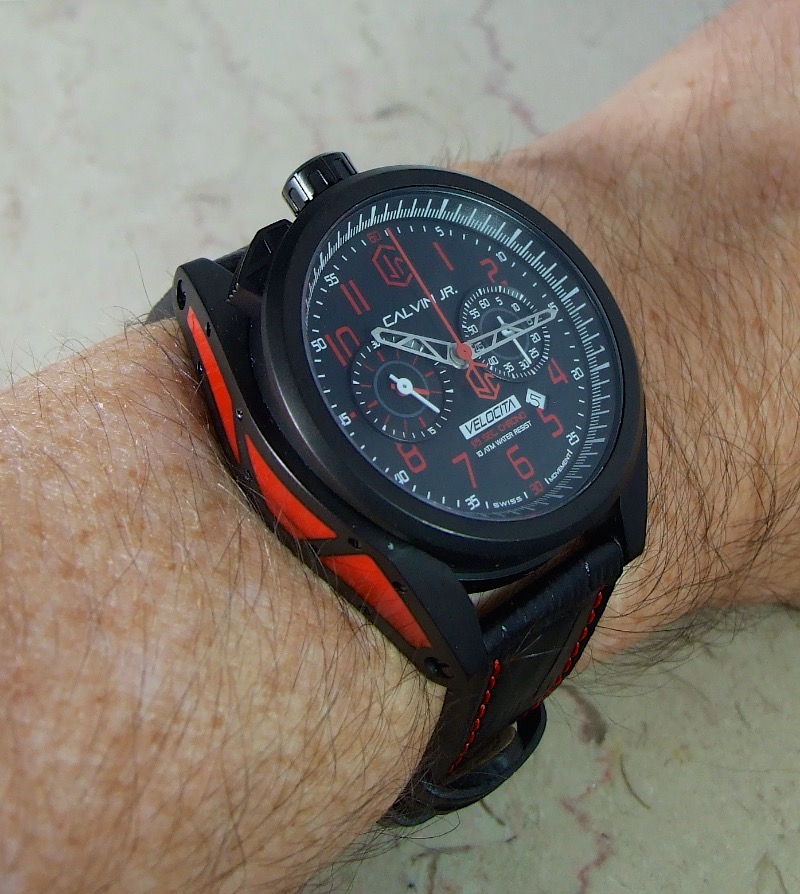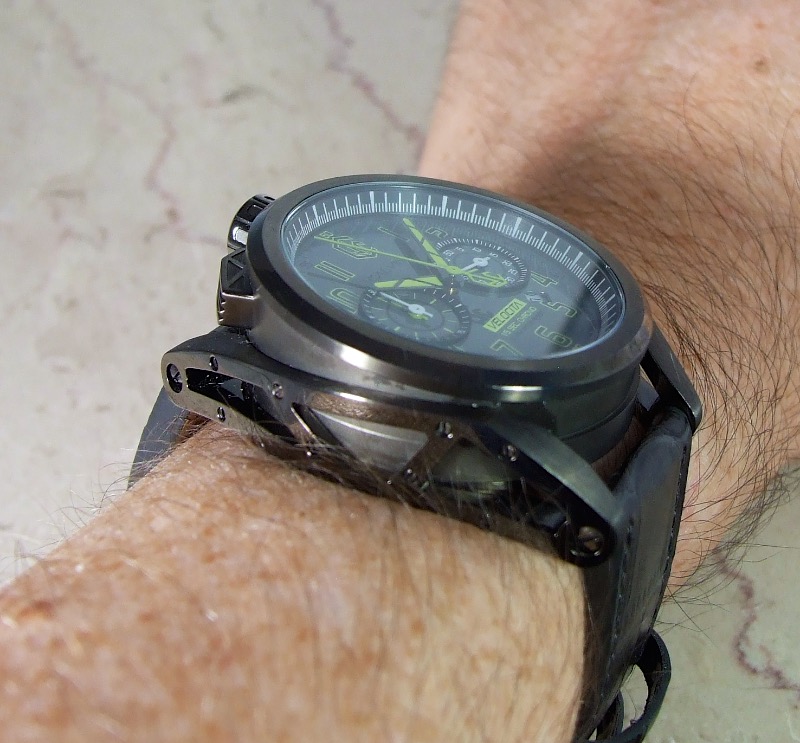 I've long been curious about bullheads, they have a long and storied history since the 1970s. And yep, they are quite awkward to use on-wrist, but if you take it off the usual stopwatch grip works well: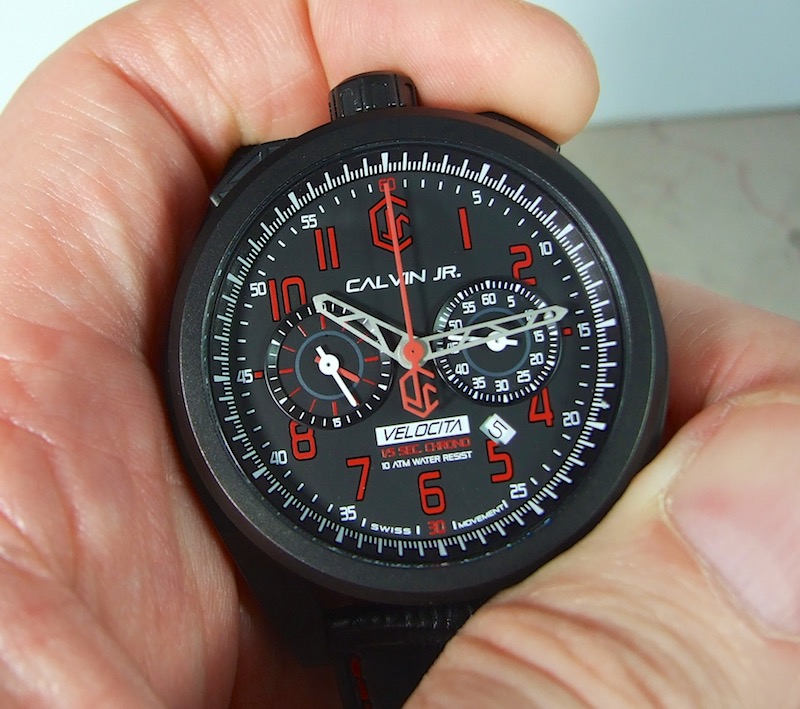 The Velocitas are, though, just too tall for my wrist. At over 20mm peak, these are short-sleeve-only and very very bold. Here's a couple illustrative pictures next to my 40x12mm OWC MS-5517 mid 2012: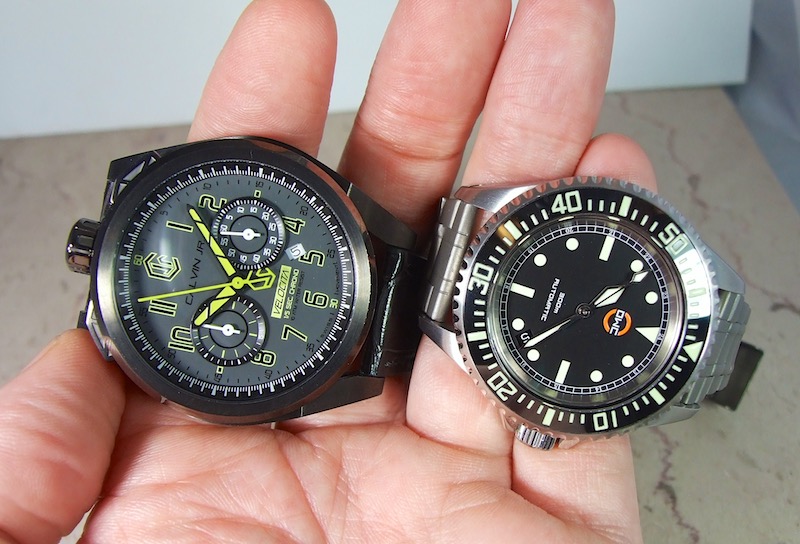 However, as I noted in the introduction, that may be exactly what you are looking for, in which case go for it. 
Context
Competition: Tag Heuer F1, Seiko Sportura
Value proposition: These are competitive in value with the Seiko Sportura line, and certainly much better value than the Tag F1 line. 
Wrapup
Overall, is it a keeper? Not for me - too bold. I'll send them on to another watch reviewer.
Would I recommend it? If you like bold racing watches, yes.
Would I buy it? No.
Would I keep it? No.
Disclosure
These were sent to me with no expectations. I will send them on to another reviewer.
Related links
Attachments:

cjr-1.jpg
(image/jpeg)

cjr-2.jpg
(image/jpeg)

cjr-3.jpg
(image/jpeg)

cjr-4.jpg
(image/jpeg)

cjr-5.jpg
(image/jpeg)

cjr-6.jpg
(image/jpeg)

cjr-7.jpg
(image/jpeg)

cjr-8.jpg
(image/jpeg)

cjr-9.jpg
(image/jpeg)

cjr-10.jpg
(image/jpeg)

cjr-11.jpg
(image/jpeg)

cjr-12.jpg
(image/jpeg)

cjr-13.jpg
(image/jpeg)

cjr-14.jpg
(image/jpeg)

cjr-15.jpg
(image/jpeg)

cjr-16.jpg
(image/jpeg)

de2ab5ace4a87f85448adccfac5b534d_original.jpg
(image/jpeg)