Marloe Haskell green dial
Introduction
I've a long friendship with the founders of Marloe, and take no small amount of pride in the knowledge that my site helped them get started. Not to overstate my bit, but for a free site like WatchOtaku, it's super to see a brand that you know thrive. I've reviewed The Cherwell and the Chronoscope, so when Oliver emailed and asked if I'd like to review the new Haskell, it didn't take me long to agree!
The Haskell, named for a British expedition to Antarctica, comes in four vibrant colorways: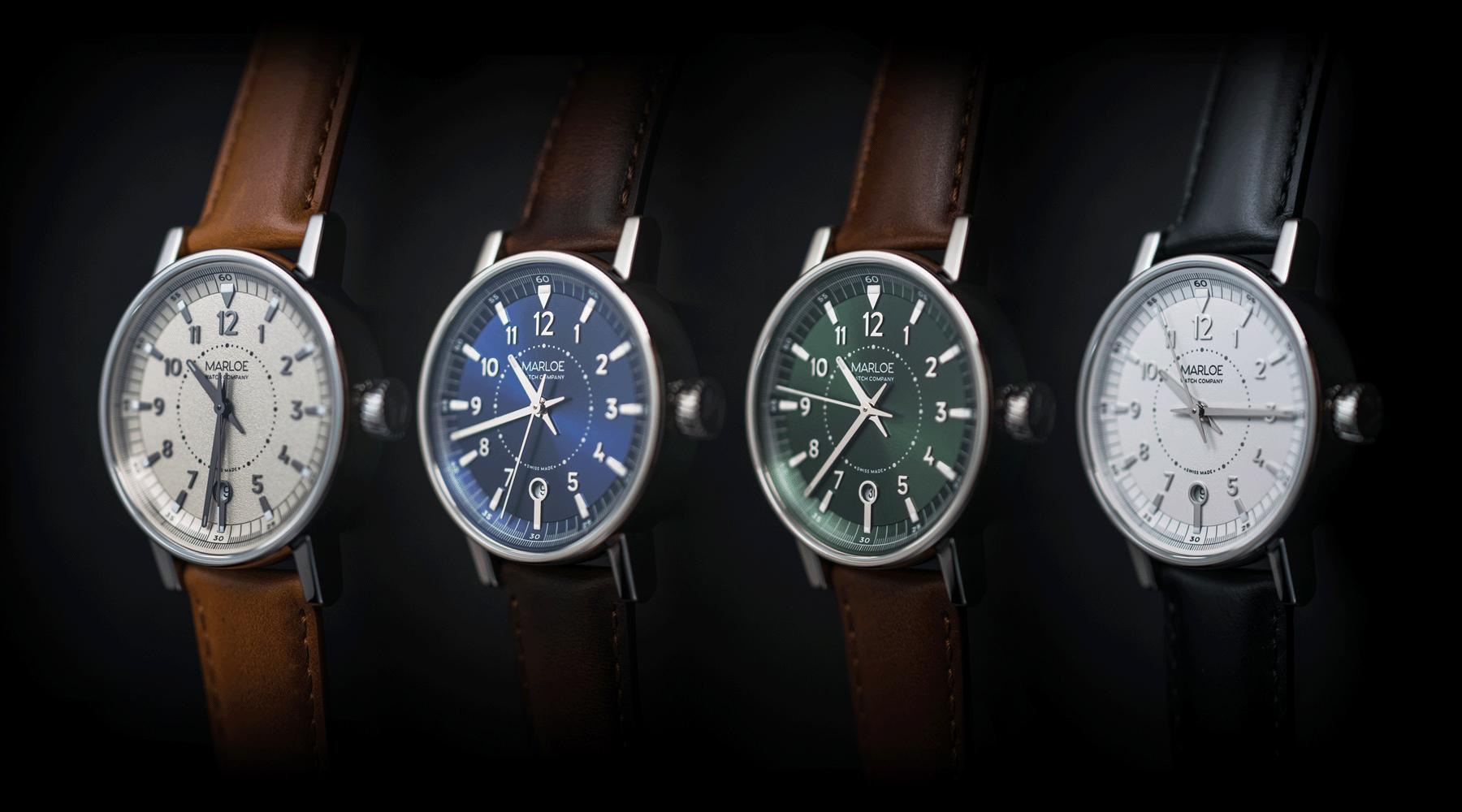 (Image credit: Marloe Watch Company)
Having never had a green-dialed watch, I asked for that and it does not disappoint. But first, some specifications.
Specifications
Size: 40mm wide by 9.4mm thick, 47.5mm lug to lug. Crown is 7mm. 20mm lugs, my favorite size.
Weight: 77g including strap
Water resistance: 100 meters (10 atmospheres, 330 feet)
Movement: ETA 2804-2 handwind
Lume: BG-W9
Materials: Stainless steel, two-piece case
Crystal: Sapphire with AR coating
Price, availability and discounts: 995 UKP including VAT, 827 non-EU.
Packaging
The Marloe arrives with a matte black outer box, well packed in a plain shipping box (not pictured).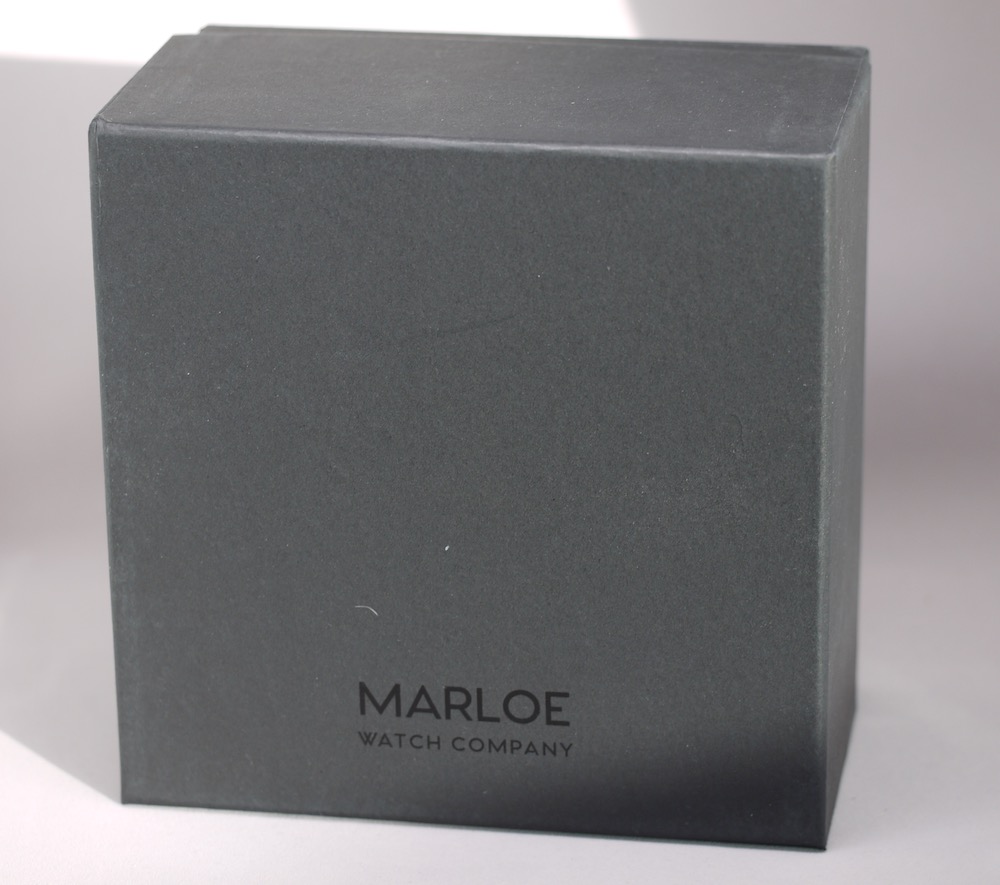 There's a fabulous full-color-printed manual inside, and the inner box is covered by high-quality grey wool felt.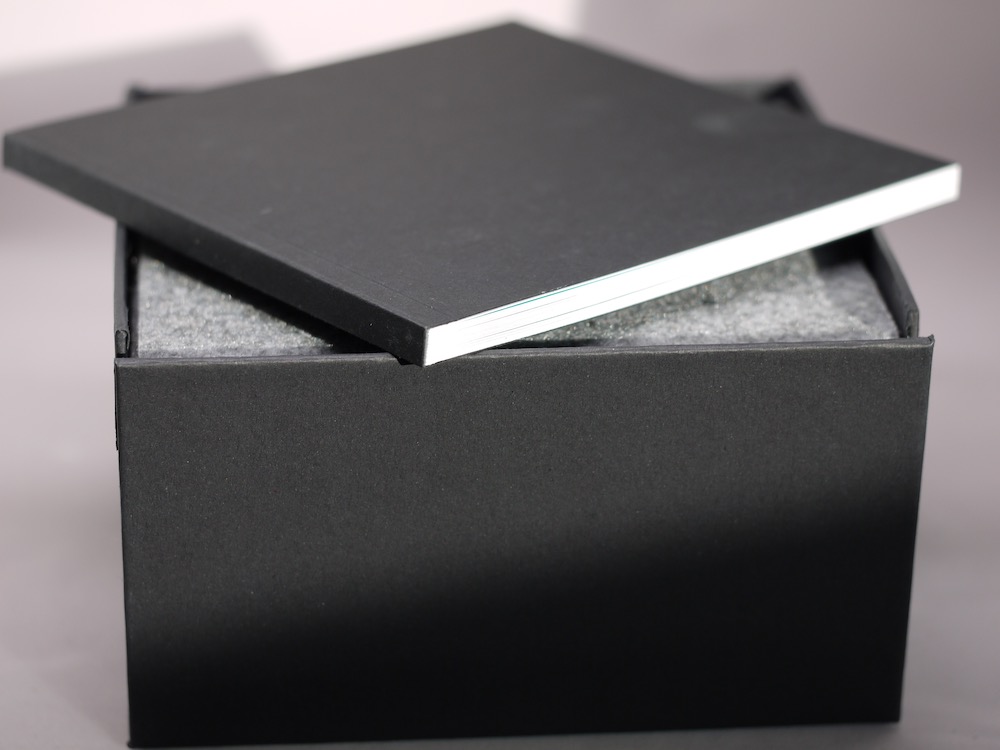 Inside is a very nice presentation box with metal latch mechanism, quite luxurious in feel and appearance.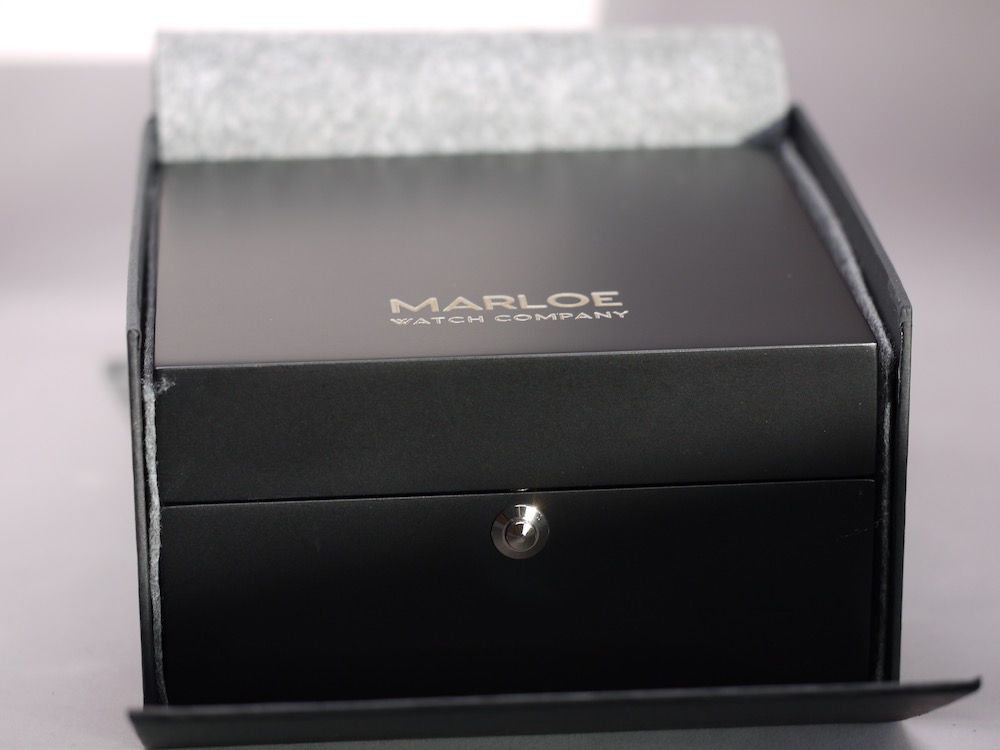 Open that....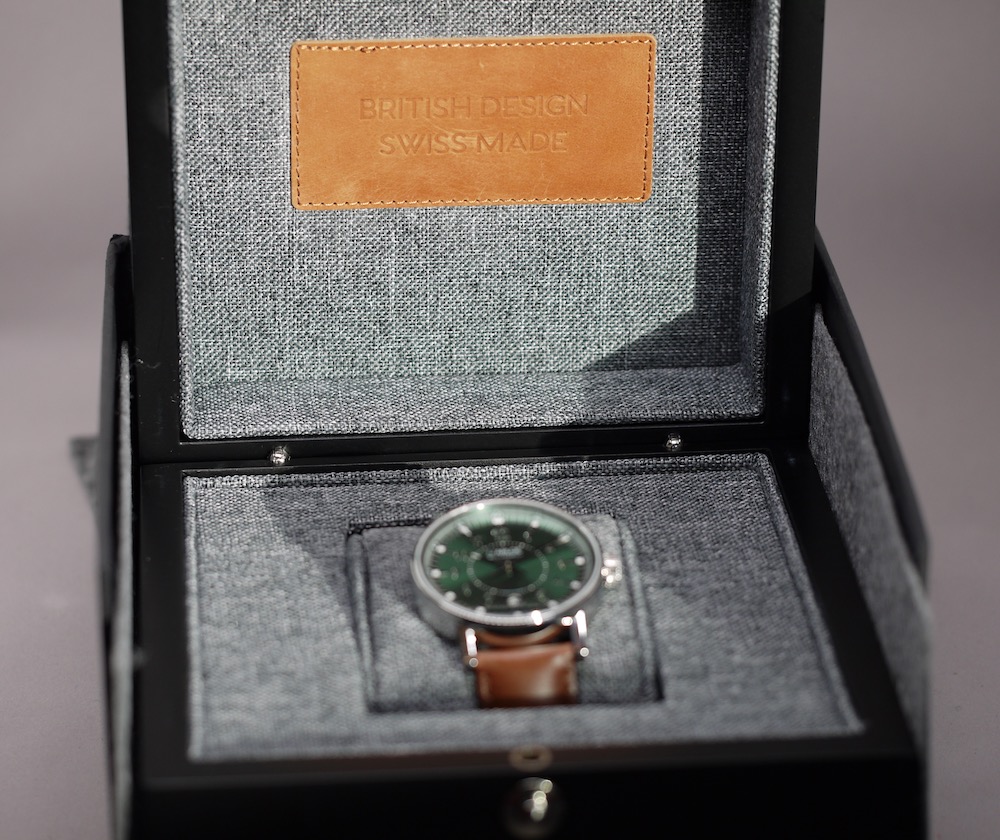 As noted on their site, the Haskell is the first Swiss-made from Marloe, and that achievement is celebrated here. Bravo guys!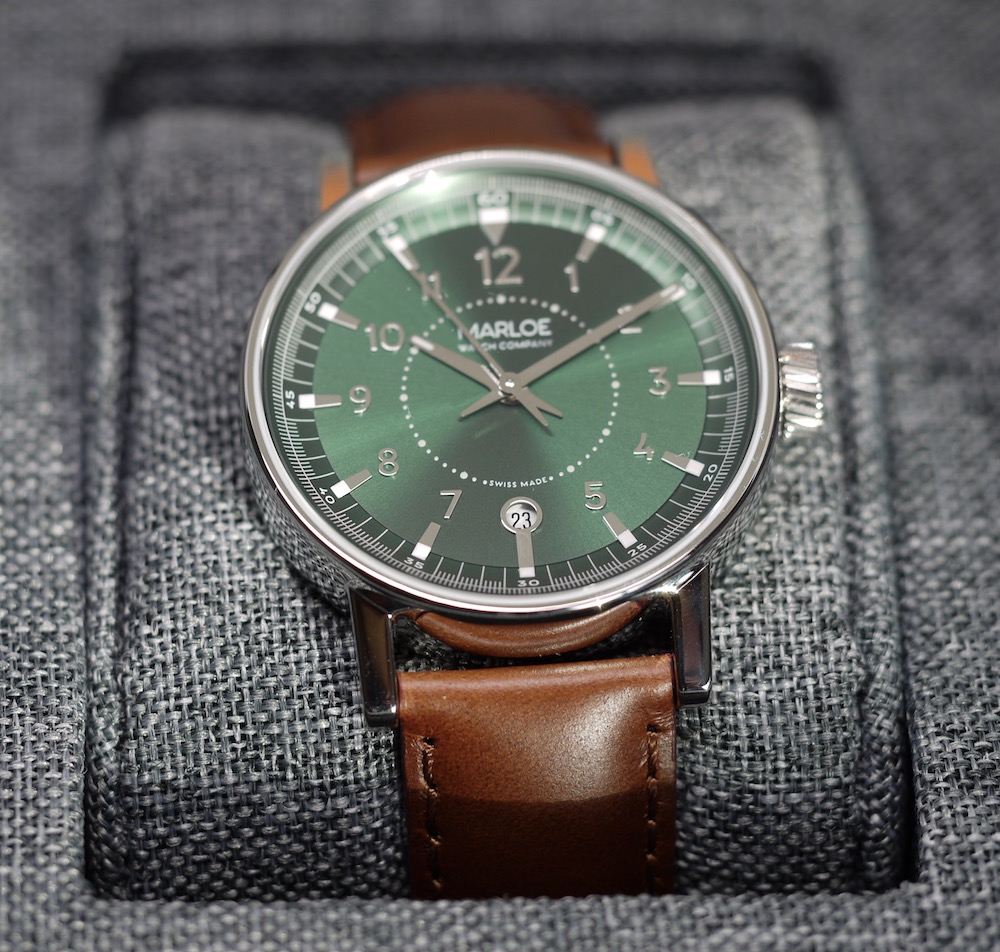 The Haskell is designed to be your adventure/travel/everyday sort of watch. 
Case, caseback, crown
The case is deceptive. At 40 by 9.4mm, it's well-sized for everyday wear for most wrists. However, the all-dial design, fully polished case and near-vertical sides make it appear larger. 

The caseback is centered on the South Pole, as part of the Haskell motif, and also has the serial number and such.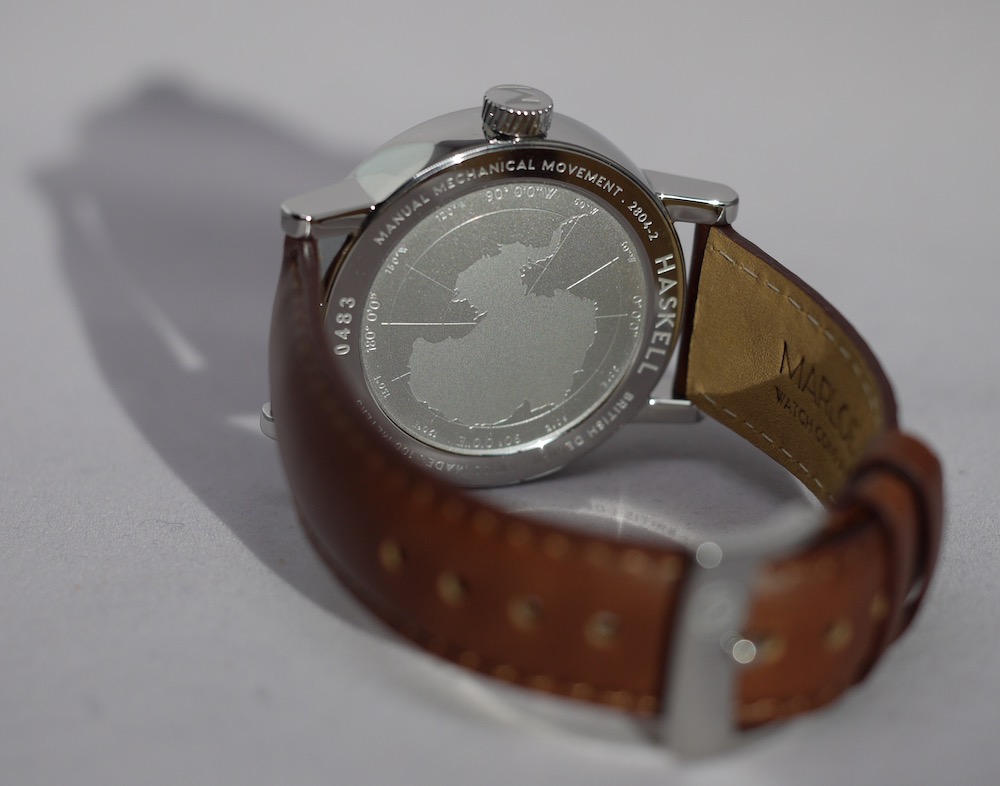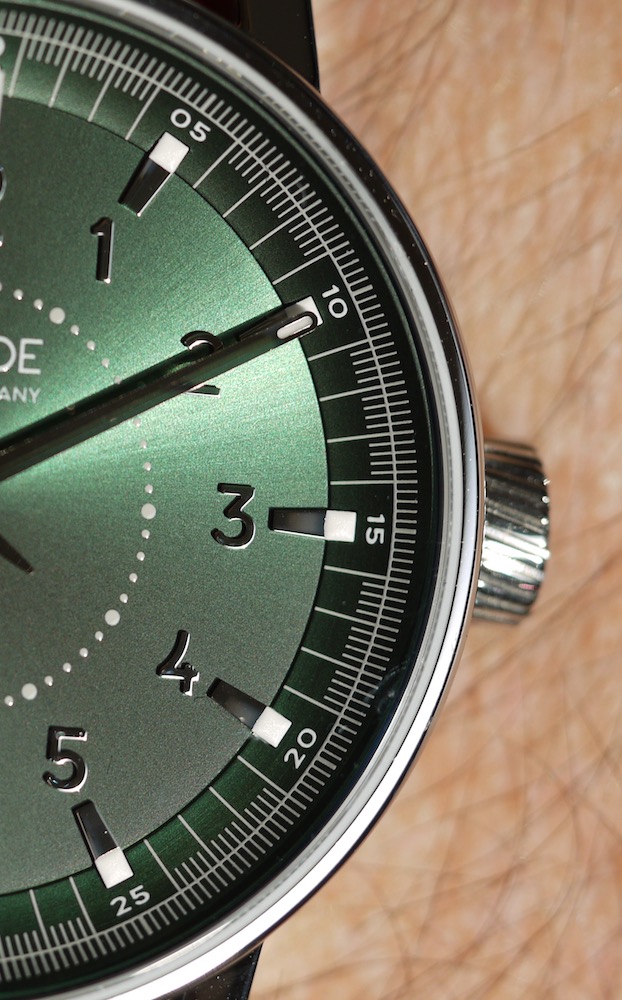 The crown has the same angled knurling seen in their other models, and is cylindrical and quite easy to wind. Good thing, since you'll be winding this daily. The power reserve of the ETA 2824 variants is 40 hours, but for best timekeeping you should wind it daily, preferably at the same time each day. I recommend first thing in the morning, as a nice bit of daily Zen to get the day going.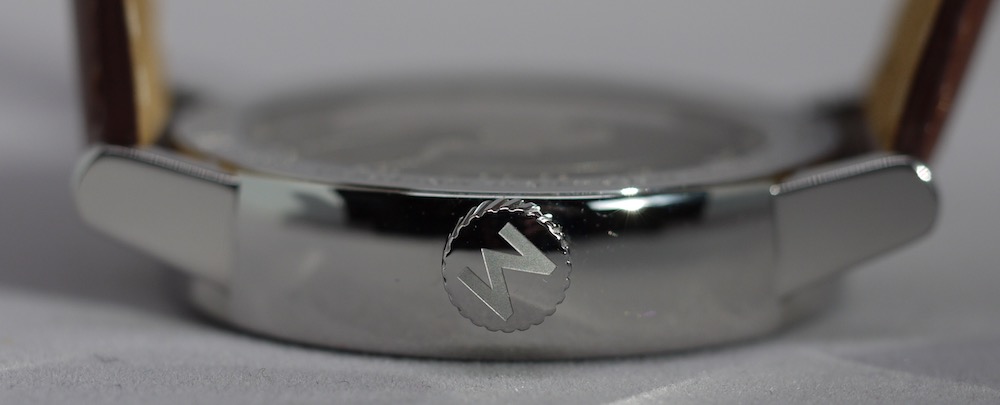 An important note - despite not having threads, the watch is water resistant to 100m, making it robust enough for daily life, a pool/ocean dip and other such non-SCUBA adventures. 
Dial and bezel
Marloe says that the dial is "inspired by the classic Land Rover green hue", sunburst-finished and edged with a unique scalloped rehaut. The markers are applied and mirror polished, and the hands are flat mirror polished with dabs of lume at the ends. It changes greatly under different lighting.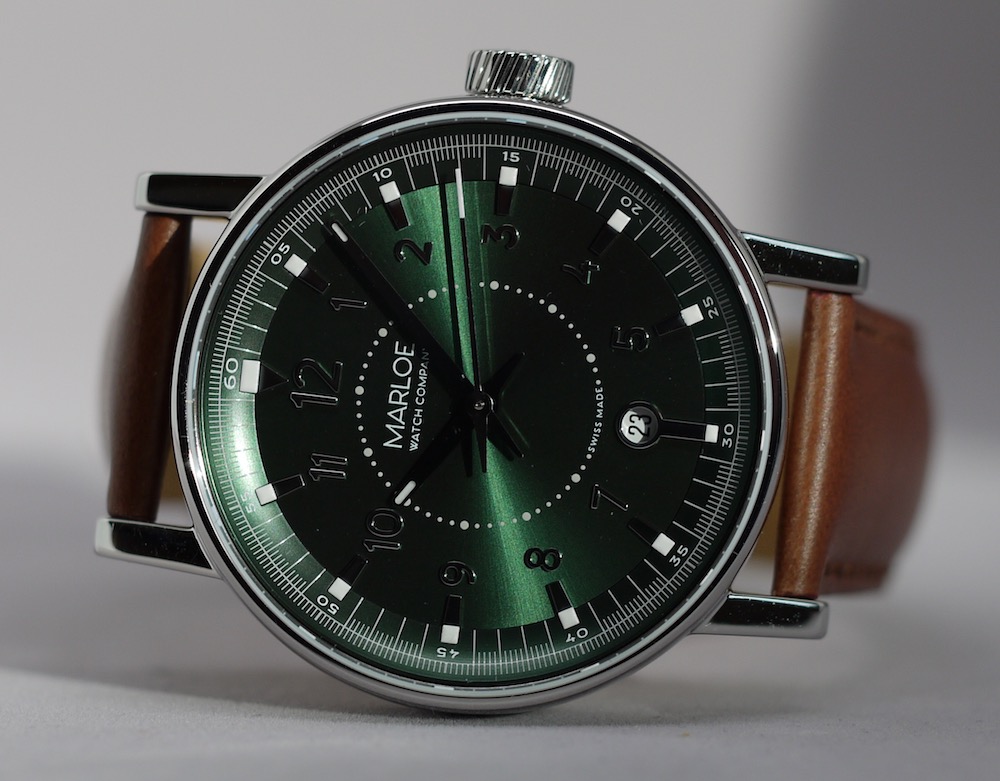 This angle shows my one complaint - flat hands can disappear in some lighting. A medium-sized drawback. Note that the sand-dial version has flat black hands and would not exhibit this issue.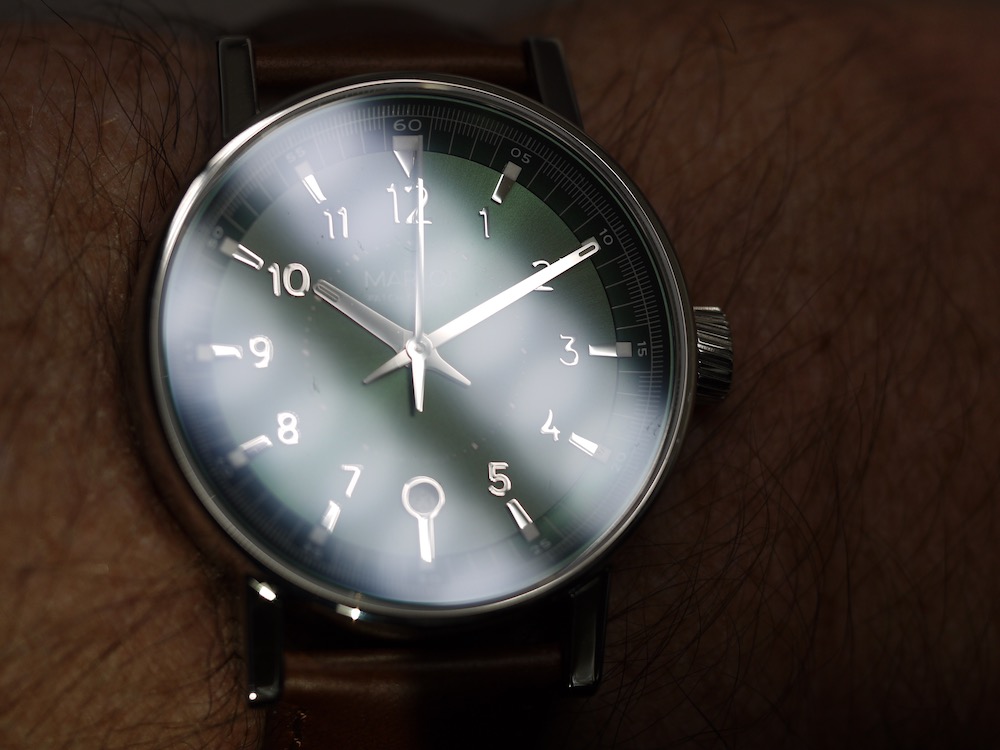 Showing off the applied markers and well-finished hands.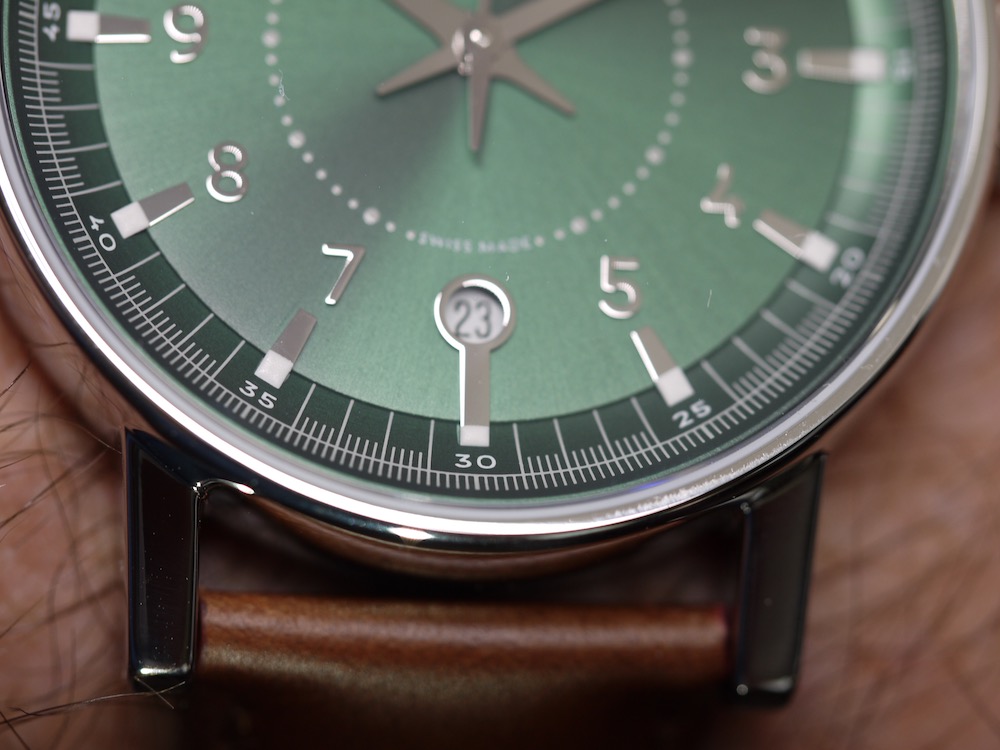 Under the macro lens, the dial is quite well finished indeed, and the date window shows well-designed integration with the markers and the face. You can also see the different finish of the rehaut and how it's curved; quite unusual. The 'Swiss Made' hides above the date window in the inner marker ring - clever and subtle!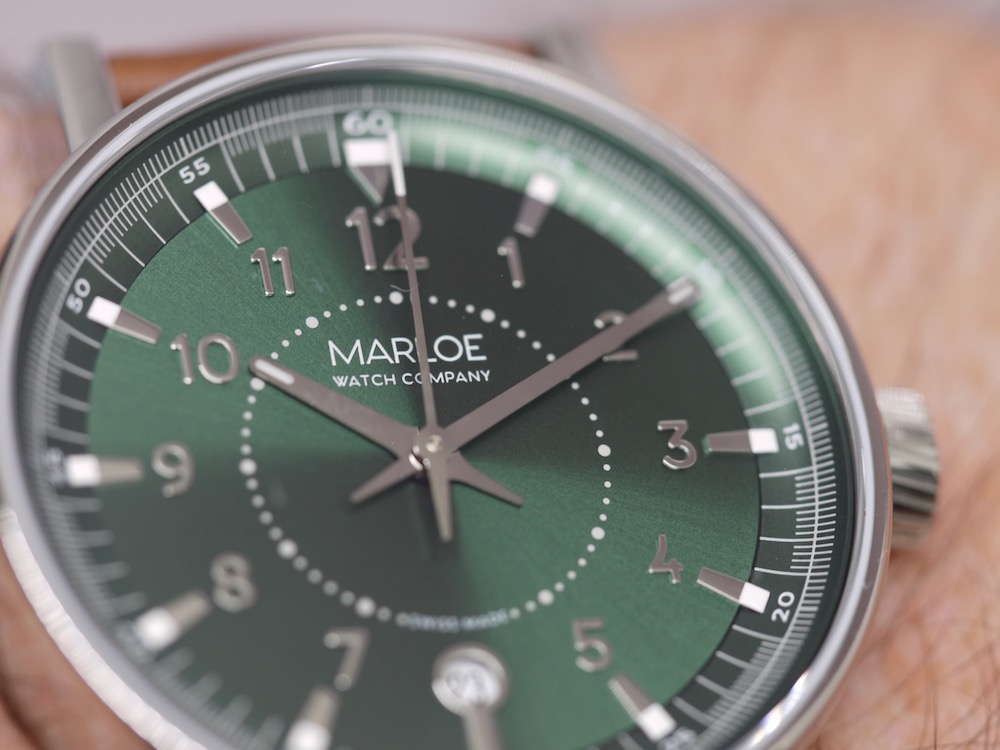 Yep, it's a very striking watch and quite hypnotic to gaze into. Lots of details to appreciate - for example, check out how the hashes wrap around the hour markers.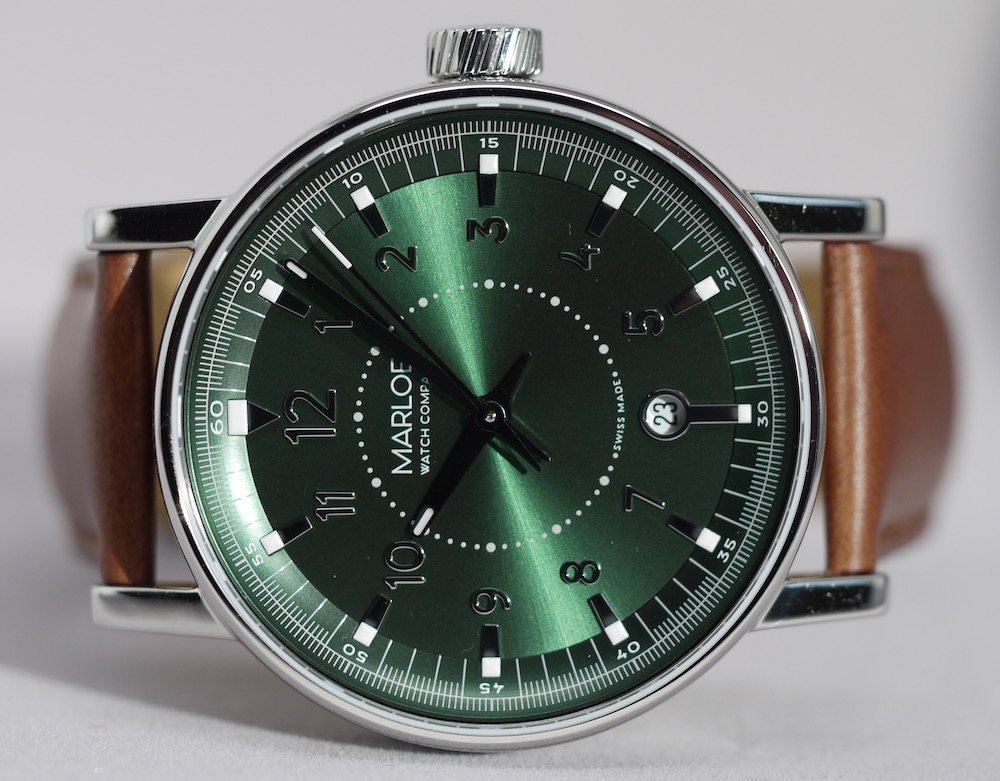 I quite like the proportions of the hands; they reach where I think they should on the dial and are quick to read.
The date window surround also reminds me of a hand-held magnifying glass - fun!
Bracelet/strap
The included leather strap is Italian nubuck with a logo on the clasp. Soft, good aroma, and at 20mm the watch will have ludicrous numbers of possibilities for other straps or bracelets. They have four color choices available when you purchase the watch, so if you don't like mid-brown you can get another instead. 
Luminosity
BG-W9; a bit spare but an excellent performer. Once you're used to the design, easy to read at night.
Movement
The ETA movements are very well covered here; the 2804-2 is the hand winding version of the ETA 2824. Easy to adjust, robust, superbly proven, inexpensive and an excellent timekeeper, it's my second-favorite of all time after the ETA 2892. It will serve you very well.
Timekeeping
This sample ran within +5s/day, which is the sort of no-hassle, no-surprise result I've come to expect from the movement. It's why I love it.
On the Wrist
At 77g and 40mm by 9.4mm, its super easy on the wrist and the eyes. The 47mm lug-to-lug size is friendly to most, though its a bit longer than my ideal. On my 18cm wrist, its a perfect fit.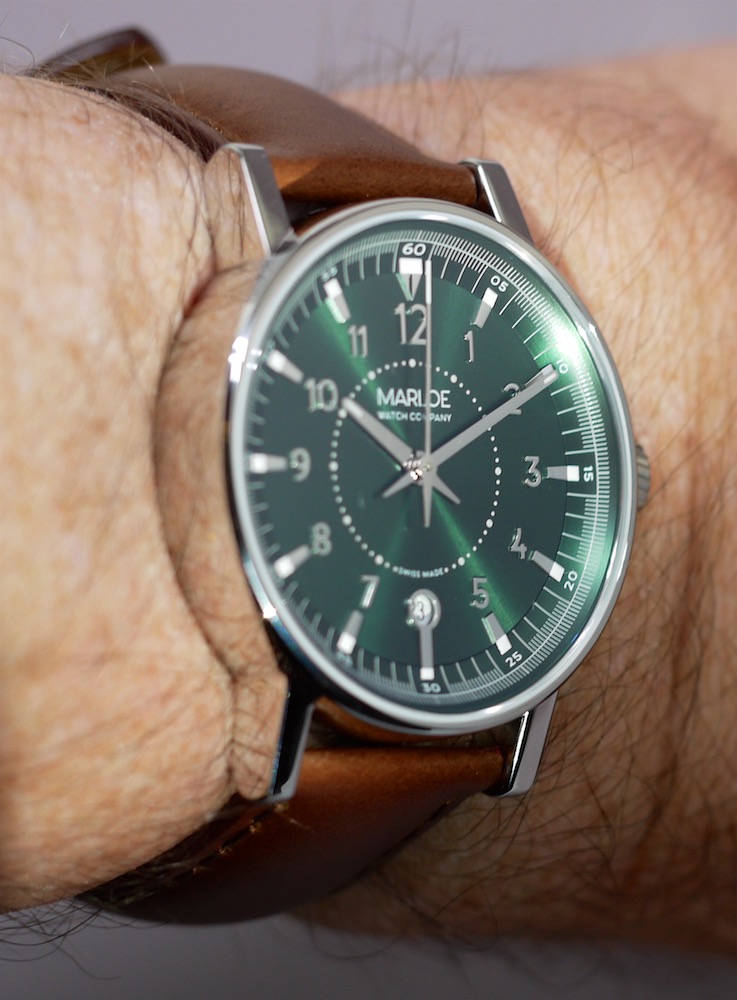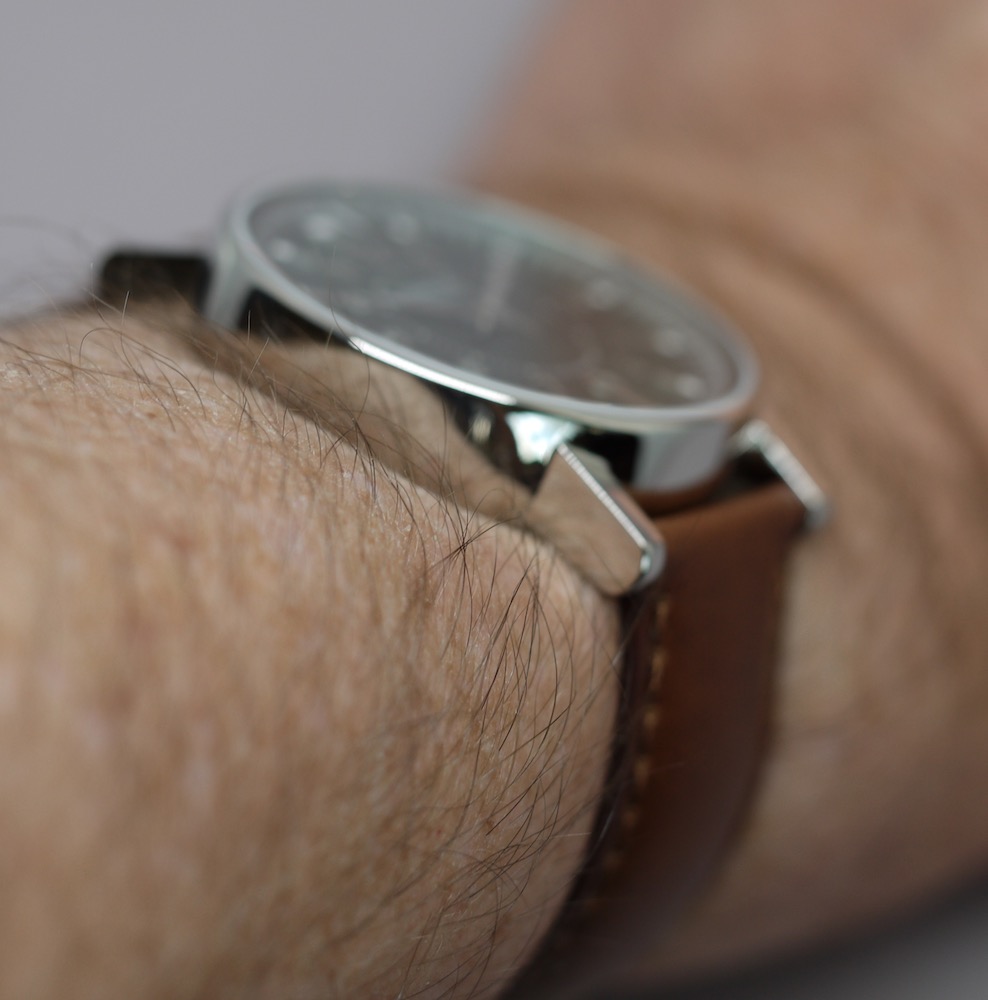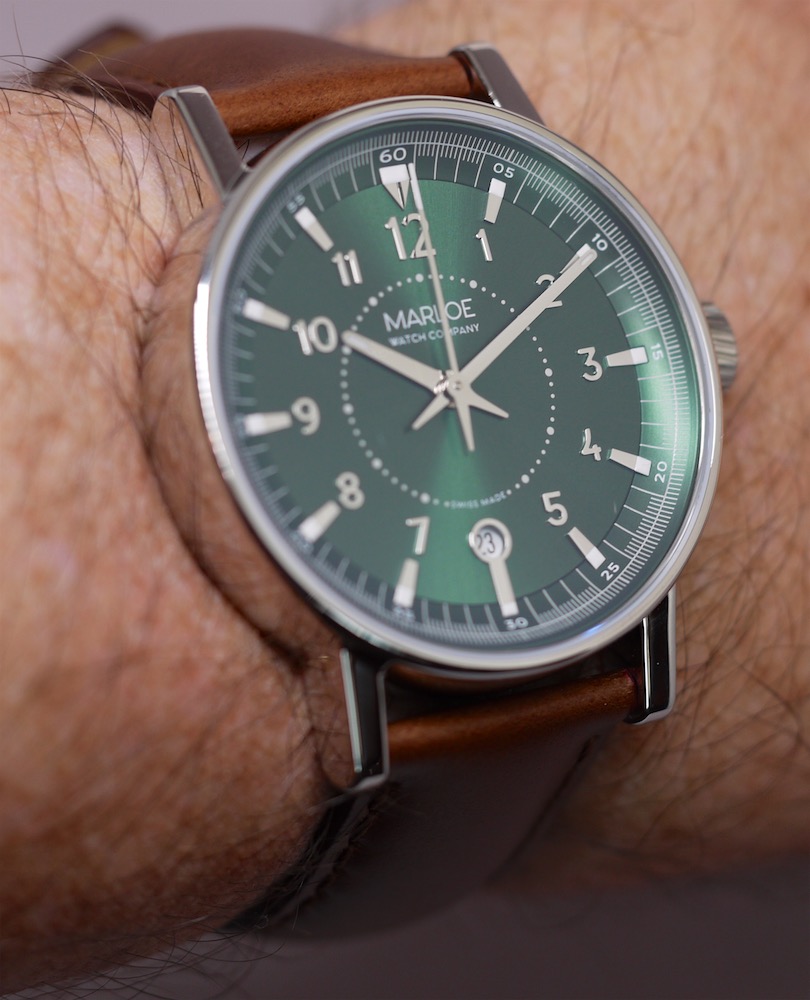 At this view, the lugs remind me of the Schofield Signalman GMT that Ariel reviewed here. Straight lugs and cylindrical case; classic and timeless.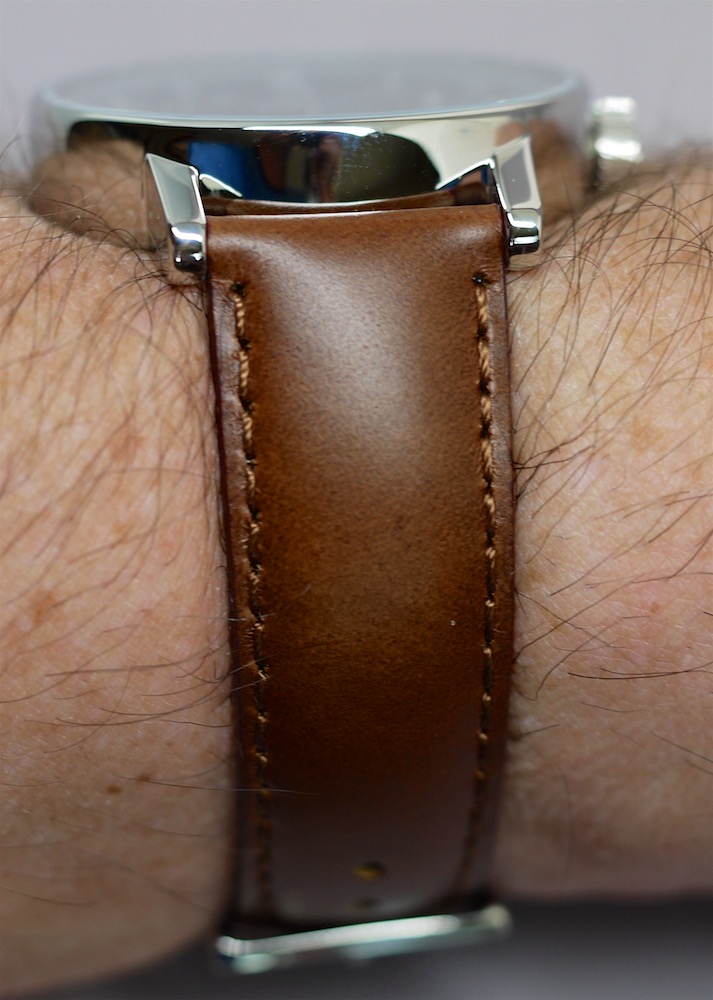 Opinion
So what do I think? As I noted on Instagram, I like color and bold dials. My (current) everyday watch is a blue dial currently sporting an orange canvas strap. I think that men should experiment and appreciate brighter colors, and I really like how the Haskell dials pop.
I'm also including this picture to show the optical effect of the all-dial design. The Haskell is 0.5mm larger, but since the dial dominates the face it appears larger than that. Interesting, isn't it?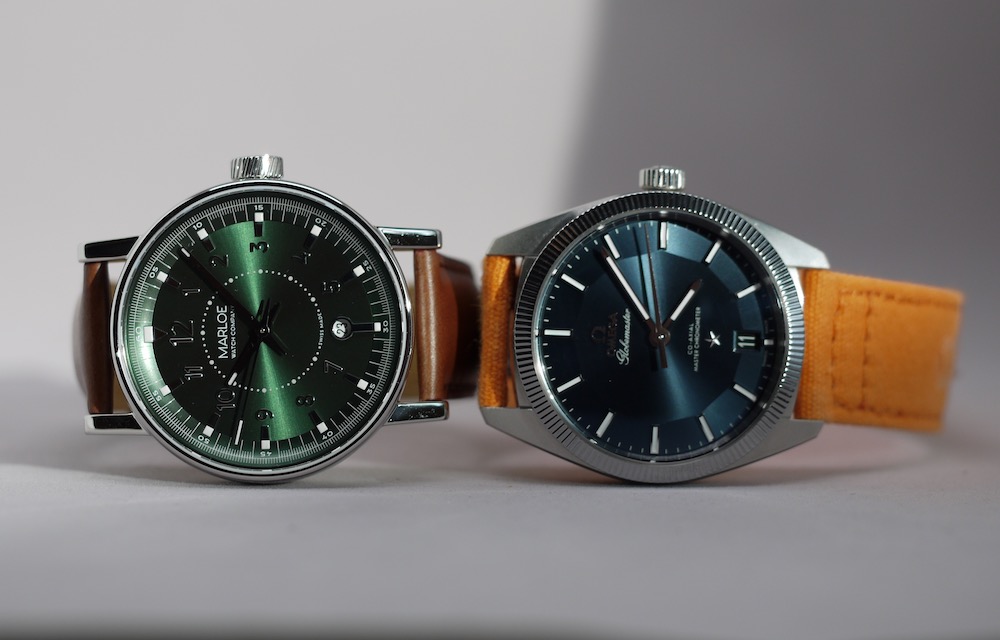 Competition
Probably Christopher Ward comes to mind first, as well as other British micro brands such as Farer and the Pinion Axis. And those just the first British-designed, Swiss-made micro brands; there are others. The aforementioned Schofield is maybe 4x more expensive.
We really are in a golden age for microbrands.
If you're shopping well-sized hand winders, maybe consider Nomos as well, though again they start at twice the price.

The recently announced Christopher Ward 595 is based on the same ETA 24xx base, but it omits the second hand, date window and isn't water resistant past a useless 30m; that's more of a pure dress watch. The Haskell is closer to a dressy field watch like the Tudor Ranger. (Again, more expensive.)
Value proposition
At 995UKP with VAT, or 827UKP to the USA ($1124 as of 2/11/18), the Haskell is more expensive than its non-Swiss-made predecessors, placing it at what I'd call entry level luxury. You get a very well thought out design, tracteur Swiss movement, first-rate materials and a good price. It's not inexpensive but I'd not blink at paying list price; it's an excellent value.
Wrapup
Overall, is it a keeper? If you can like a hand winder and don't want the 42mm-or-larger designs based on the ETA 649x, then put this on your shortlist. The 
Would I recommend it? Hell yes.
Would I buy it? I'm torn - I've gone off of hand winders, so that's a showstopper for me, and I dislike having watches I'm not wearing.
Would I keep it? If I went back to hand winders, yes I would.
Disclosure
The Haskell was loaned to me for review; unpaid and will be returned after I post this.
Related links
Attachments:

mh-1.jpg
(image/jpeg)

mh-2.jpg
(image/jpeg)

mh-3.jpg
(image/jpeg)

mh-4.jpg
(image/jpeg)

mh-5.jpg
(image/jpeg)

mh-6.jpg
(image/jpeg)

mh-7.jpg
(image/jpeg)

mh-8.jpg
(image/jpeg)

mh-9.jpg
(image/jpeg)

mh-10.jpg
(image/jpeg)

mh-11.jpg
(image/jpeg)

mh-12.jpg
(image/jpeg)

mh-13.jpg
(image/jpeg)

mh-14.jpg
(image/jpeg)

mh-15.jpg
(image/jpeg)

mh-16.jpg
(image/jpeg)

mh-17.jpg
(image/jpeg)

mh-18.jpg
(image/jpeg)

mh-19.jpg
(image/jpeg)

mh-20.jpg
(image/jpeg)

mh-21.jpg
(image/jpeg)

haskell-family_2000x.progressive.png.jpg
(image/jpeg)