Marloe Cherwell prototypes and Kickstarter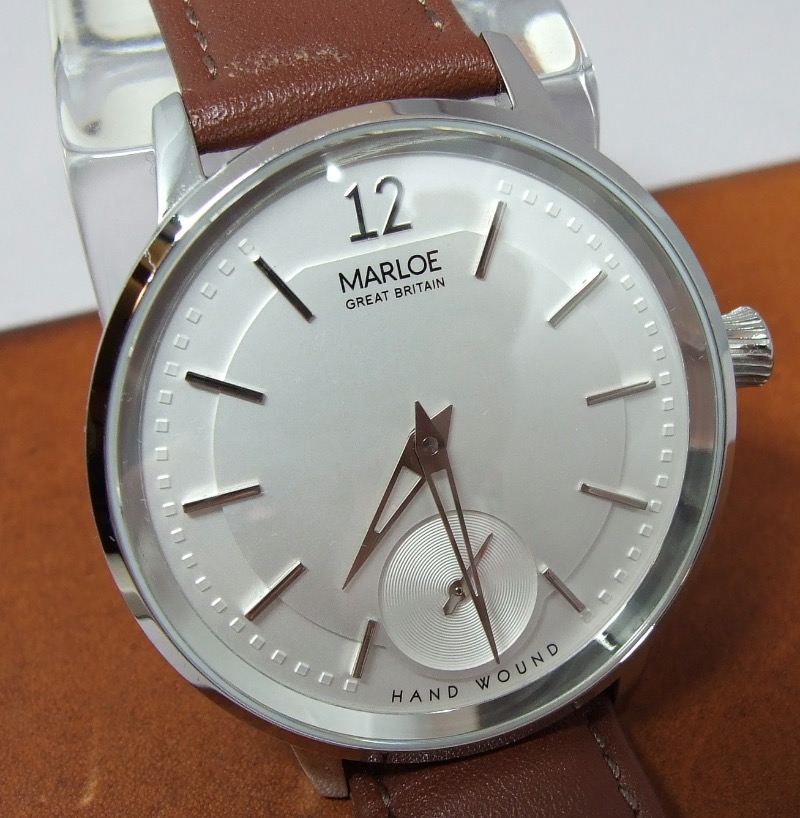 Introduction
These are two of the four dial designs from the just-founded Marloe Watch Company, sent round to me for review loan as part of the promotion of their Kickstarter campaign. I had the honor of being asked for feedback on the initial design some months ago; they had found my DIY page and emailed me. Thankfully, they ignored the wrong parts of my advice and have produced a watch unlike the others you'll see on Kickstarter. There are a metric shitload of quartz watches on Kickstarter these days, all minimal designs that mostly feel like ripoffs of Daniel Wellington. This is the first time I've ever seen a watch like the Cherwell; a vintage-inspired hand winder with a fantastic value proposition. 
Let's dive in.
Specifications
Size: 43.4mm wide by 12mm (top of the domed crystal). 20mm lugs, 48mm lug to lug.
Water resistance: 50m (non-screwdown-crown, don't get this one wet)
Movement: Seagull ST36, more about this below. Hand winding, Non-hacking, 21,600 vph, 50 hour power reserve. 
Lume: None
Materials: Stainless steel case
Crystal: Double-domed sapphire with AR coating on the front, mineral movement on the back
Price, availability and discounts: The Kickstarter campaign has reached its goals, currently the prices there range from 169UKP. (About 350 USD)
Packaging
Not yet finalized.
Case, caseback, crown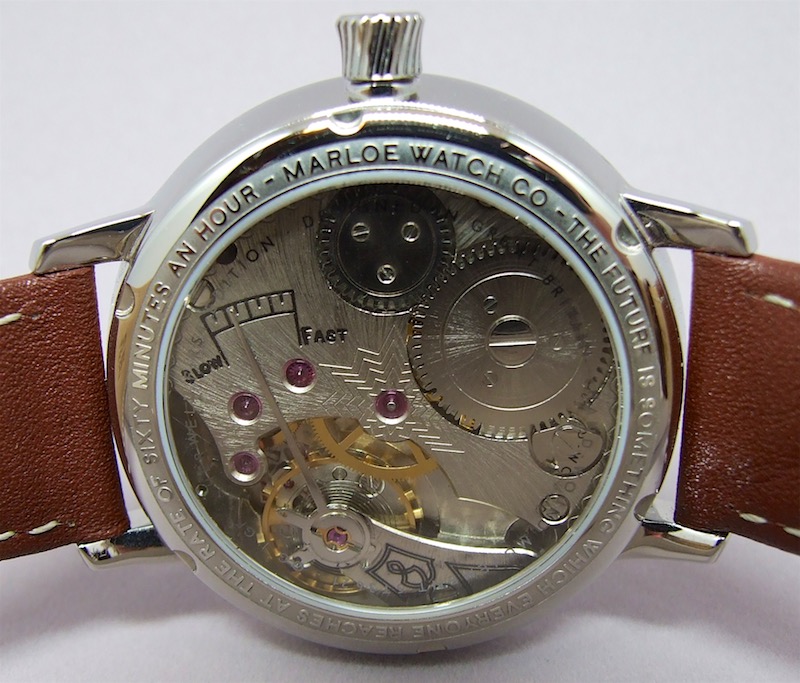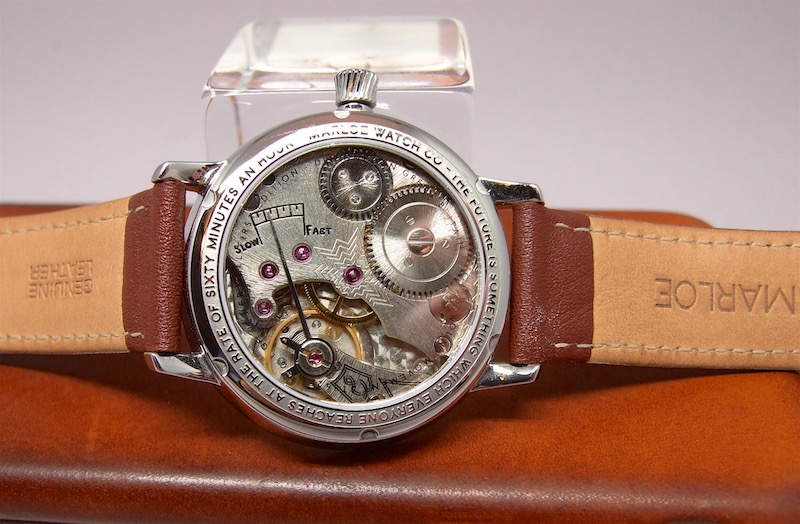 The movement is decorated in the style of vintage American movements - extended index regulator, and and a central pattern that looks to me like damaskeening. While clearly mass-produced, it's nicer looking than a plain movement and fits completely with the vintage design of the dial. 
The crown crown is unique in my experience, with a helical knurling and tapering shape. Its super easy to pull and set, but the sharp edge bites during the daily hand winding. I've already told Oliver my opinion here, and I hope that they can round it off a bit more for production.
Note that this is not a catalog case or crown, which definitely adds to the value here. Check out the taper that is quite similar to the crown: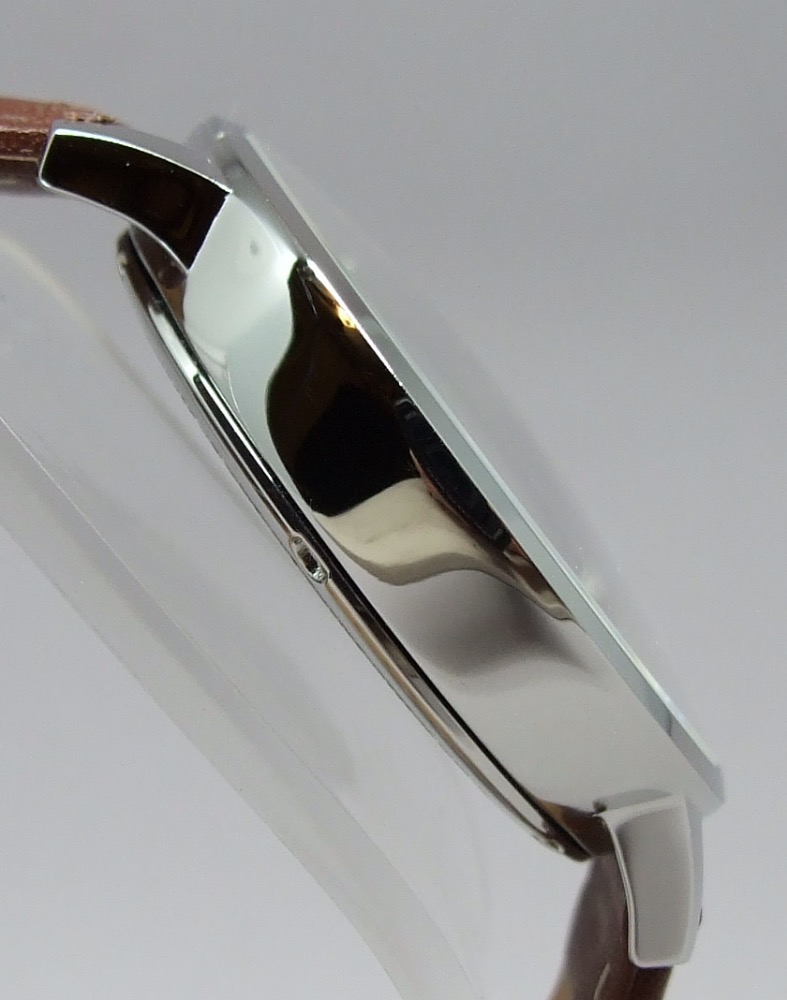 Lovely mirrored finish, hard as heck to photograph. Signed crown.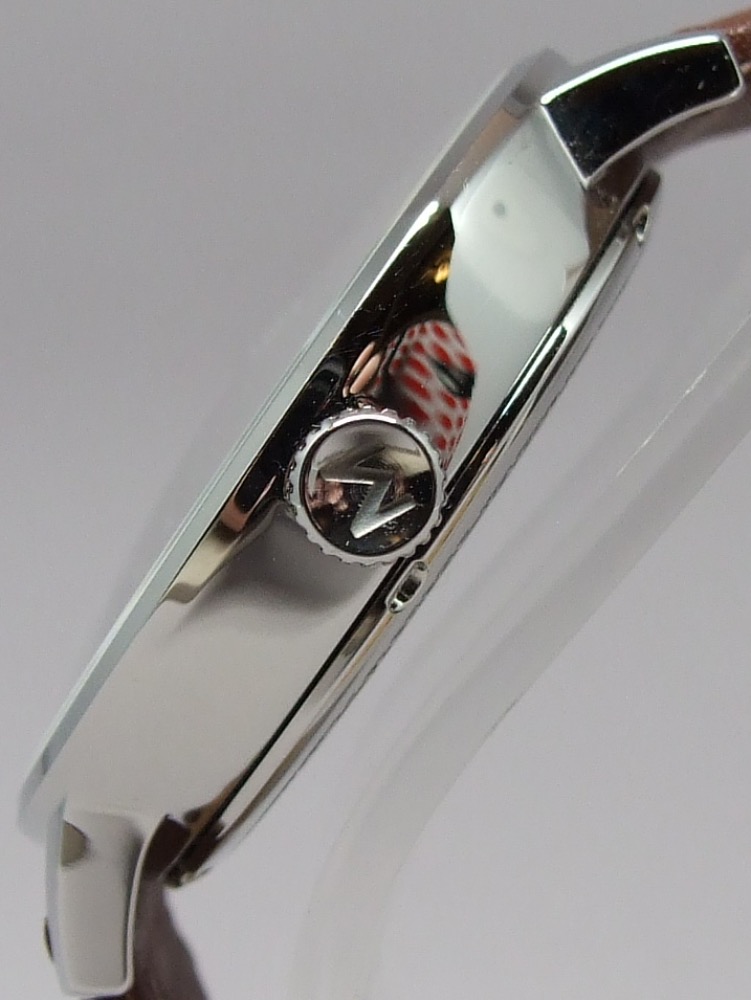 One last movement picture: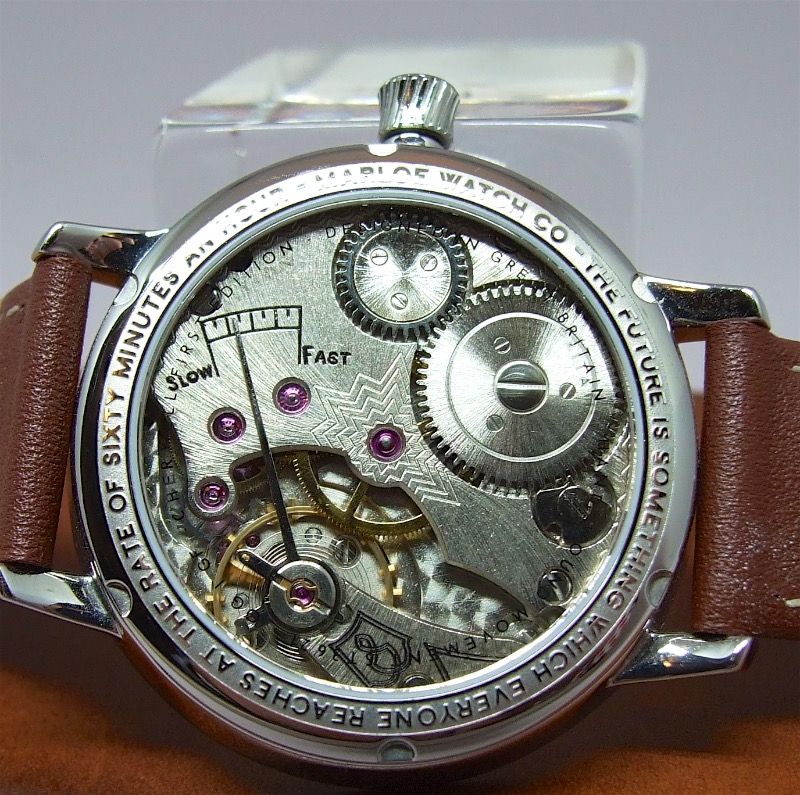 Dial and bezel
I believe that when you look at the detail and dimensionality of this dial, you'l be astonished at the value this watch presents.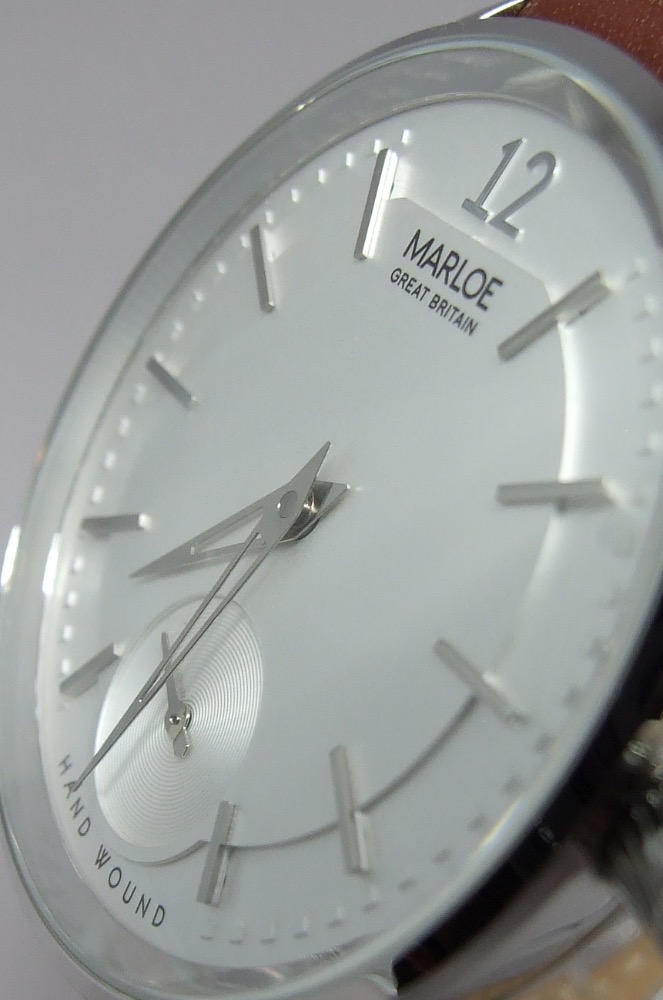 Things to notice: raised center section, circular rose engine (simulated) on the subseconds. Applied markers, a lovely ridge detail around the lower half of the sub seconds. Ten-minute gaps top and bottom filled by an applied 12 and printed 'hand wound' respectively. 
And, for something almost never seen, check out the blind debossed minute markers: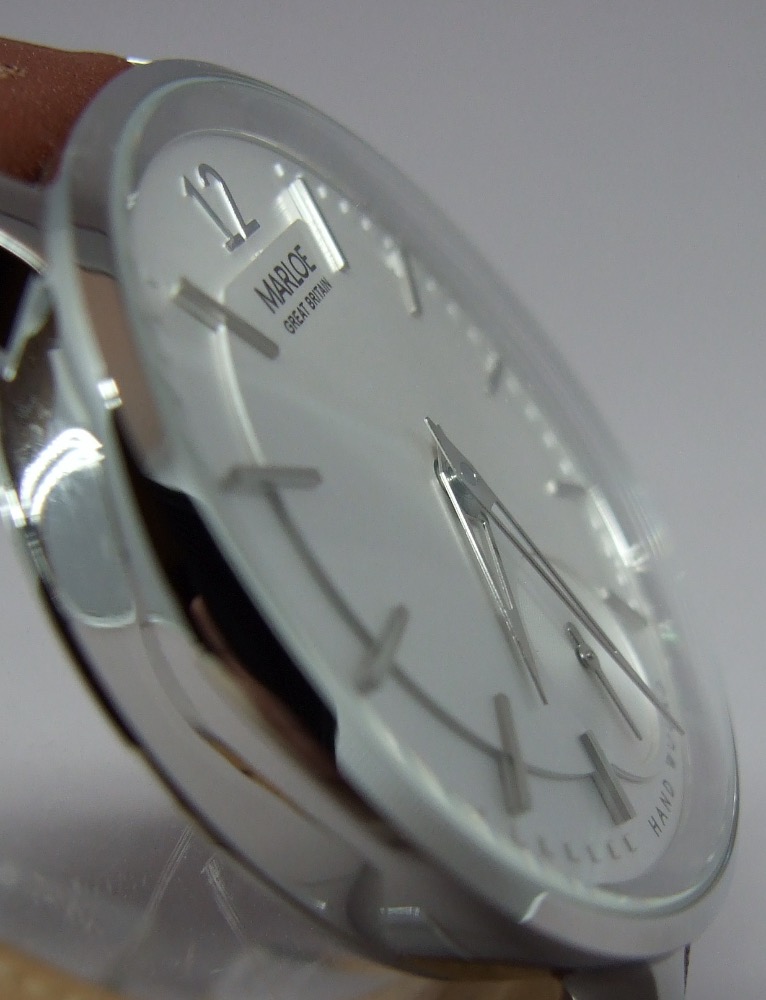 The hour and minute hands are simple shapes, and personally I don't love the skeletonization. I'd be tempted to send it off to MCWW and have him fill them with lume, for a twofer: Usable at night, and more legible during the day.
The raised center section and markers make for a dial that is compelling to look at as the lighting changes. Shadow and angle highlight different sections of the dial, quite lovely.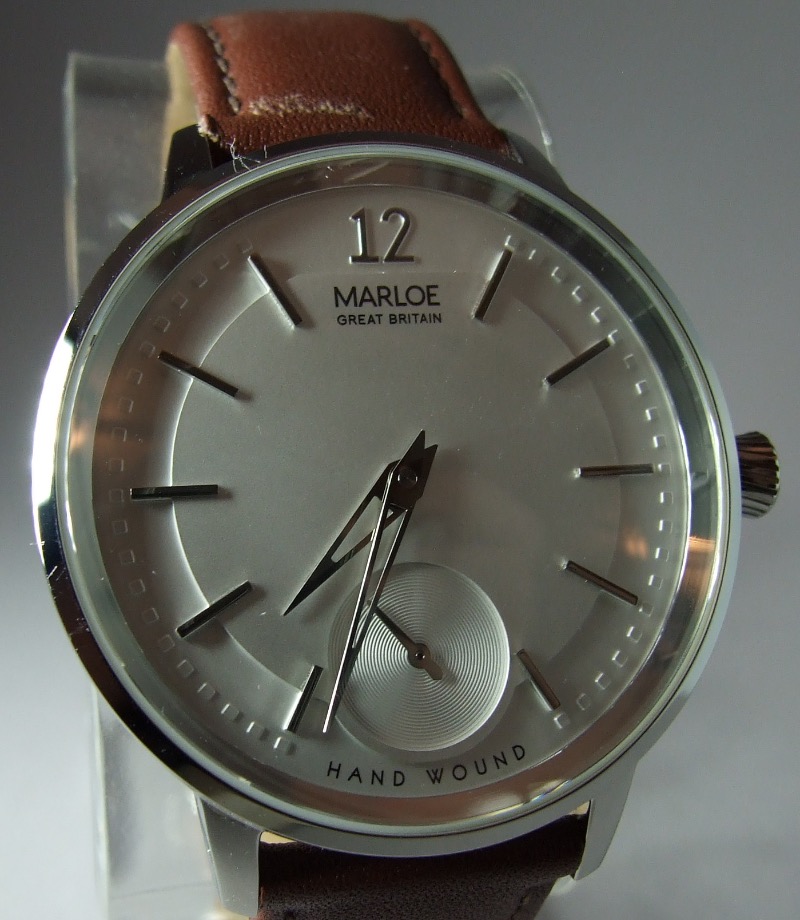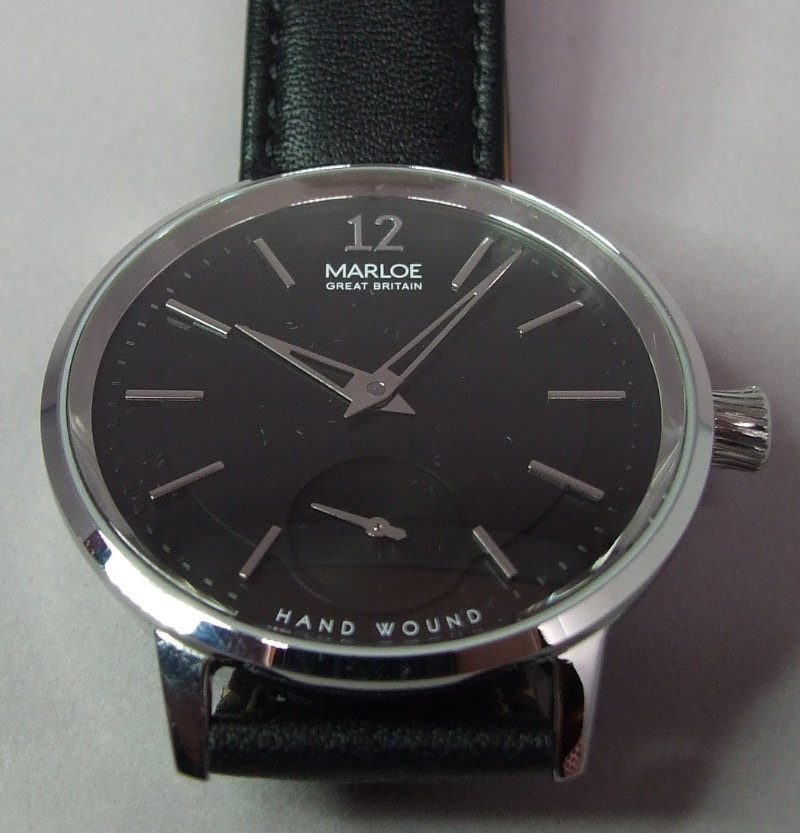 I am less enamored of the black dial version, I agree with my friend The Time Bum, the legibility here is not as good as the white version. Personally, I want the two-tone grey dial version, but the blue is also looking good.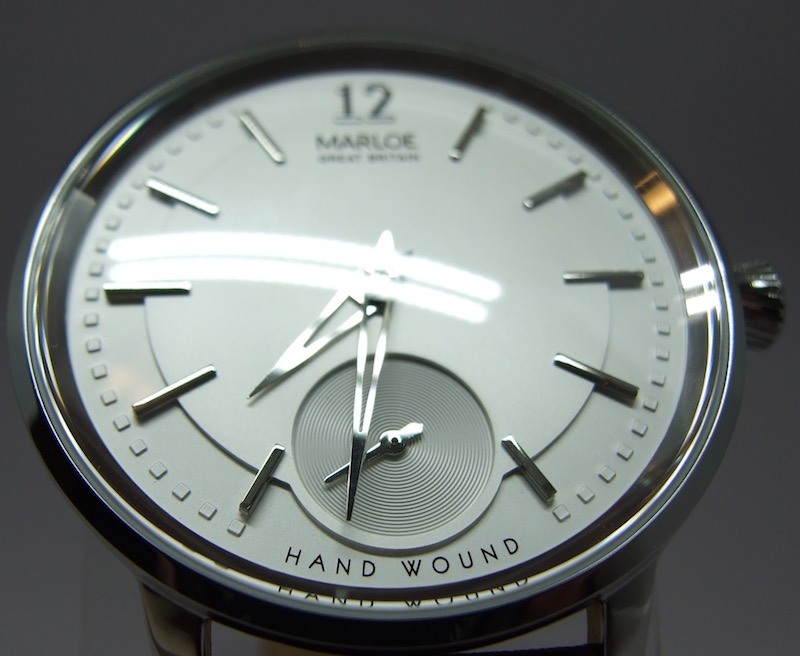 Bracelet/strap
Super-basic calfskin leather. Nothing exciting, perfectly adequate for the price and since the 20mm lugs are the most common size, I have an entire box of straps waiting to try instead.
Luminosity
None.
Movement
The ST36 is the Seagull homage to the Unitas 6498/7, with a bit more power reserve and slightly higher beat. ETA is choking off supply to non-Swatch brands, so an excellent and well-priced choice. Historically, Seagull has struggled with consistency and quality control, so you do have a bit more risk of a dud movement than you do with ETA, Miyota or Seiko. From my emails with Oliver, I would expect super service from Marloe if this turns out to be the case. If Seagull has improved their QC, this should run for 5 years before needing a service, and these pocket-watch-sized movements are the easiest to work on. (New watchmakers are often trained first on the 6498/7). I would expect trouble-free timekeeping and inexpensive service, which is a nice combination.
Timekeeping
I wore the silver dial version for three days, winding it once a day when I got up; this is the routine I use and recommend for pocket watch-based movements. Impressively, this prototype kept chronometer time, running a consistent +5s/day. That's superb, and again for the price completely exceeding my expectations.
Opinion
This is a large, dressy watch. The dial reminds me of of a JLC or the sector dial of Laurent Ferrier. I have 18cm (7.25") wrists, and the Cherwell fits quite well: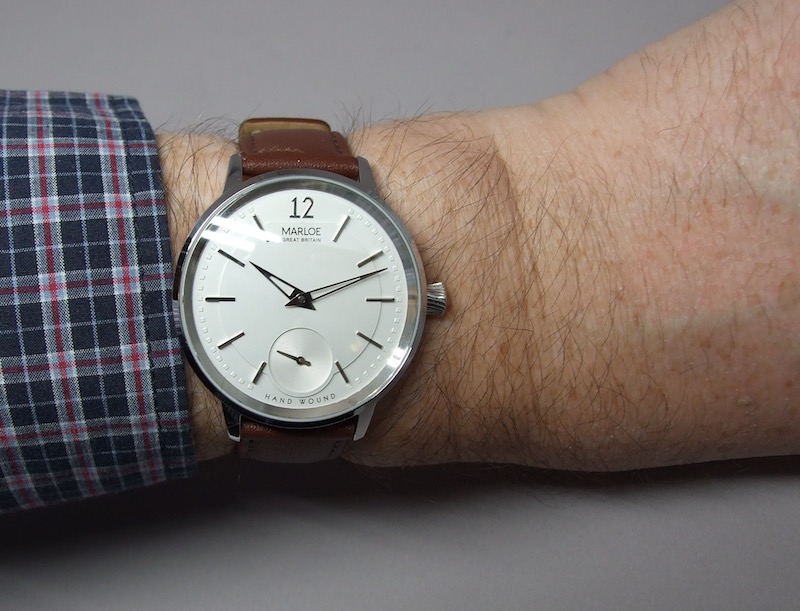 With the slim profile and domed crystal, it slips right under the cuff of a shirt.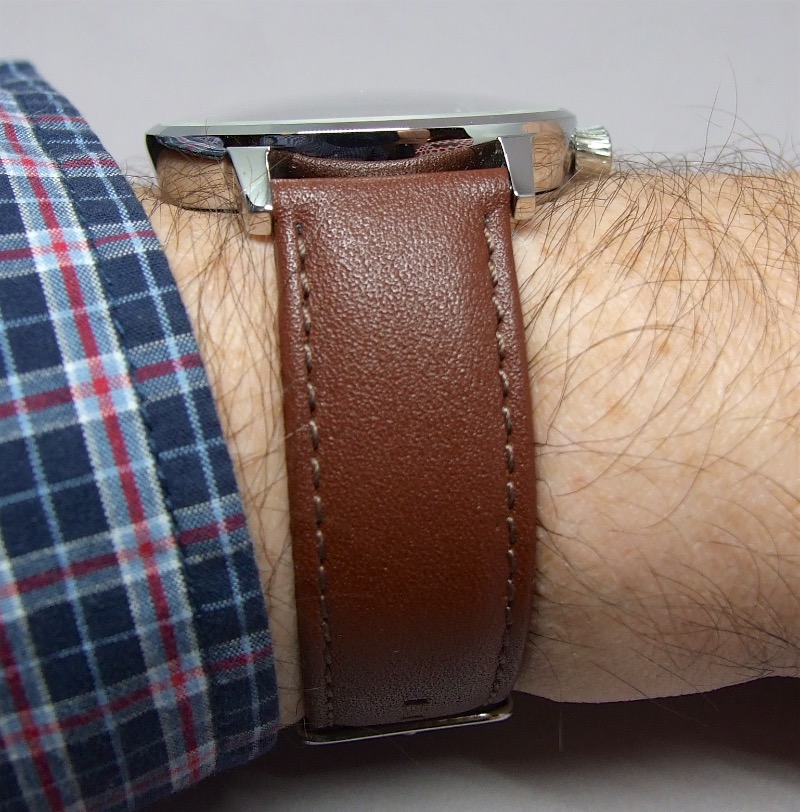 Pull back a bit to show proportion: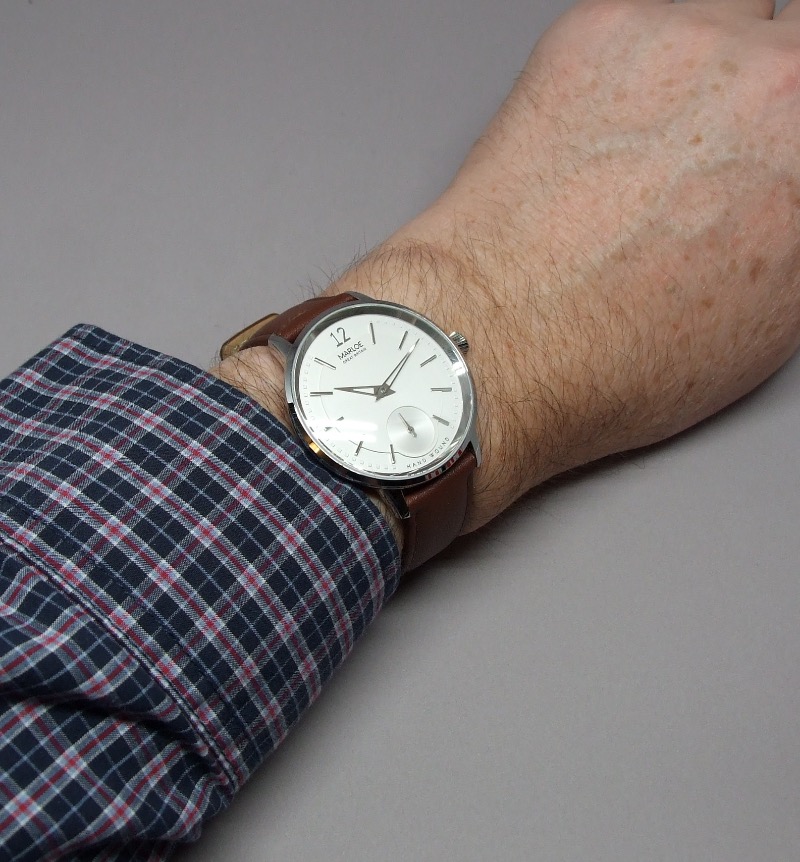 With the all-dial design, it's confident and present, but I would not consider it flashy or ostentatious. It's a classic dress watch.
Here's a lineup with the 40mm Squale: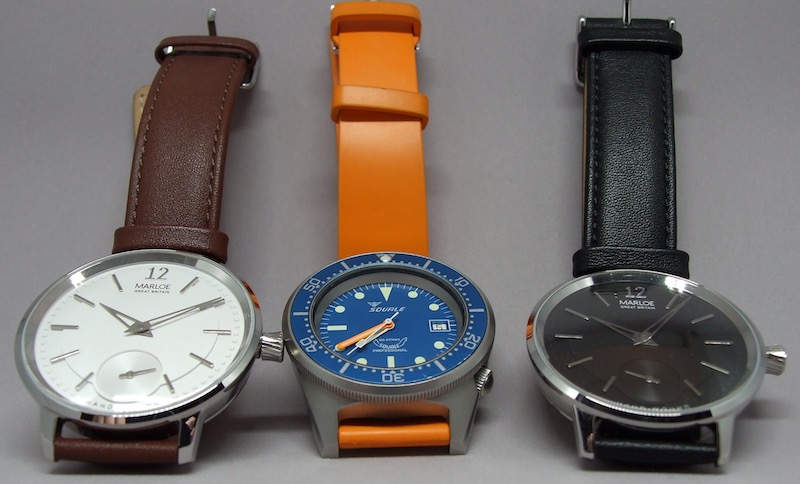 And one more on the wrist: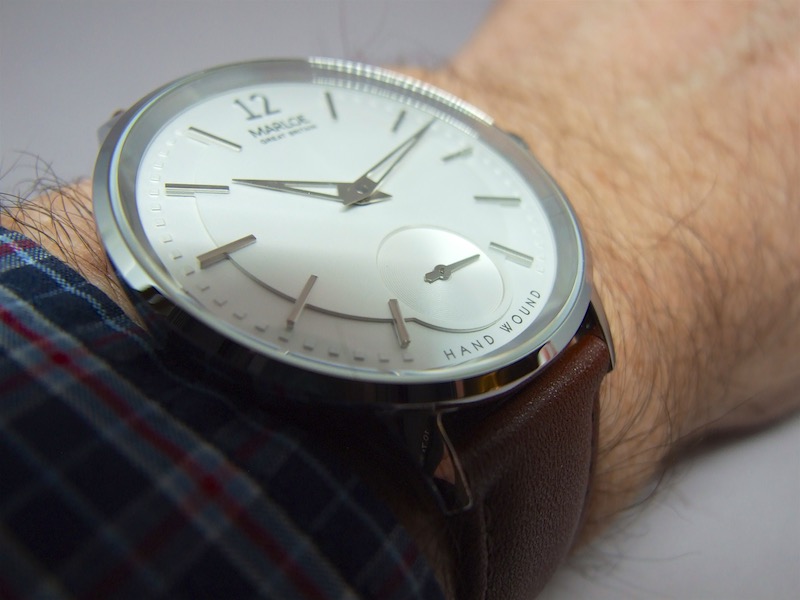 Context
The thing I keep coming back to with the Cherwell is the same thing I adore in the Armida A8: All-caps VALUE. At about $350, this just cannot be beat. It's incredibly difficult to make even a simple pad-printed dial for this price, and Marloe has built a sculpture to delight the eye and wallet. I have to strongly disagree with Zach Weiss this time; he closed his review with
That said, I do think their low price might be limiting them. I think everything about this watch would have come through better had it all been made at a higher price point, and with a movement to match. Here, it's a bit like a $350 watch that wants to look like a $1,000, but in the end, still looks like $350 watch.
Nope nope nope. Not every watch needs to be a thousand dollar watch! Rejoice in the amazing value and affordability here. Its a damn sight harder to achieve a nice $350 watch than a nice 1k watch. 
Also consider that, at $350, more people can afford to buy a style that they might not wear every day. It can give you some variety and frankly, from more than 3 meters away it's hard even for a watch geek to tell a $350 Marloe from a multi-thousand-dollar Swiss masterpiece. If you want a Veblen good, spend more, but if you just want a nice watch, buy the Cherwell.
Wrapup
Overall, is it a keeper? Absolutely.
Would I recommend it? Yes. I'd guess it to be too large for some wrists, though, so keep that in mind.
Would I buy it? Yes.
Would I keep it? Sure planning on it!
Disclosure
In return for email consultations and this review, Marloe will be sending me the grey dial version to keep and review. So I'm biased.
Related links
Attachments:

marloe-1.jpg
(image/jpeg)

marloe-2.jpg
(image/jpeg)

marloe-3.jpg
(image/jpeg)

marloe-4.jpg
(image/jpeg)

marloe-5.jpg
(image/jpeg)

marloe-6.jpg
(image/jpeg)

marloe-7.jpg
(image/jpeg)

marloe-8.jpg
(image/jpeg)

marloe-9.jpg
(image/jpeg)

marloe-10.jpg
(image/jpeg)

marloe-11.jpg
(image/jpeg)

marloe-12.jpg
(image/jpeg)

marloe-13.jpg
(image/jpeg)

marloe-14.jpg
(image/jpeg)

marloe-15.jpg
(image/jpeg)

marloe-16.jpg
(image/jpeg)

marloe-17.jpg
(image/jpeg)

marloe-18.jpg
(image/jpeg)

marloe-19.jpg
(image/jpeg)