Introduction
Sometimes it's good to be wrong. This is the MTM Silencer: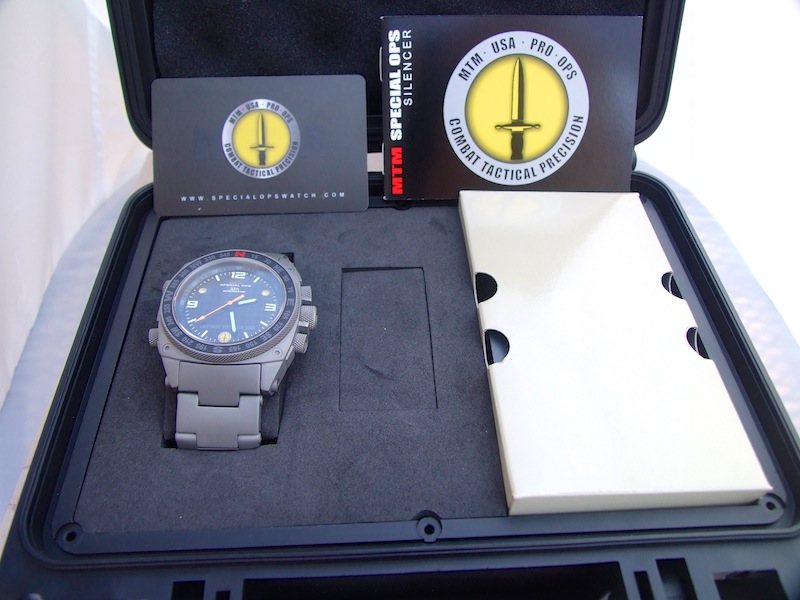 which was loaned to my by MTM for review here. I had initially assumed it was Yet Another Military-Themed Watch. Luminox, Traser, Chase-Durer, and the like. It's a popular genre but not one I gravitate to, as I'm not military or police and just haven't seen many I liked. This one, however, has some neat tricks and is worth a closer look. Let's dive in.
The packaging certainly gives you the impression: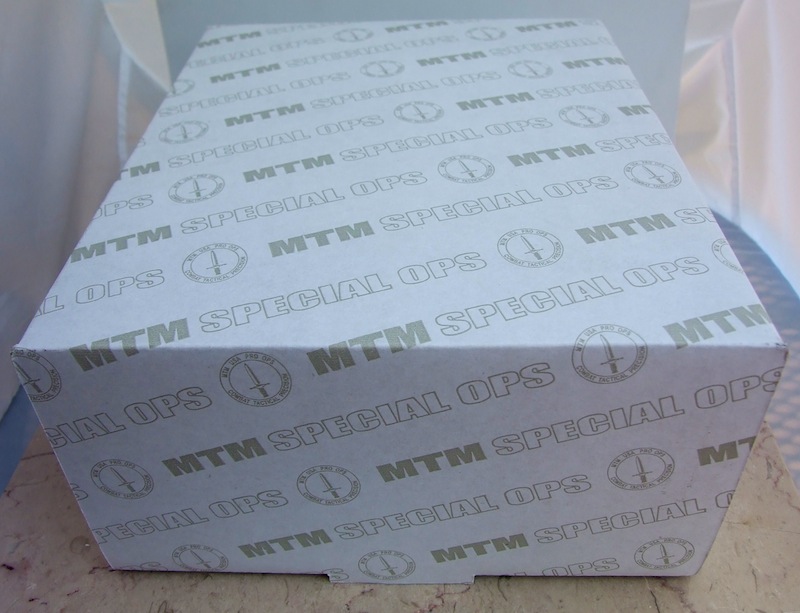 The inner container is a Pelican variant, complete with pressure equalization valve and heavy snap clasps: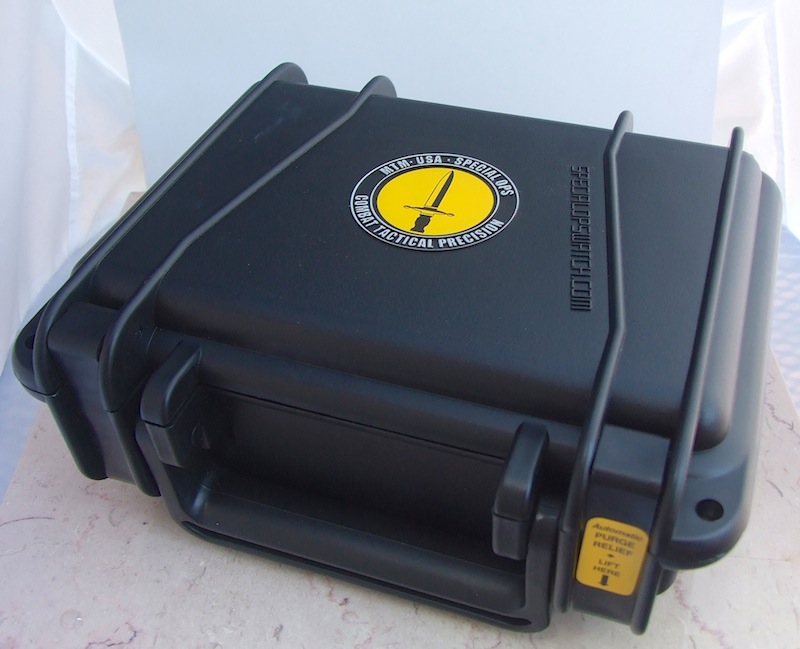 I'm a fan of Pelican cases as they're both durable and reusable; if you're ever camping or on the water they're great. This one includes foam cutouts for the watch and a box of... stuff.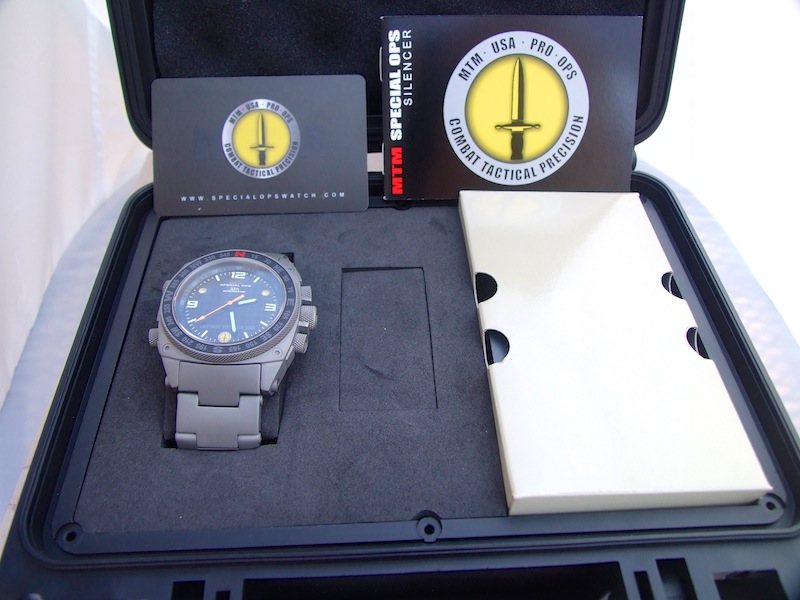 Warranty card, instructions, a couple of watch-sized foam blocks and a cardboard box with more stuff.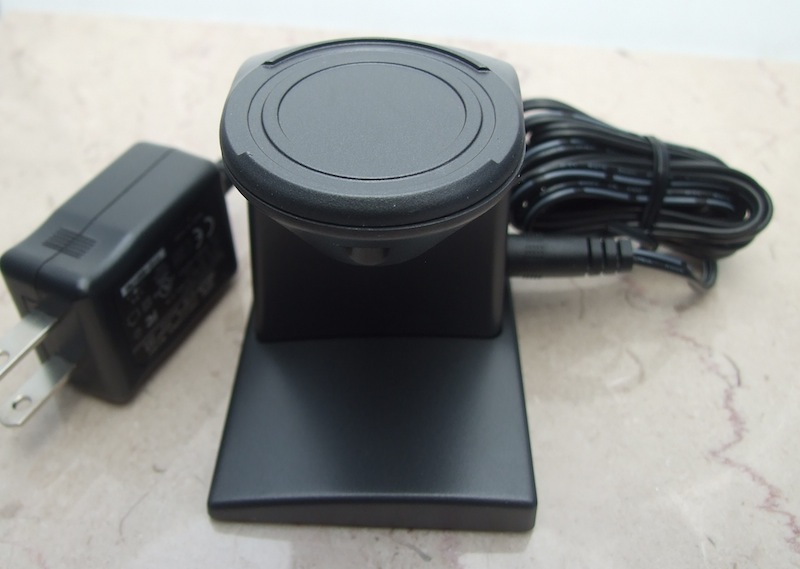 That's an inductive charger, a neat bit of technology that lets you recharge the watch without a normal metal-to-metal connection. You rest the watch on top of it: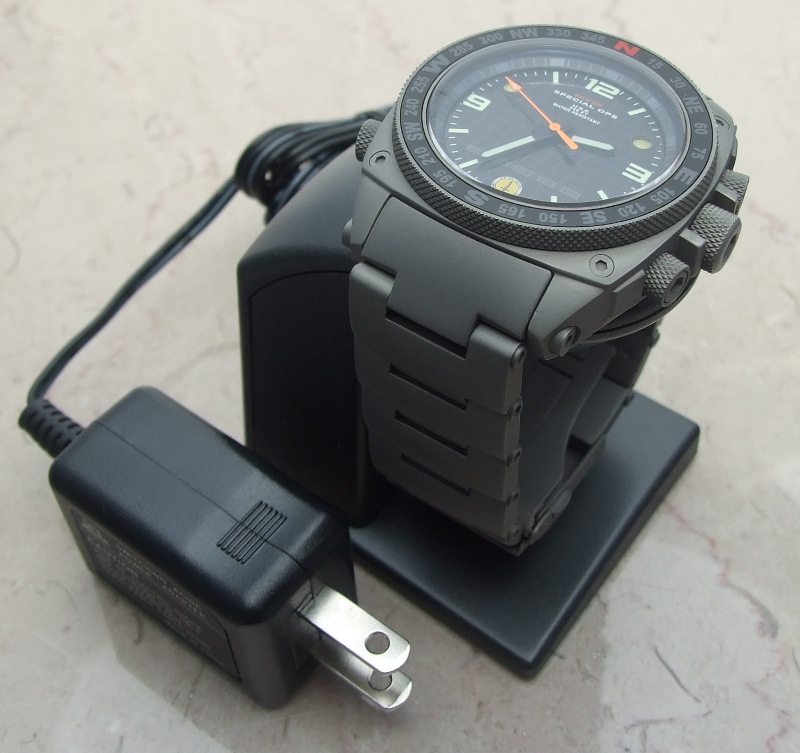 By why do you need an inductive charger? Ahh, there's where we start to see the unusual nature of the watch. Most of the military-style watches are tough cases and perhaps tritium illuminated, based on stock quartz movements. This is not.
The Movement
This has an analog-digital, but with LED instead of LCD. And the analog is unconnected to the digital. And it includes a vibrating alarm. (Plus another odd feature I'll get to in a minute.) The digital portion is white LED segments hidden below the dial:
So you get all sorts of digital goodness from that - five alarms, countdown, snooze-enabled, with selectable beep or silent vibration. I can see the silent alarm alone being an actual lifesaver in combat situations! We've all seen the movie scene where the errant beep caused havoc, no?
The other power-draining feature is the two white LEDs on the dial at two and ten o'clock. They look like roughly half-watt dies to me, but that's a guess. The brightness is that of a good multicell flashlight, which is hard to convey in pictures. Here's my best effort. It's bright.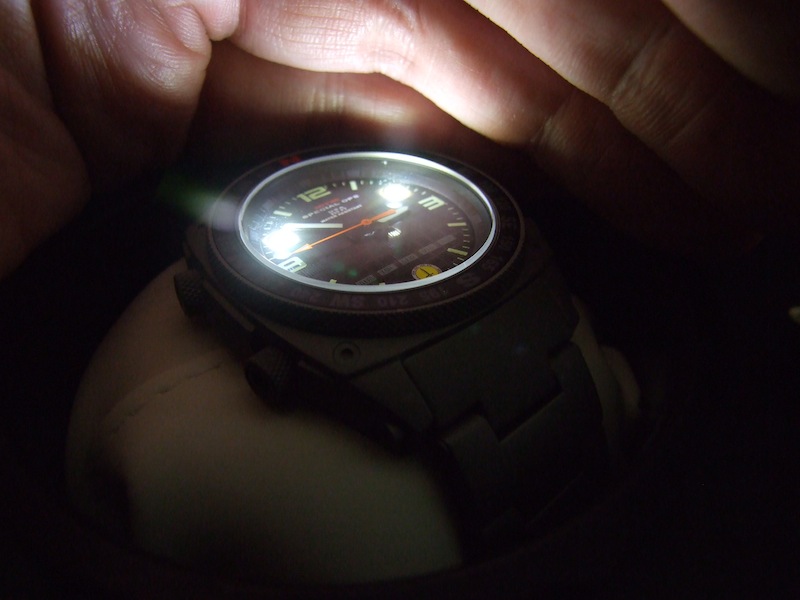 In addition to flashlight mode, which is good for an hour, it can also flash as a strobe for much longer. Distress signal perhaps?
Specifications
Steel case, bead-blasted grey finish. Also available in black (PVD) and brushed. 44.4mm by 15.4, 52.2 lug to lug. A chunky beast with hex-key bolt heads all over it. A very military look. The watch is 105g by itself, 240g on the bracelet with 3 links removed to fit my 7.25" wrist.
All pusher have threaded collars, and the crown is screwdown too. 100m water resistant, sapphire crystal, 120-click unidirectional bezel which is kind of silly since it has a compass embossed on it. Roughly 4 months of battery life per charge, depending of course on how much you use the high-power vibration and LEDs.
The Bracelet
Non-tapering 24mm bracelet, 5mm thick. flip lock with Push button release and 3 Micro adjustments. The links and pins are remarkably well made and engineered, with hex-key heads and a gasket on each to keep them in place: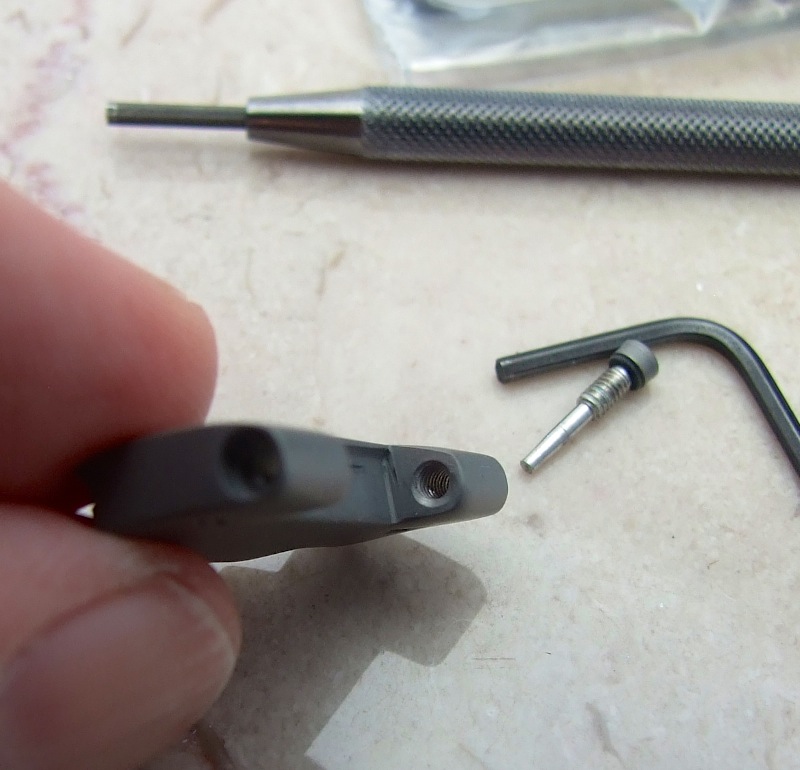 This is where I started to get impressed. Attention to detail, solid build quality and the inclusion of the tools you need - bravo! The clasp is solid and low-profile on the wrist: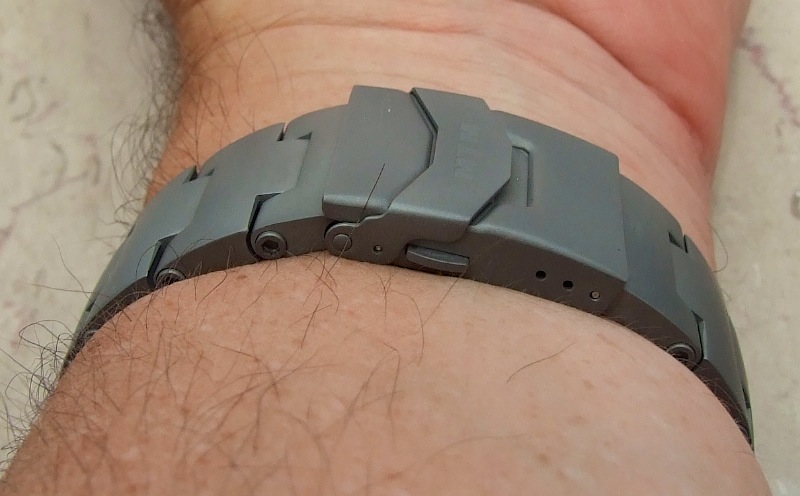 The bracelet attaches to the watch with a massive screwed bar: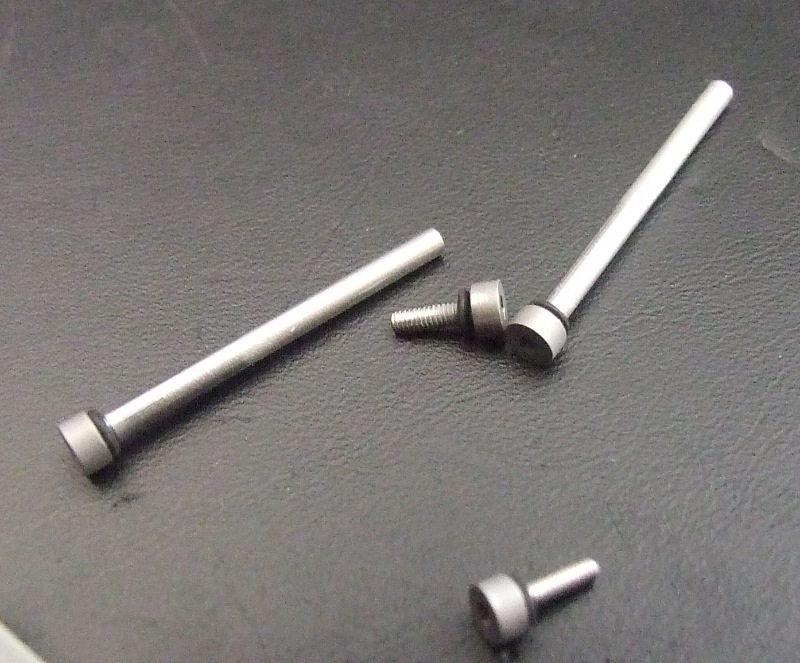 Yep. more gaskets. Attention to detail.
Lots of kex keys there. It's a brick, solid as hell.
Looks and impressions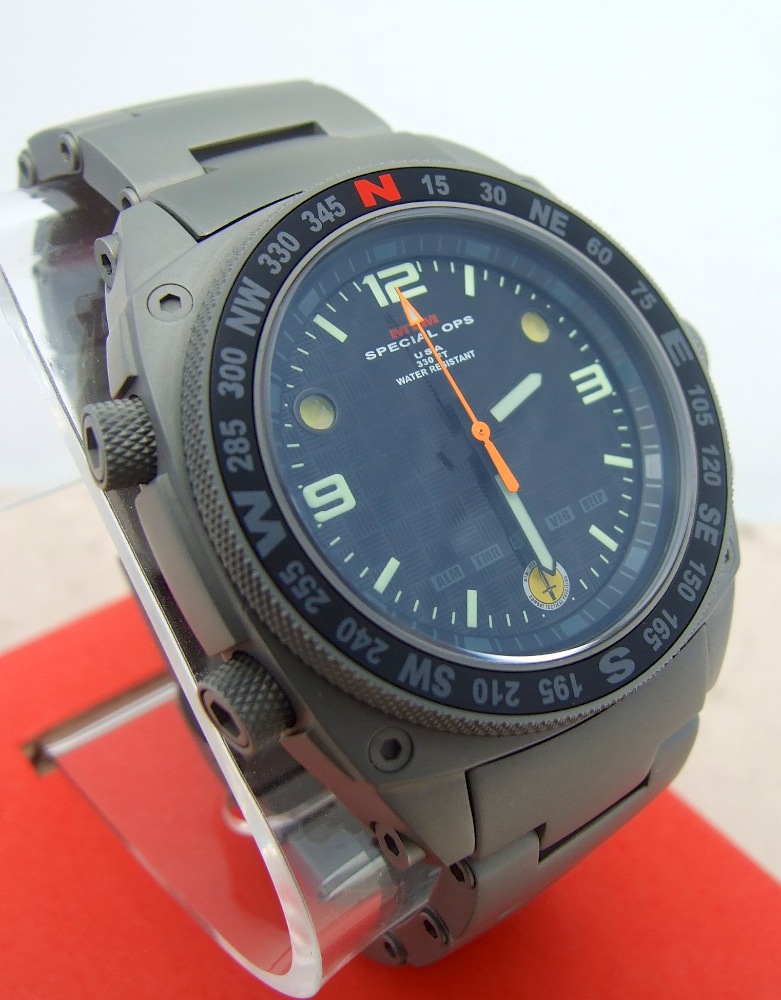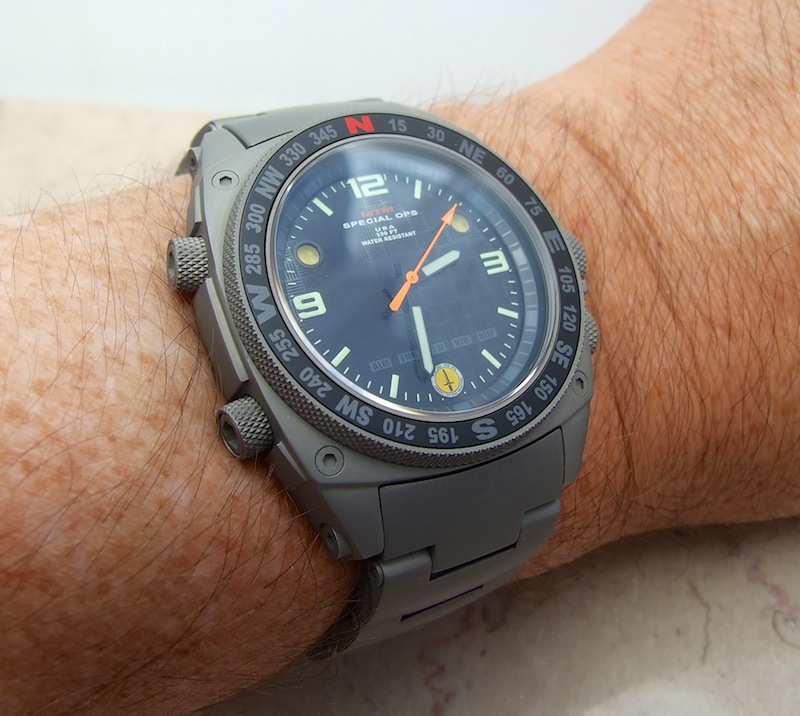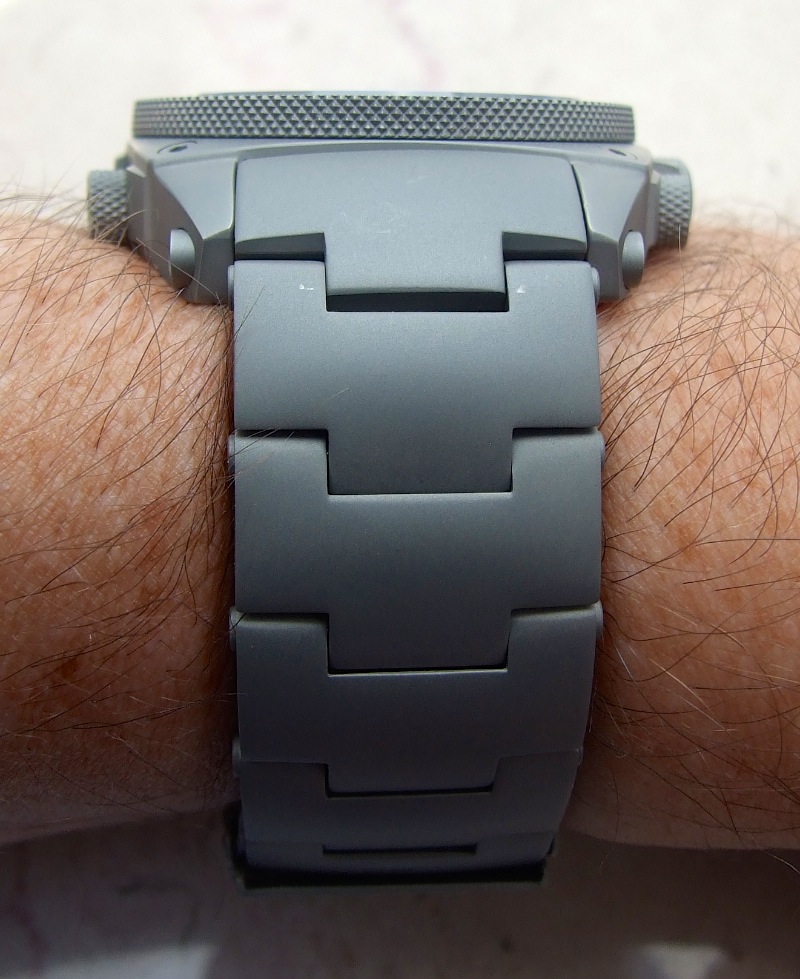 You'll have some trouble with long sleeves. Not impossible but sizeable. I don't have 24mm straps (though I've ordered some) so the best alternative I had available was a 20mm NATO canvas strap: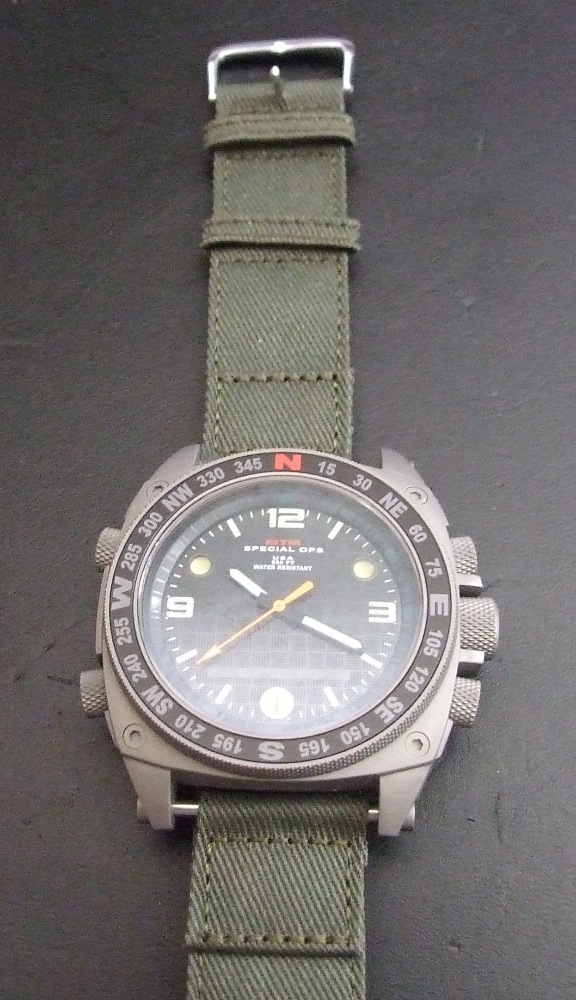 I kinda like that combo. Reduces the weight down to what I find quite wearable; if this turns out to be a keeper and not a loan I'll order 24mm to match. I find it heavy on the bracelet, but really it's lighter than the IWC Aquatimer 2000 I used to love.
Since the digital is invisible, it's actually pretty understated to wear around.
Features and testing
Legibility is good, could be better if the hour and minute hands were bigger or a lighter paint color. Black border is a lose. Since you don't want to use the super-bright LEDs at night, it's good that a) there's a good dose of Superluminova on the hands and dial: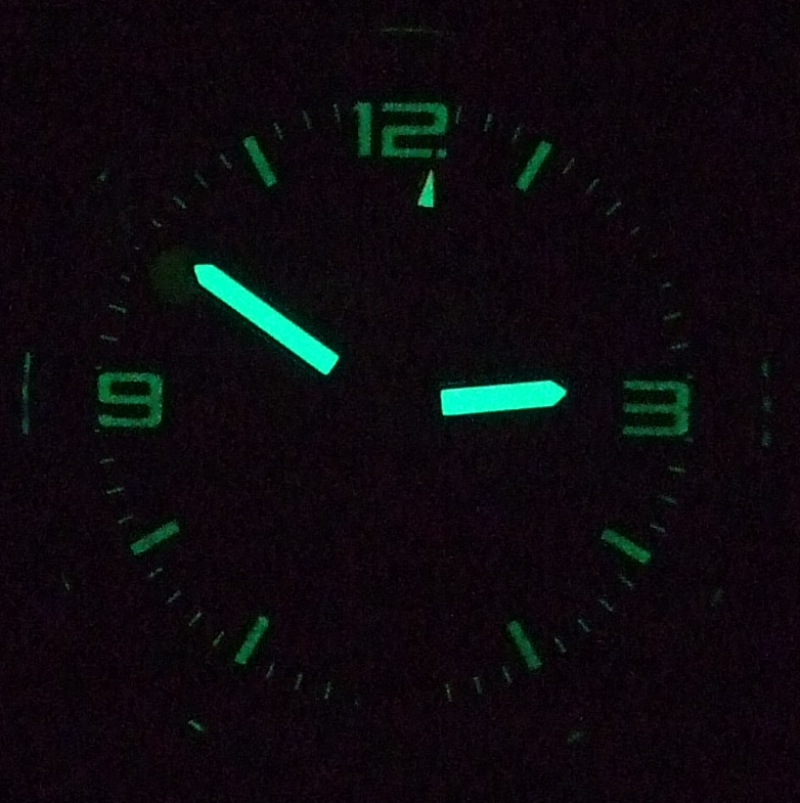 That alone is legible for at least five hours. Or you can press the upper right button: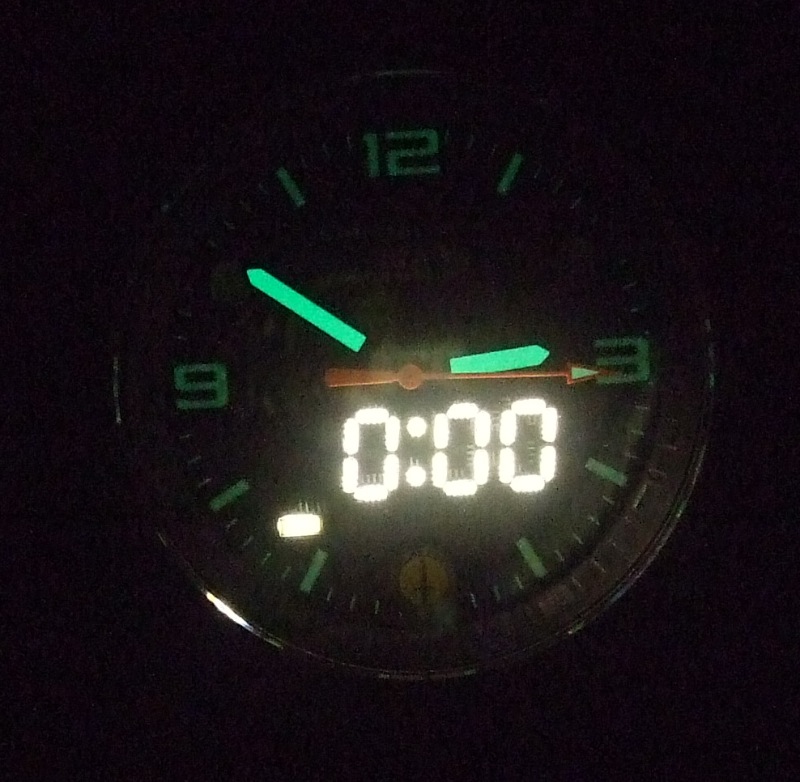 Boom, white LEDs to the rescue. That's actually not the time being displayed, but you get the idea. (Yes, that was difficult to photograph!)
It's super bright. One downside of LEDs instead of LCD is that the LEDs get washed out in full sunlight, making it hard to read the digital during the day. An acceptable tradeoff, but one to note.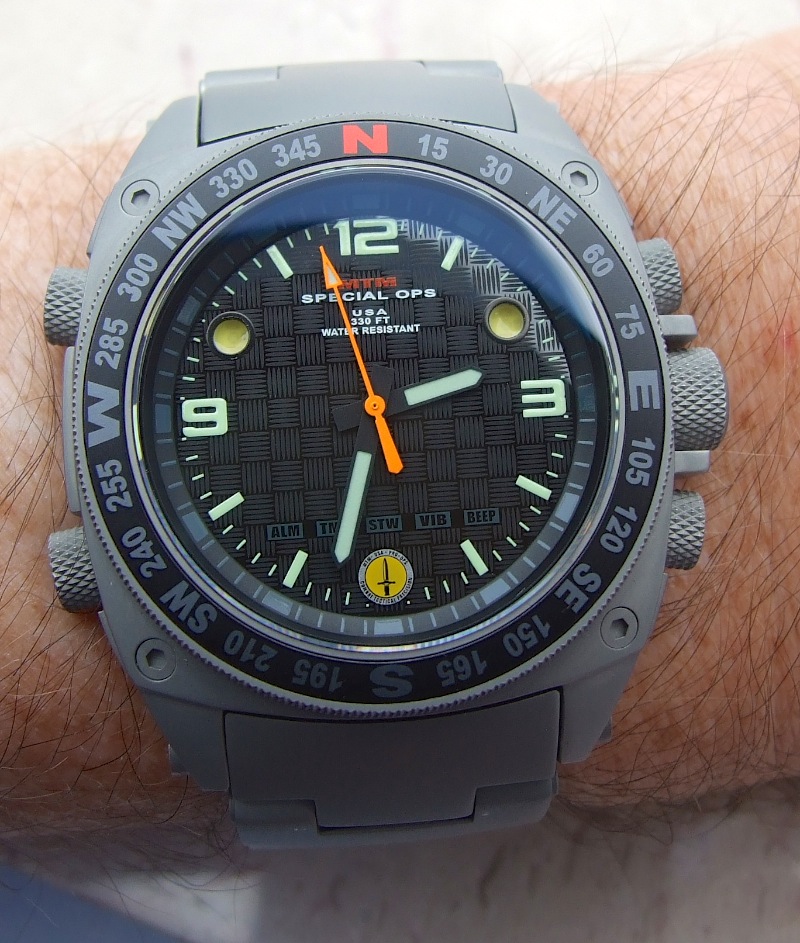 Other notes
It's a nice looking watch. 
I love the vibrating alarm as a countdown timer. Silence is wonderful for a lot of places, and the buzz is strong enough to wake me easily in the morning. Killer feature.
I've less immediate use for the flashlight/strobe lights. Camping or the like, perhaps.
I dislike the screwdown collars on the buttons. The manual says its less waterproof with them unscrewed, but if the alarm is going off you have to unscrew one to silence it. Me no like that.
The compass bezel is 98% useless to me. Looks cool, though. You can use it to find north if all else fails.
The analog movement free-runs, so you can set it to any time. I prefer synchronized, but you can set random time offsets this way I guess. Not a big deal.
The 'SpecOps' branding is quite small and not visible to anyone else unless you show them. 
I like the orange second hand. A nice touch of color.
Quartz timekeeping - 20seconds/month max error.
Wrapup and conclusion
I would like to thank Marnie Lerner of MTM for the loan, and I apologize for misjudging your watch ahead of time. I'm glad to be wrong, and I think if you need a durable watch with a couple of really unusual features the MTM line is well worth a close look. If you just need a toughened quartz, then other watches do that for less, but the lights, LED-based digital and vibration alarm are all rare and useful features. 
The list price of $895 reflects this, though for a custom-developed movement in titanium and sapphire with charger it's not bad. I would expect that you could find it discounted as is normally the case for most watches.
Attachments:

mtm-3.jpg
(image/jpeg)

mtm-1.jpg
(image/jpeg)

mtm-2.jpg
(image/jpeg)

mtm-3.jpg
(image/jpeg)

mtm-22.jpg
(image/jpeg)

mtm-20.jpg
(image/jpeg)

mtm-6.jpg
(image/jpeg)

mtm-28.jpg
(image/jpeg)

mtm-24.jpg
(image/jpeg)

mtm-25.jpg
(image/jpeg)

mtm-18.jpg
(image/jpeg)

mtm-30.jpg
(image/jpeg)

mtm-12.jpg
(image/jpeg)

mtm-7.jpg
(image/jpeg)

mtm-14.jpg
(image/jpeg)

mtm-16.jpg
(image/jpeg)

mtm-31.jpg
(image/jpeg)

mtm-26.jpg
(image/jpeg)

mtm-27.jpg
(image/jpeg)

mtm-29.jpg
(image/jpeg)

mtm-17.jpg
(image/jpeg)