LunaTik LTBLK-002 aka Blackout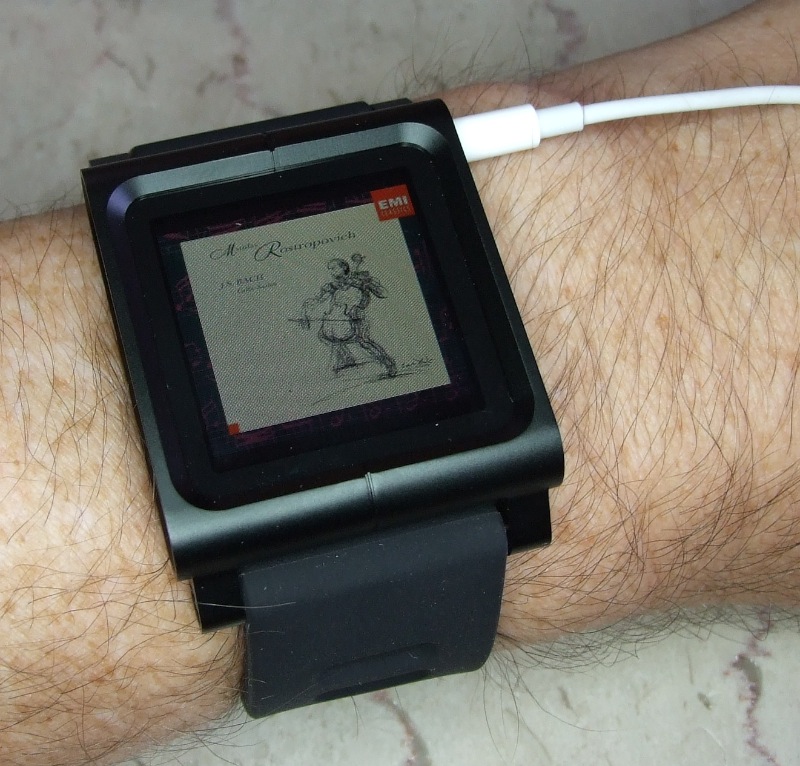 It's a watch, it's an iPod Nano holder, it's a sterling example of Kickstarter, it's not water resistant at all. Say hi to the LunaTic, courtesy of the kind folks at Tic Watches
Tic Watches contacted me and asked me to write a review for them for this site. They gave me this LunaTik; the Nano I purchased myself. After the review, I'm going to send both off to a beloved aunt for Christmas.
My thanks to Tic Watches for the LunaTik.
Introduction
When the iPod Nano (6th generation) was introduced, Apple included a handful of watch faces, probably just on a whim. When they released the next version, they noted that the watch functionality had been unexpectedly popular, so they increased the number of dials to 18. In the interim, LunaTik was a successful project on Kickstarter project and has been quite popular.
The basic idea is to take a stock Nano and add a nice strap and machined aluminum case. This gives you a way to wear your Nano for exercise as well as a FM radio, pedometer, watch and MP3 player.
It's available in a variety of colors, I chose the "Blackout" model paired with a dark grey iPod.
The LunTic model I tested, the LTBLK-002, costs 79UKP on the TicWatches shop, about $123 USD as of today. The Nano is an additional $129 for 8GB or $149 for a 16GB model.
Specifications
Size: 40.4mm wide, 10.5mm thick, 28mm lugs, 54.8mm lug to lug.
Weight: 70g with Nano.
Water resistance: None. Do not get this one wet!
Movement: iPod Nano
Strap: Compression-molded silicone, stainless steel hardware. PVD plated buckle. Anti-dust coated, very thick and soft. The keeper is a machined piece of aluminum that you press-fit where needed to size.
Materials: Aircraft-grade aluminum body, anodized.
Crystal: Glass (assumed)
Price, availability and discounts: 79UKP for the LunaTik, 129/149 for the Nano.
Packaging
Comes in a nice box: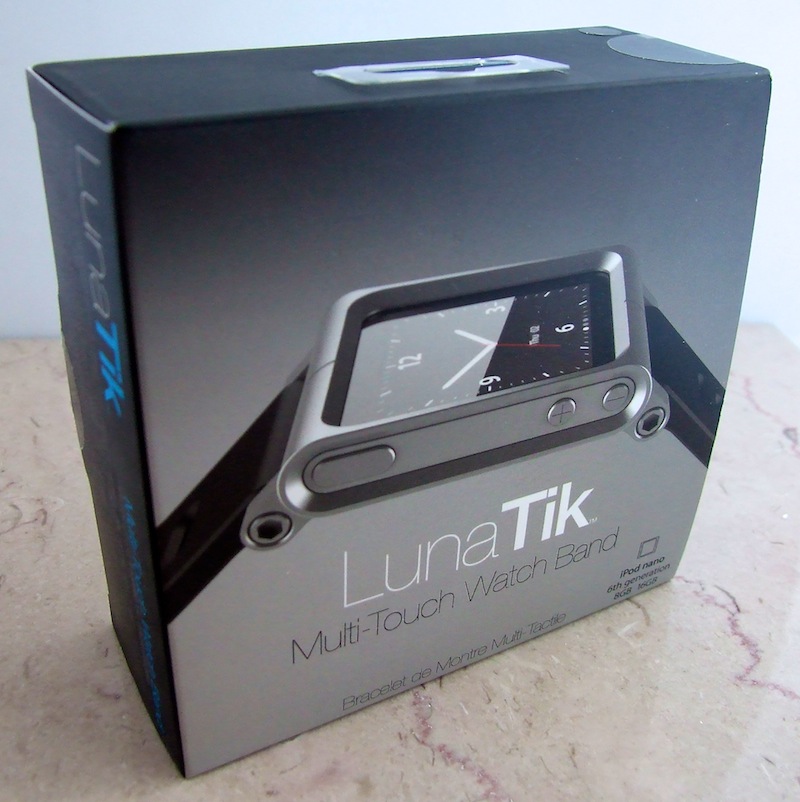 The back shows you in detail what you're getting: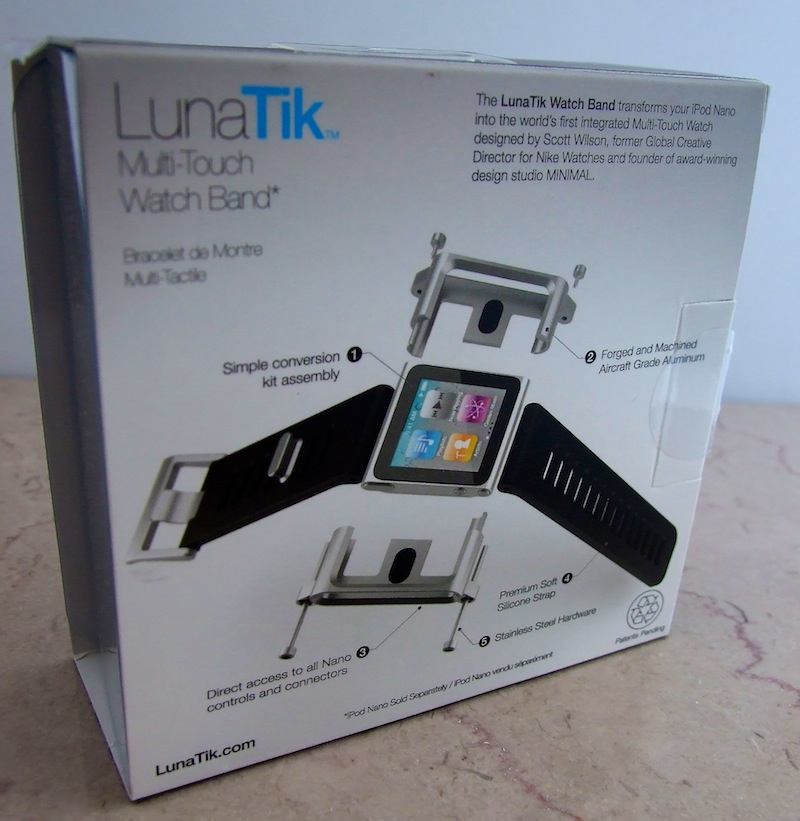 Inside is a foam-core holder attached to a plastic sleeve: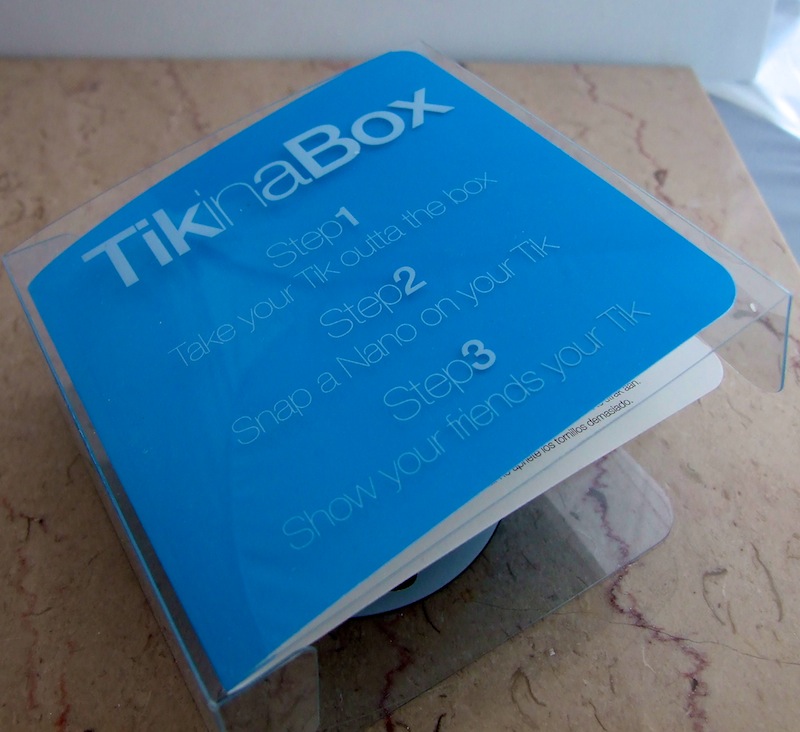 The blue paper holds two hex keys and instructions: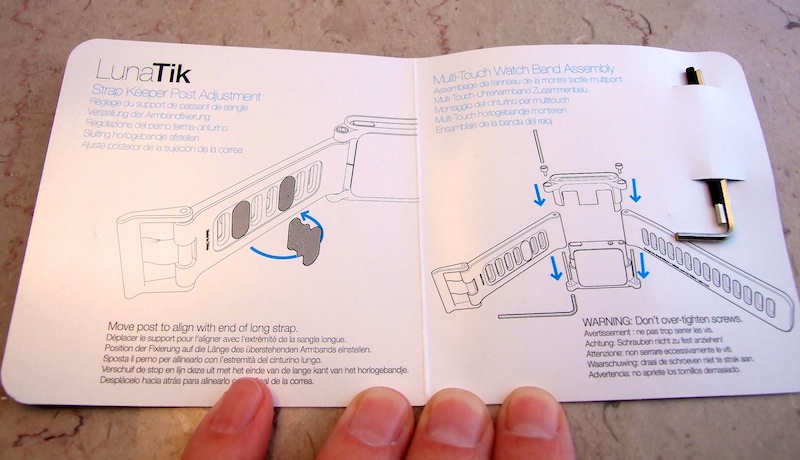 Out of the packaging and next to the grey Nano: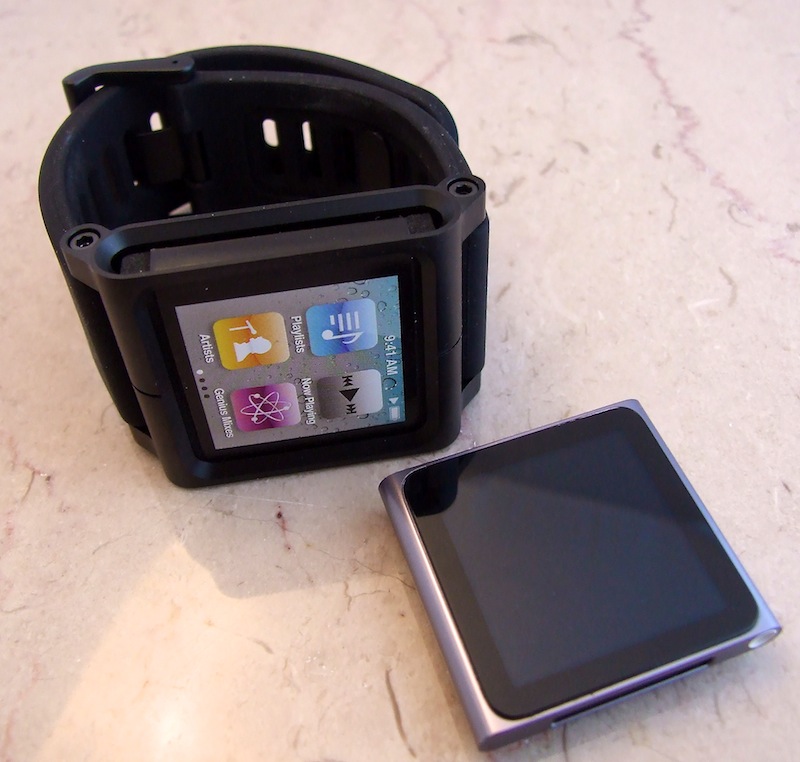 Case, caseback, crown
The case is extremely well made, sliding onto the Nano with the unique sensation of well-machined parts have. Smooth, no grabbing at all. LunaTik thoughtful has a bit of padding on the back too: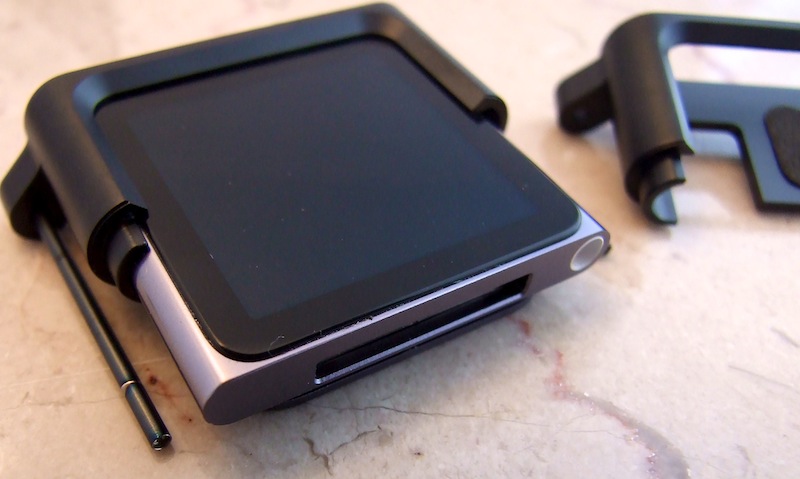 Once in the case, it looks very much like a conventional digital watch. The gaps between case, bezel and back are tiny.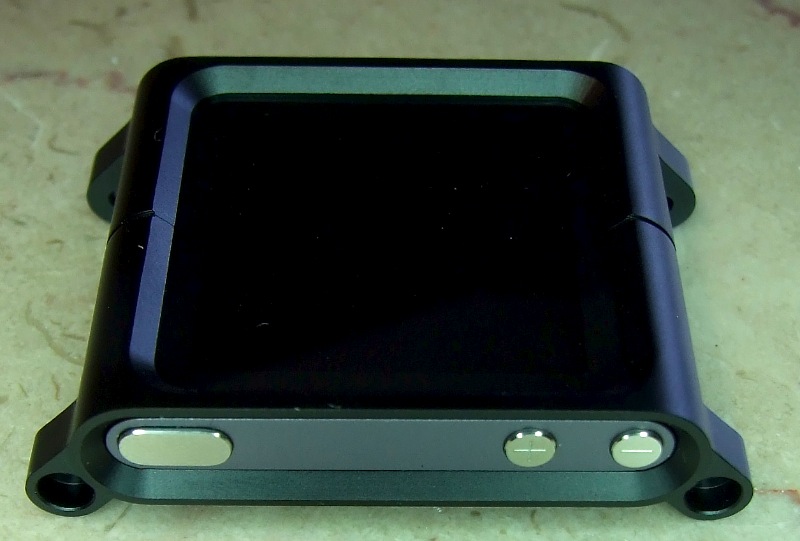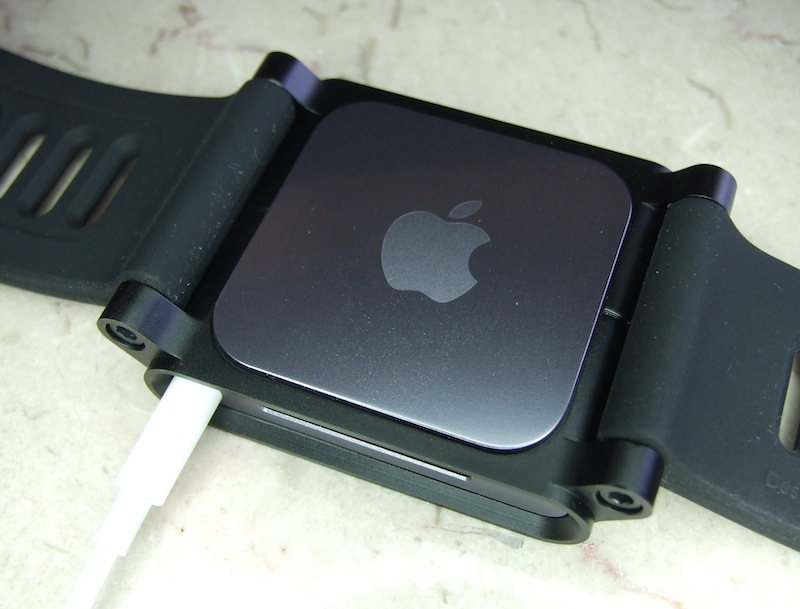 On the wrist
You can wear it with the headphone jack on the lower left or upper right: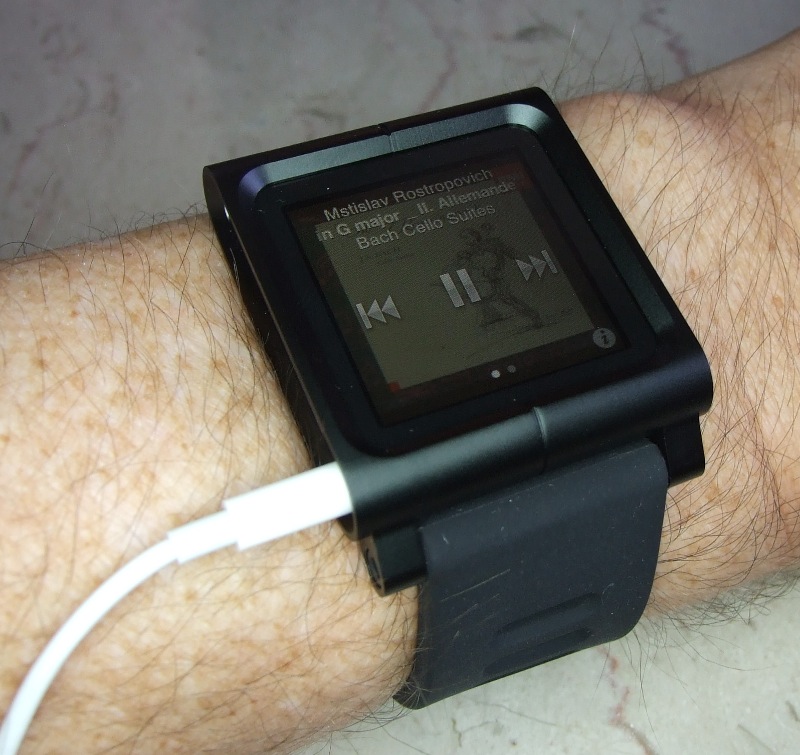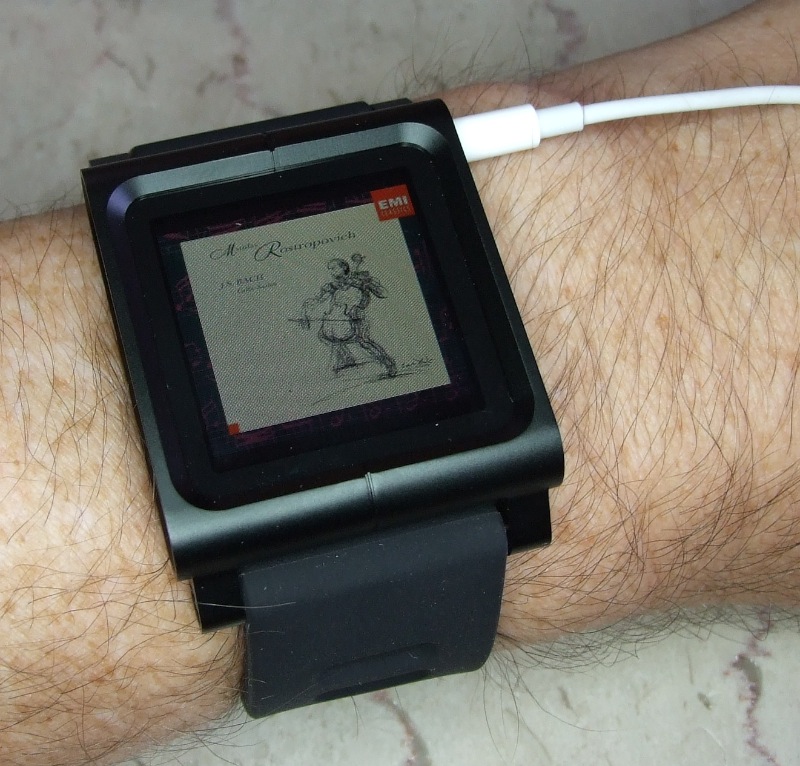 I think the lower left works better, personally, but it would also depend on whether you've long sleeves on and how active you are. Note that the iPod dock connector is available, so you do not have to remove the iPod to charge and sync it.
It's not small, but the 10.5mm thickness is quite slim compared to most of my watches. The dropped lug design also helps.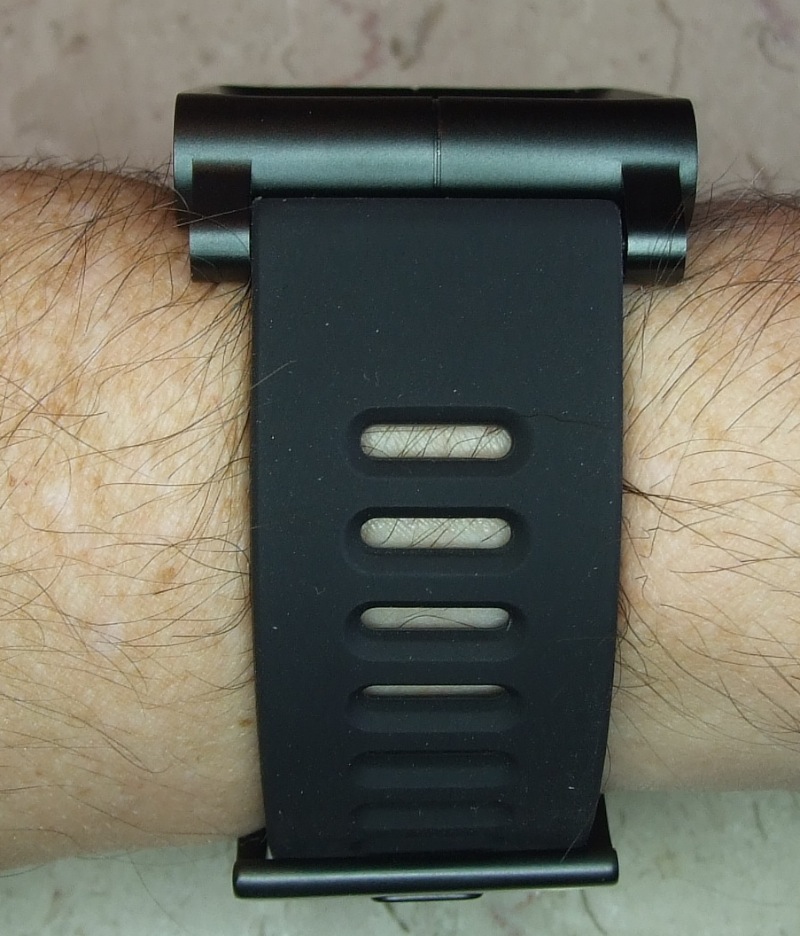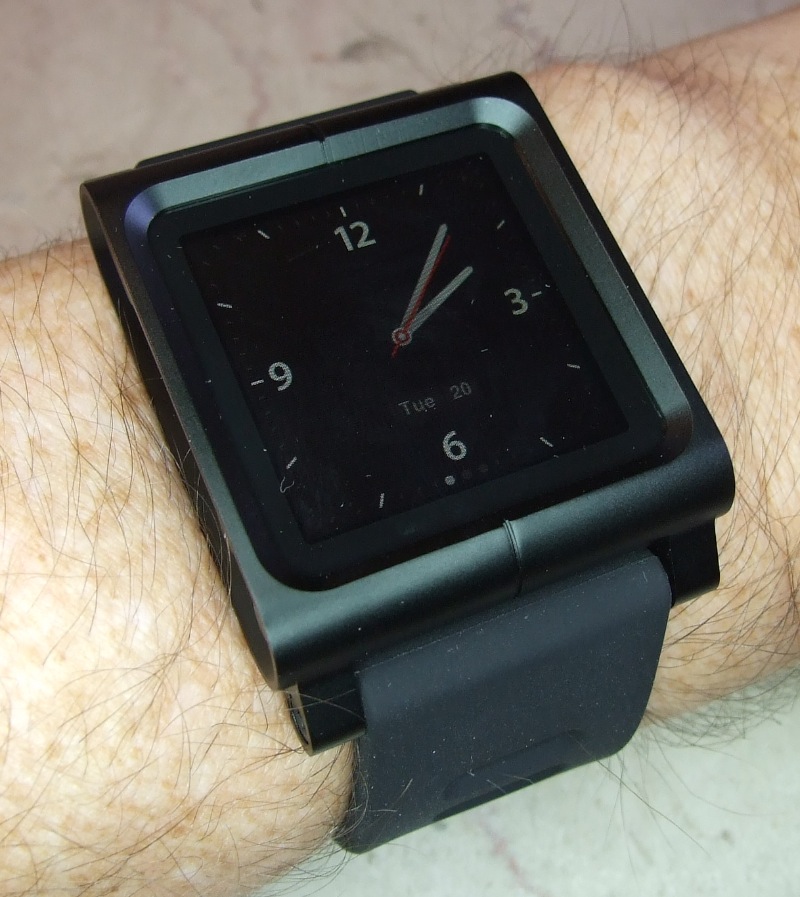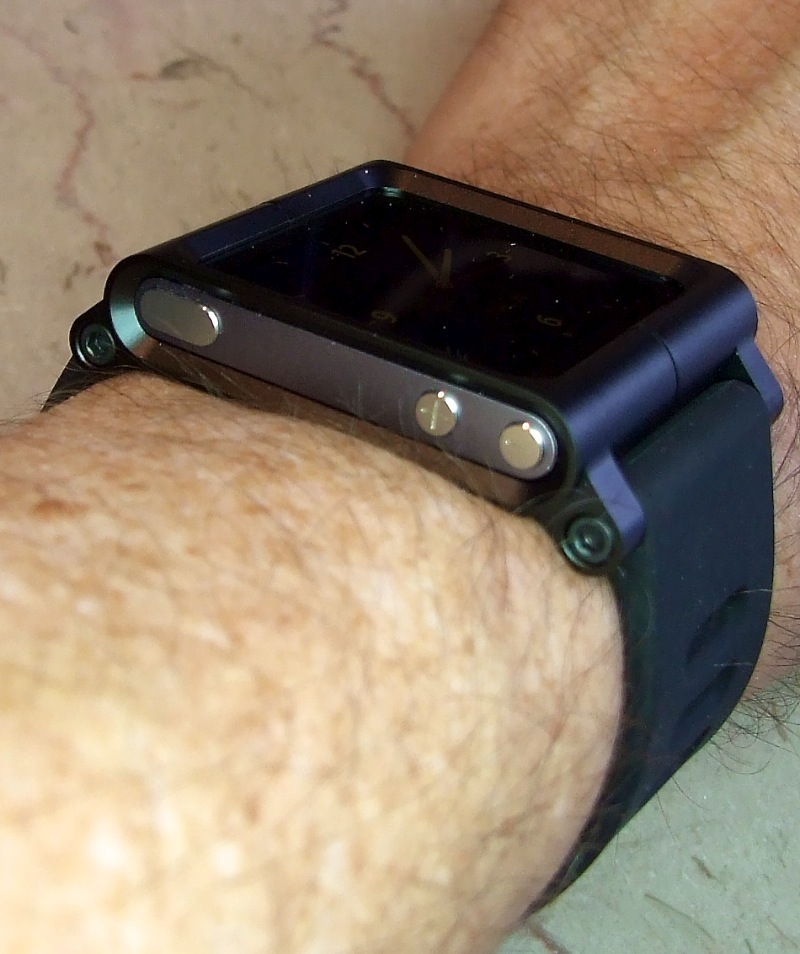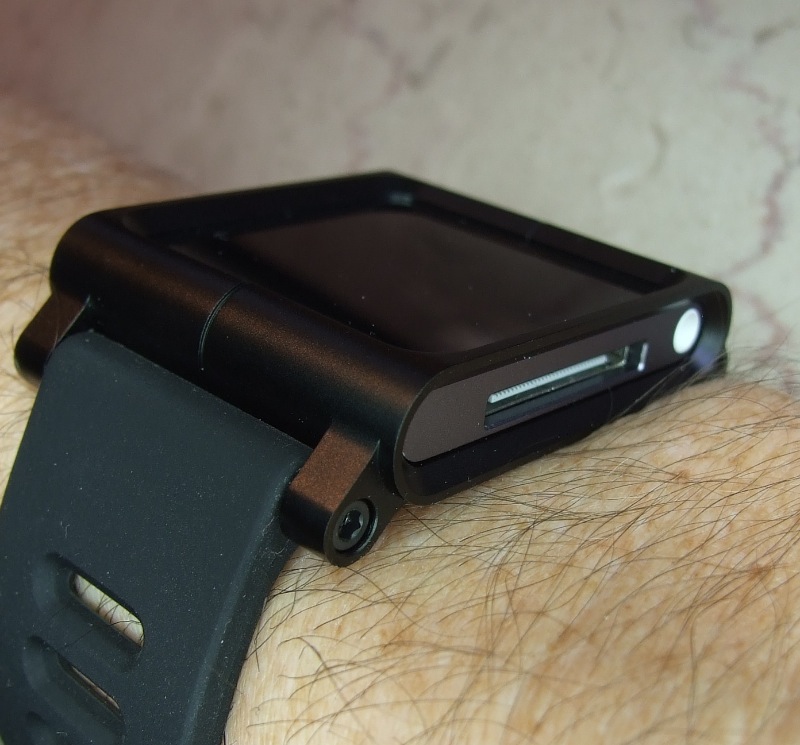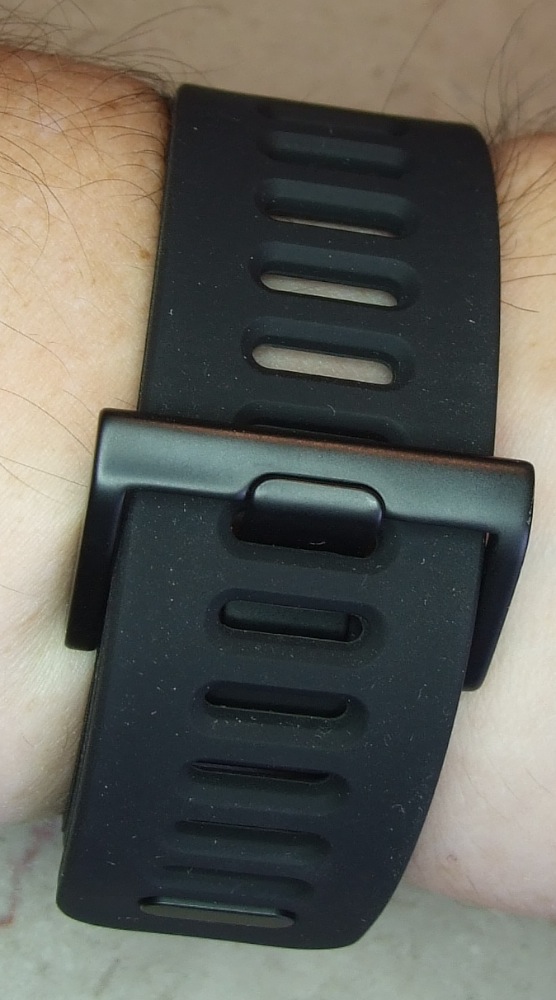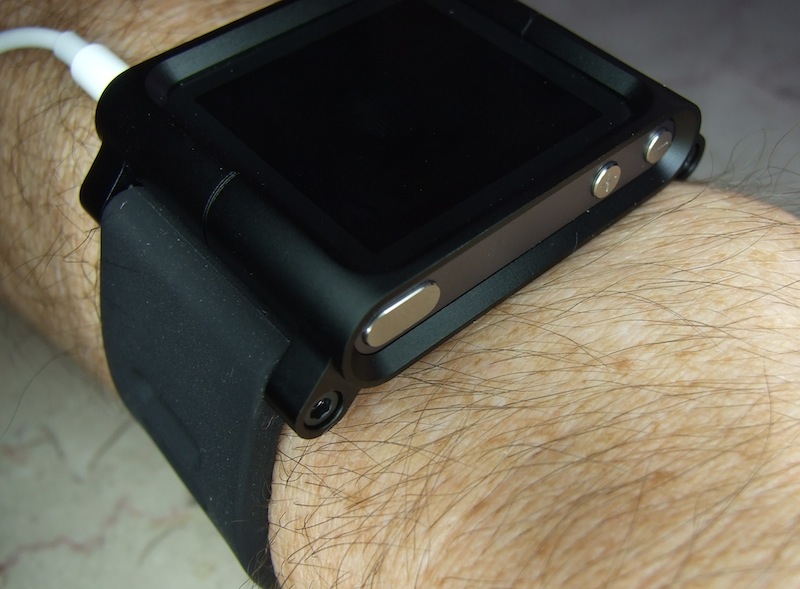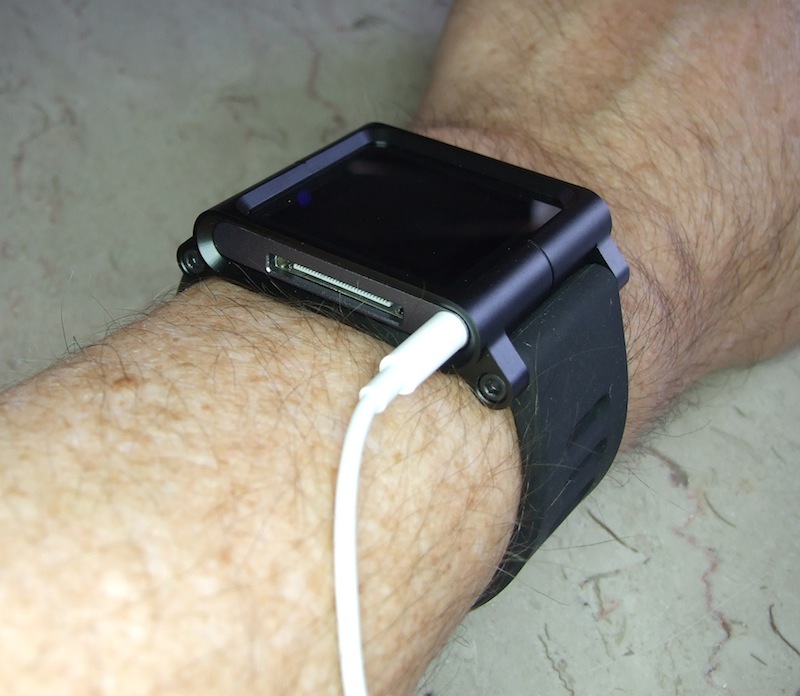 Strap and buckle
The silicone rubber is high-grade stuff; butter soft and pliable. The buckle is PVD-plated to match the case and nicely sized. The unique keeper mechanism is worth a mention - you remove the aluminum plug and move it to wherever fits your arm. Simple, works well, requires a pinch to attach.
Compared to a conventional watch
Here are some snaps next to my IWC: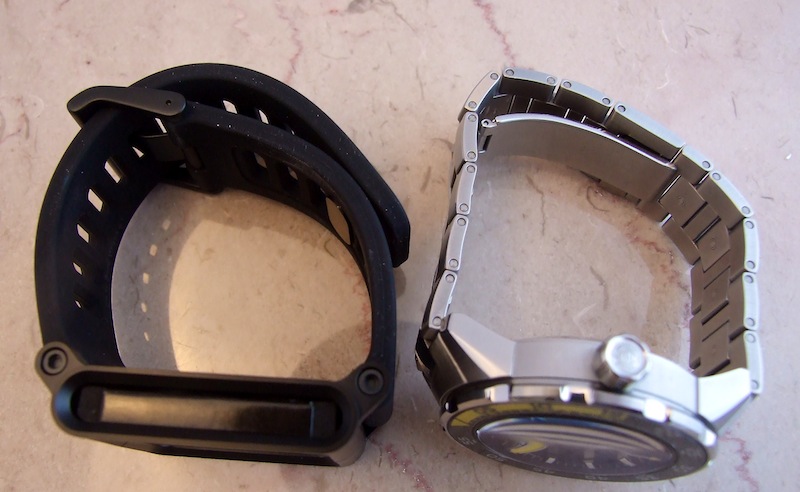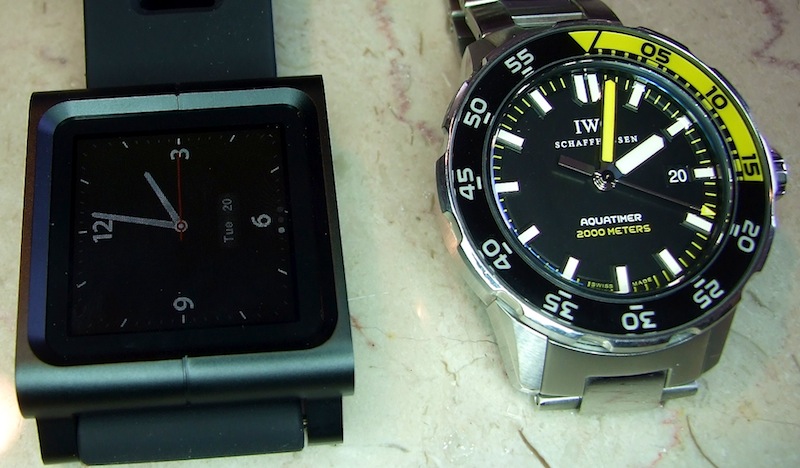 Dials
There are 18 dials, so here are a few I like: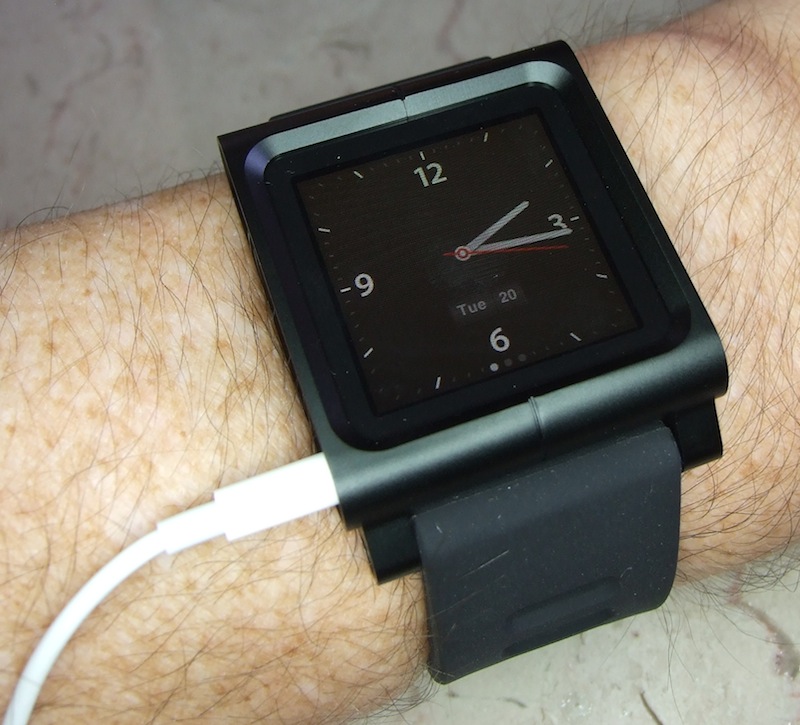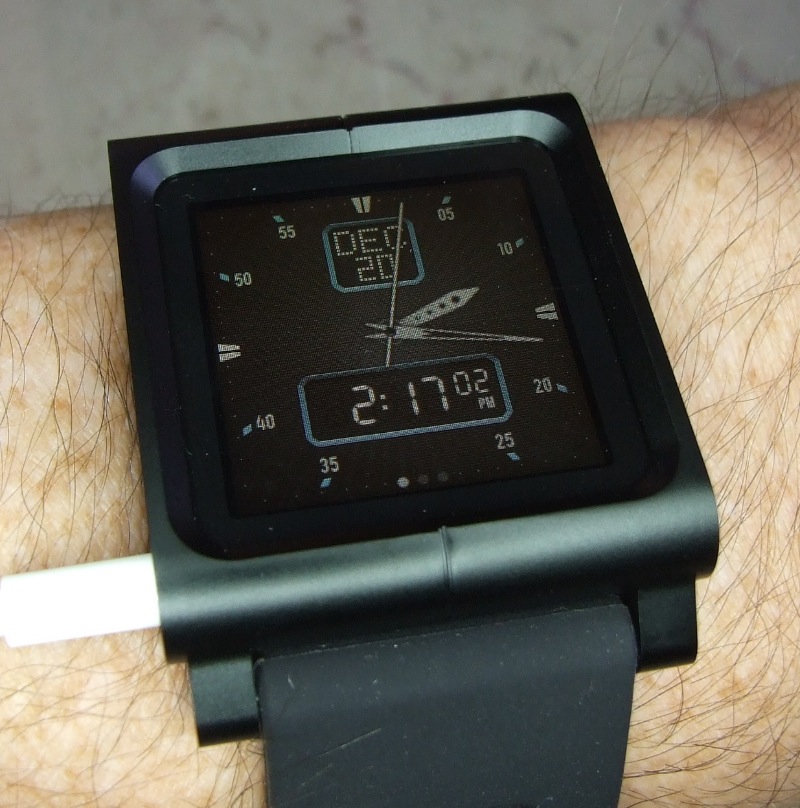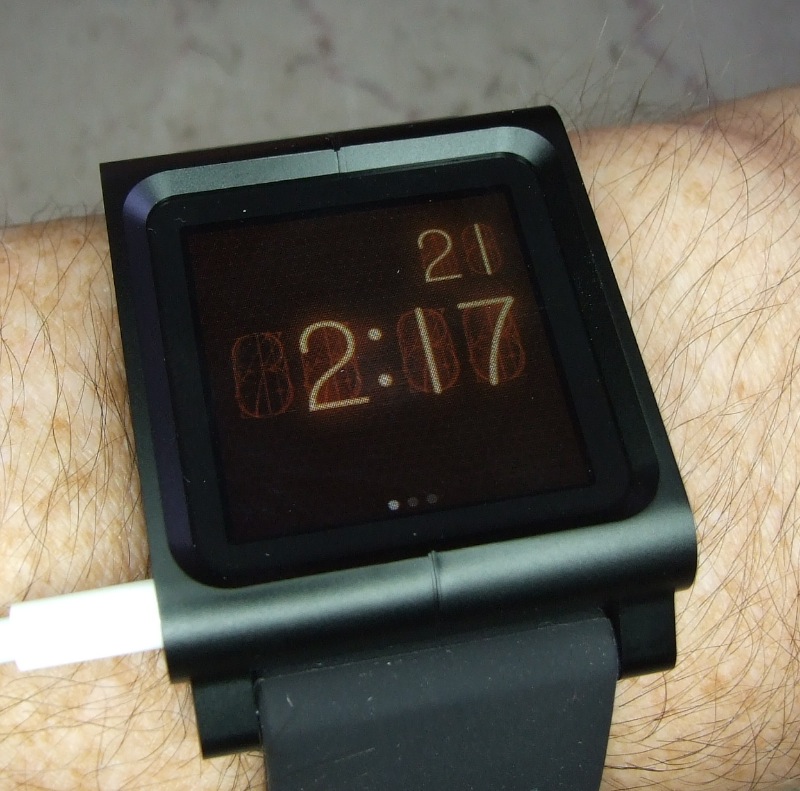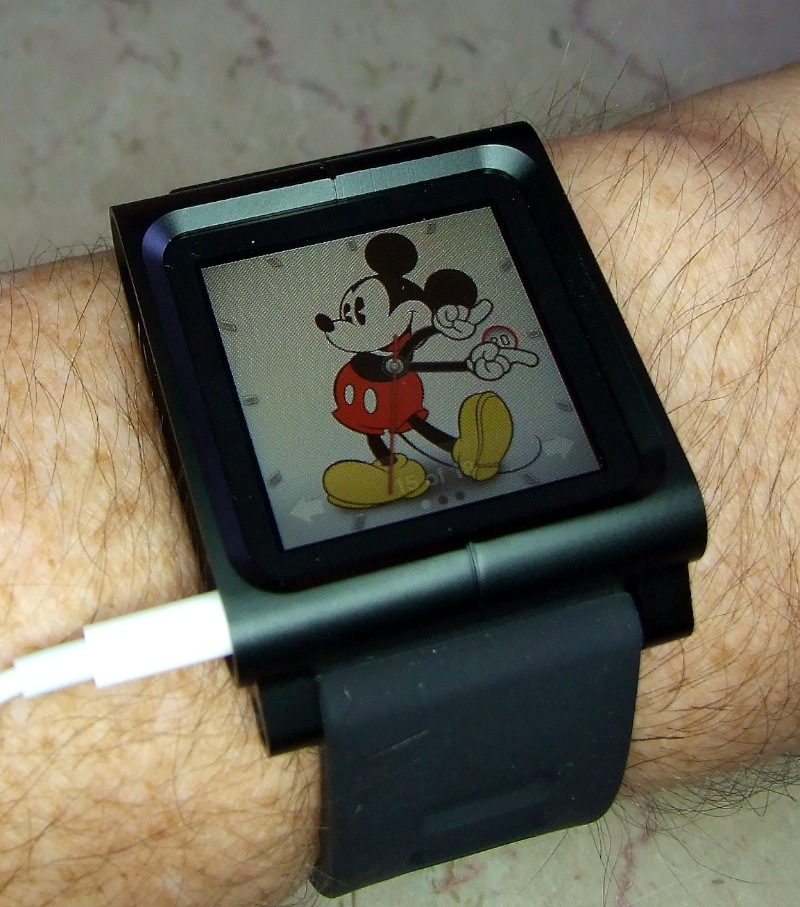 Caveats and drawbacks.
The scary drawback of the LunaTik is the lack of waterproofing. Rainfall, a splash from the sink - that's all it takes to cost you a Nano. That is in no way the fault of the LunaTik, but definitely keep it in mind before buying one. I always get my watches wet, but maybe that's just me.
Also, the Nano does not have the battery life of a conventional watch. You'll need to charge it, depending of course on your use of the screen and apps. I'd guess at least weekly.
Another thing to note is that the Nano turns off the screen if you're not using it, so most of the time you'll have to press a button and swipe to get the time. It's primarily an iPod, after all.
Context
LunaTik also makes a plastic version that lacks the raised bezel, for about half the price. You'd need to be more careful of the screen, of course.
As the LunaTik folks note, Apple is streets ahead of the watchmakers on digital miniaturization. No one else has a multitouch LCD screen like this, much less the tuner, Nike+ radio, MP3 player and gigabytes of storage. There are other Nano adapters, but in my educated opinion none are as well made as the LunaTik.
If you want a way to listen to podcasts, music and live radio while tracking distance with Nike+, this is the way to go. I also recommend using the iPhone headphones, as the remote works with the Nano and is a nice way to play/pause and set volume.
Wrapup
This is an interesting 'watch' to review. It's primarily an MP3 player (and radio, and pedometer, photo viewer, alarm, stopwatch, etc, etc) that as LunaTik puts it:
LunaTik is a premium permanent conversion kit designed for those wanting to dedicate their iPod Nano primarily as a wrist watch.
If you want cheaper, you can get their plastic version, but I'd recommend this one. The combination is surprisingly classy; I've certainly seen much worse worn with suits and it should last for many years.
If I get an excuse, I will buy one. As I said above, this combo is headed out as a present, but I now wish I could keep it myself. It'd be great for walks, errands and shopping. Is it just me or do stores play music designed to drive you batty? Anyways.
Disclosure
Noted above in blue. Again, my thanks to TicWatches.
Related links
Attachments:

lt-21.jpg
(image/jpeg)

lt-1.jpg
(image/jpeg)

lt-2.jpg
(image/jpeg)

lt-3.jpg
(image/jpeg)

lt-4.jpg
(image/jpeg)

lt-5.jpg
(image/jpeg)

lt-11.jpg
(image/jpeg)

lt-12.jpg
(image/jpeg)

lt-14.jpg
(image/jpeg)

lt-23.jpg
(image/jpeg)

lt-24.jpg
(image/jpeg)

lt-16.jpg
(image/jpeg)

lt-7.jpg
(image/jpeg)

lt-15.jpg
(image/jpeg)

lt-22.jpg
(image/jpeg)

lt-17.jpg
(image/jpeg)

lt-18.jpg
(image/jpeg)

lt-19.jpg
(image/jpeg)

lt-20.jpg
(image/jpeg)

lt-25.jpg
(image/jpeg)

lt-26.jpg
(image/jpeg)

lt-27.jpg
(image/jpeg)

lt-31.jpg
(image/jpeg)

lt-30.jpg
(image/jpeg)

lt-29.jpg
(image/jpeg)

lt-28.jpg
(image/jpeg)

lt-27.jpg
(image/jpeg)