Laco Abacus 2 ref 851051
Introduction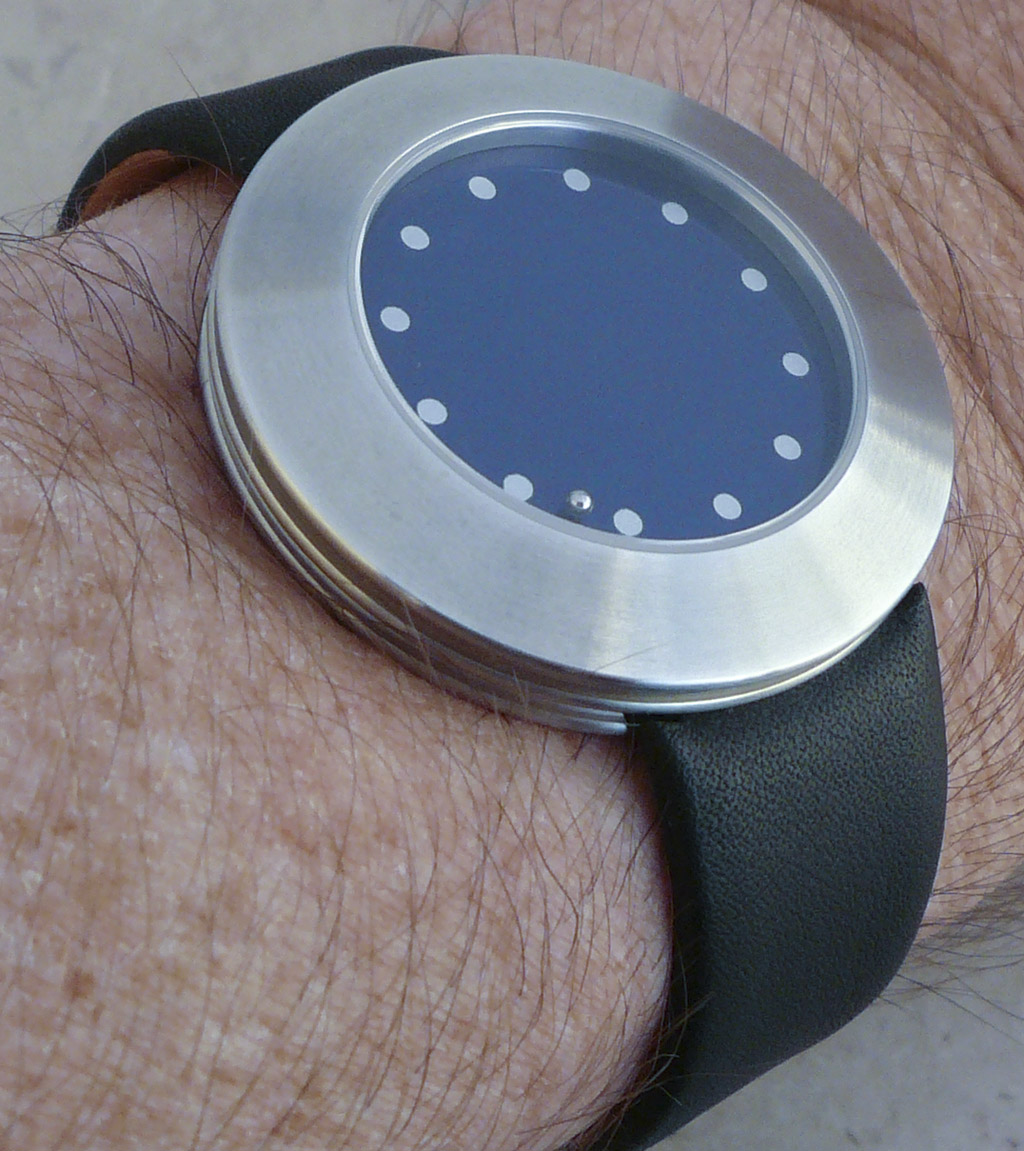 The hallmark of a dress watch is the reduction of detail. Forget chronographs; a real dress watch like a JLC UltraThin has only hours and minutes: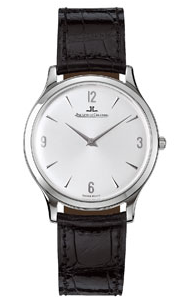 (Image credit: JLC)
With that ideal in mind, the Abacus Series 2 is even dressier. To tell time, you have a small steel sphere that rolls freely around the dial, and attracted to a magnet under the dial at the current time. As you can see by the instructions below, with practice you can read the time to the nearest 15 minutes or so... not a watch for those on a tight deadline!
Specifications
Packaging
Basic cylindrical tin, expanded foam, with a paper insert showing how to read the time: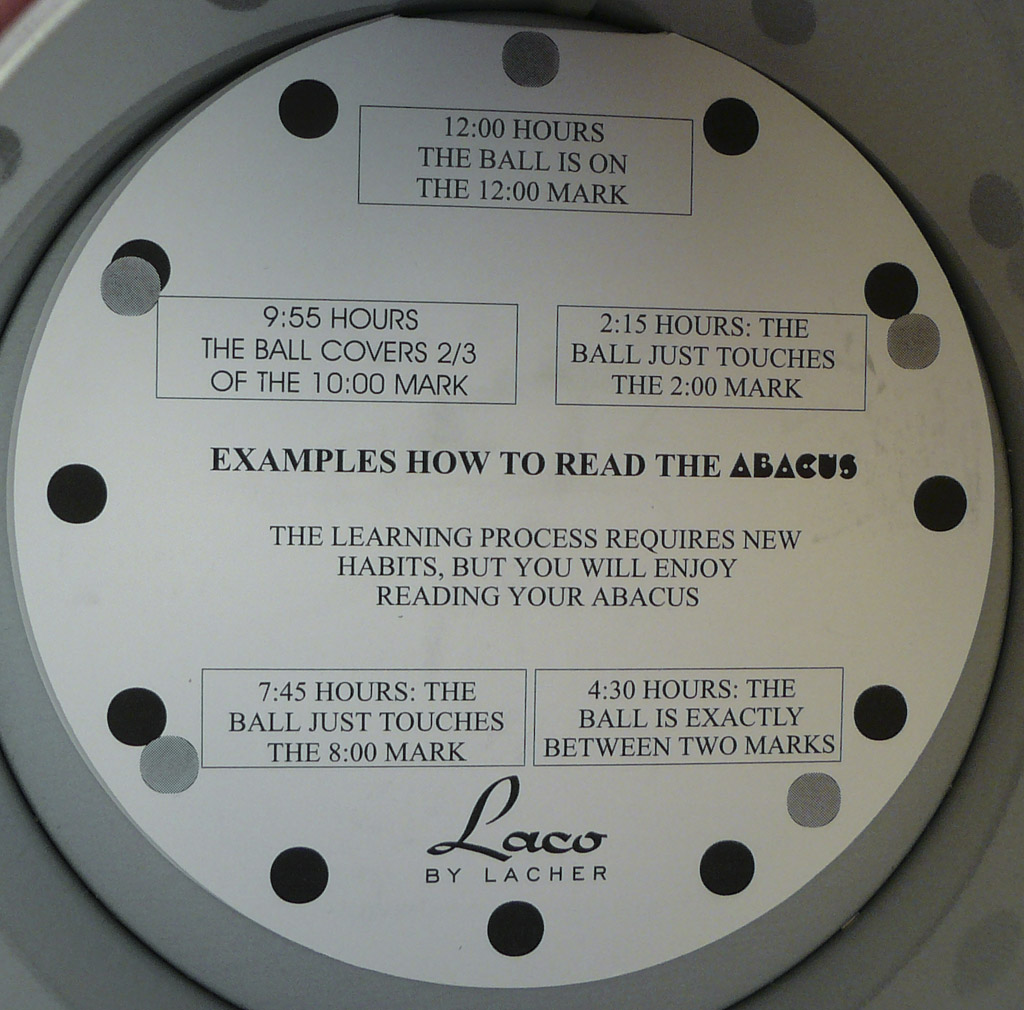 Case, caseback, crown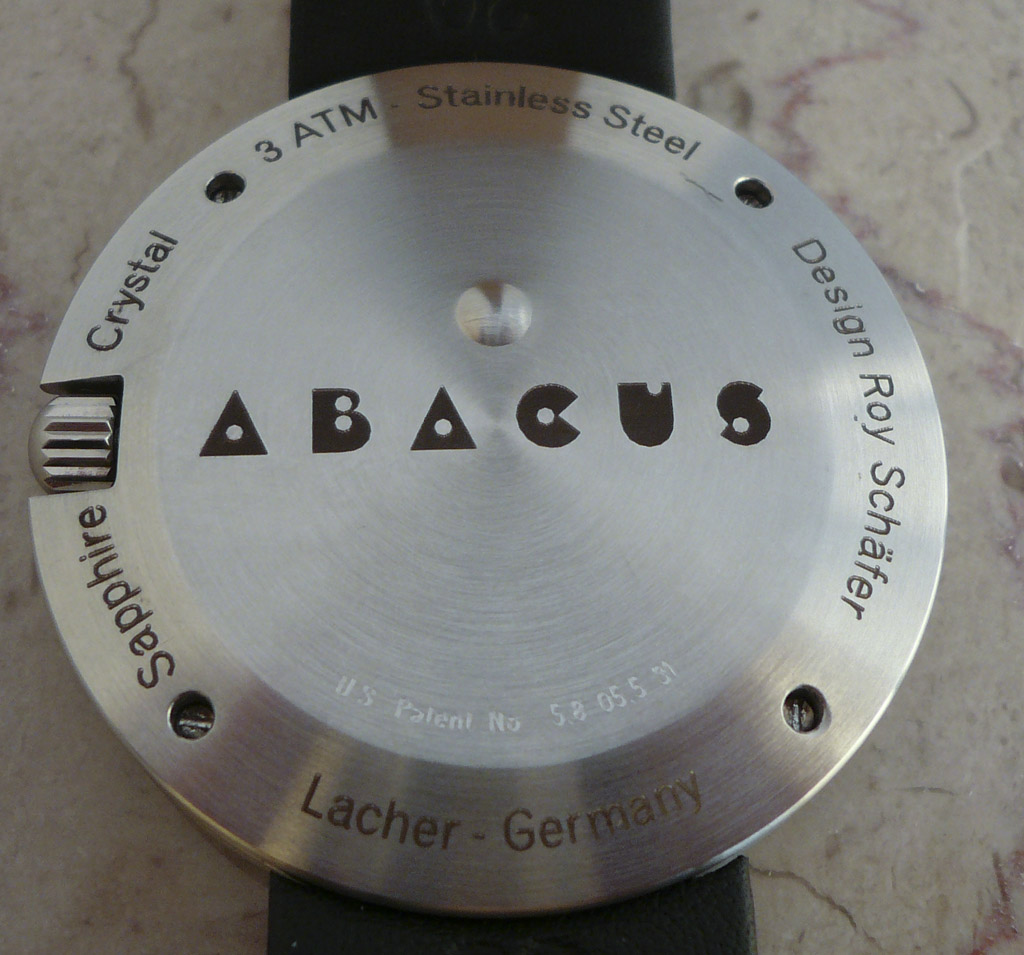 Nicely executed caseback, with all the information not plastered on the dial. Well done. Note the crown, a hidden design, beautifully tucked into the case.
From the side, the case is lovely, with crenellations and a beveled profile:

With the sapphire crystal, the case is quite durable, and should last for decades with minimal care. Personally, I need a more precise read on the time; this is more a watch I'd wear to formal occasions.
Dial and bezel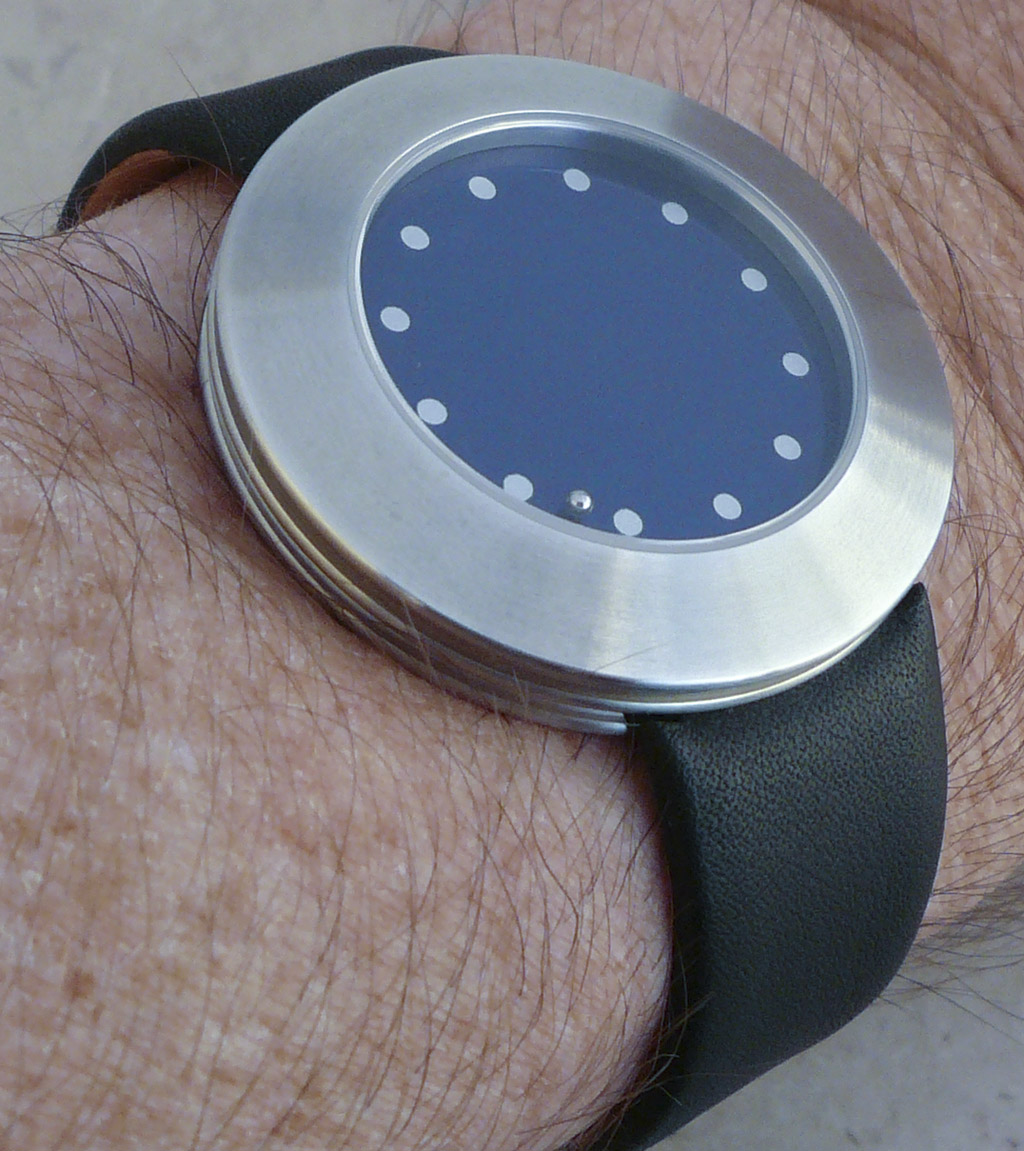 Deep, deep, blue at just the right light, appears black almost all of the time. Simple circles at the 12 positions. Disconcertingly, the ball bounces around the dial most of the time, so to read it you place the watch flat and twist it about until the magnetism grabs the ball in place. As I said, not for those on short deadlines, but like the Yes Inca it does redefine your sense of time and urgency.
Bracelet/strap
Nice calfskin, well tanned.
Luminosity
None.
Movement
Basic Swiss quartz, battery powered.
Timekeeping
Impossible to tell, since it can't be read exactly, probably the usual +- 15 seconds per month.
Opinion
Note that this one has more designers asking me about it than any other watch I've had. People who are picky about design love this watch. Striking, unobtrusive, very unusual and classy as hell. You'll know if it's for you.
It's very comfortable to wear, very light and low profile, and quite fun to watch the ball bounce around the dial.
Context
Competition: Little to none. It's a unique design.
Value proposition: Quite good at 250 - sapphire and 316L are unusual at this price.
Wrapup
Overall, is it a keeper? Hmm. For me, probably not, I just have too few occasions to wear such a dressy, imprecise watch, and I prefer prefer mechanical divers for the most part.
Would I recommend it? That's easier. Yes, I would.
Would I buy it? Not for me, but as a gift, yes.
Would I keep it? See above - not my personal style.
Disclosure
Watch loaned by Tony DeBano, I plan to return it with deep thanks.
Related links
Attachments:

Screen shot 2010-09-26 at 4.50.26 PM.png
(image/png)

packaging.jpg
(image/jpeg)

how-to.jpg
(image/jpeg)

back.jpg
(image/jpeg)

wrist-angle.jpg
(image/jpeg)

profile.jpg
(image/jpeg)

wrist-angle.jpg
(image/jpeg)