Table of contents
Error rendering macro 'toc' : null
Halios Holotype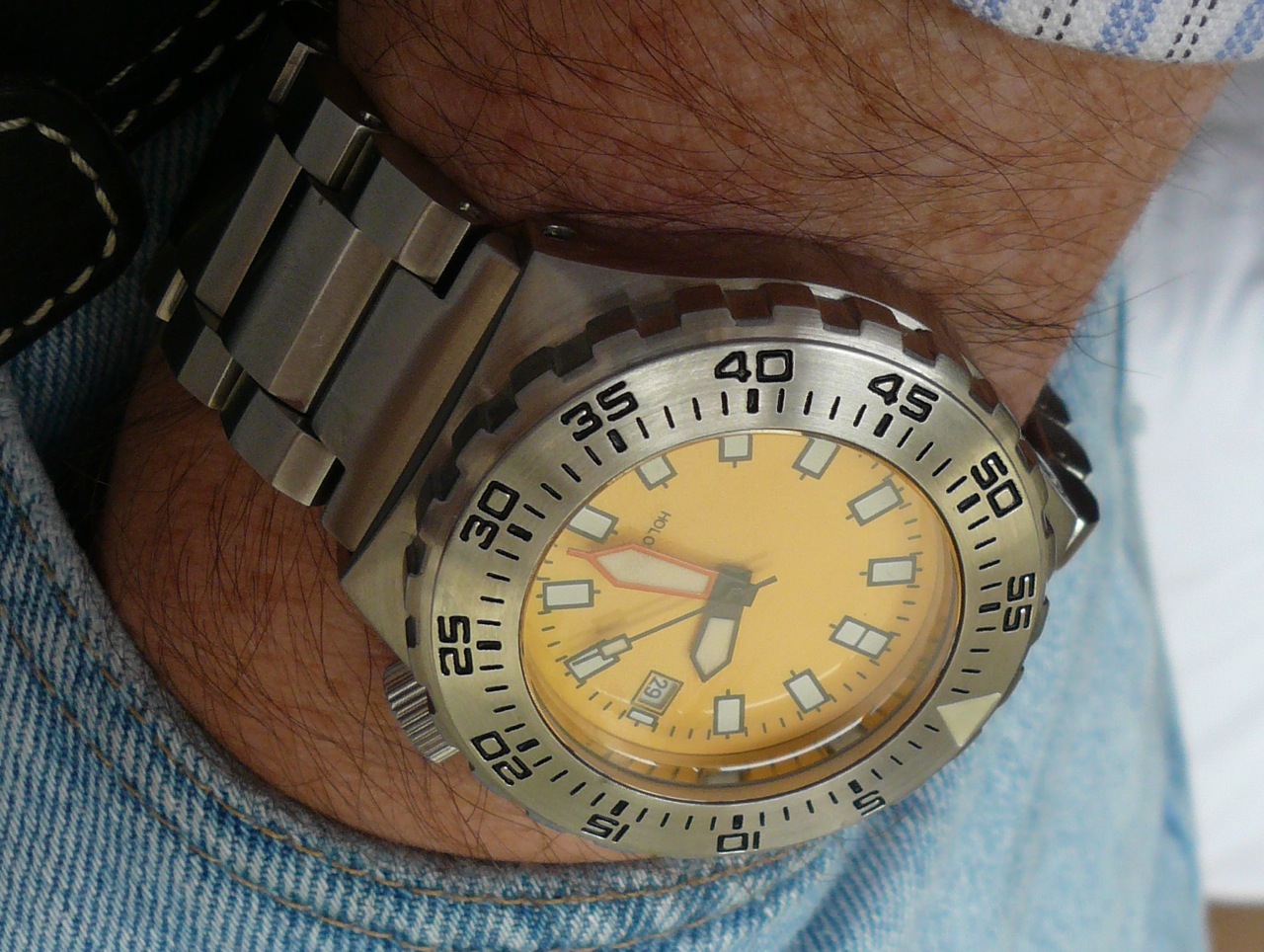 Introduction
This review is a re-post with edits, originally posted to Fnord and Ariel's site. I'm moving watch content from Fnord to WatchOtaku, and this is my first such migration.
A few months ago, my colleague James Stacy on WatchReport reviewed a new dive watch by a Canadian company, the Halios Holotype. I read the review and was intrigued, but then again I already have the fancier Seiko Marinemaster, which seemed to preclude another diver in the collection. However, as I did my research around the net, (1, 2, 3, 4, 5) I couldn't believe the amount of unalloyed reviews and fans that I was seeing. Everyone seemed to like the Holotype, and that's pretty darn rare. I had to see this for myself! I sent an email to Halios, who graciously agreed to send me a previously-loaned review watch, with the option to buy it if I liked it.
The $325 Holotype is the first watch from Halios, and is Chinese made with a Japanese (Miyota) movement, designed in Vancouver, BC. The Chinese sourcing is quite common among the new wave of startup dive watch brands, as the case, crystal, bracelet, hands and dial makers in China have ever-improving quality and unbeatable prices. For a movement, Halios sensibly went with the Miyota 8215, an absolute tank with an solid reputation since its debut in 1977.
The Holotype also shares with other boutique brands the idea of small production runs. (The initial Holotype run is already sold out.) There were six variations: Yellow or black dial and brushed, bead-blasted or PVD black finish. James reviewed the yellow dial/PVD version, but that was sold out and Jason Lim of Halios sent me the yellow dial/brushed finish combo at my request. Ever since my regrettably-sold Seiko SKXA35 I've had a fondness for yellow dials, so I was quite excited to get another.
Specifications
Size: 44mm by 16mm, 45mm lug to lug, 24mm lugs
Weight: Unknown
Water resistance: 300m
Movement: Miyota 8215
Bracelet: Solid screwed links, solid end links, diver's extension, one micro-adjustment, pushbutton signed clasp with fliplock, appx 5mm thick.
Lume: Superluminova
Materials: 316L stainless steel
Crystal: Sapphire, flat, uncoated
Price, availability and discounts: $325
Signed, screw-down crown
Packaging
I got a used review watch, so I'm not sure what the original packaging was. Mine arrived in this reusable travel case: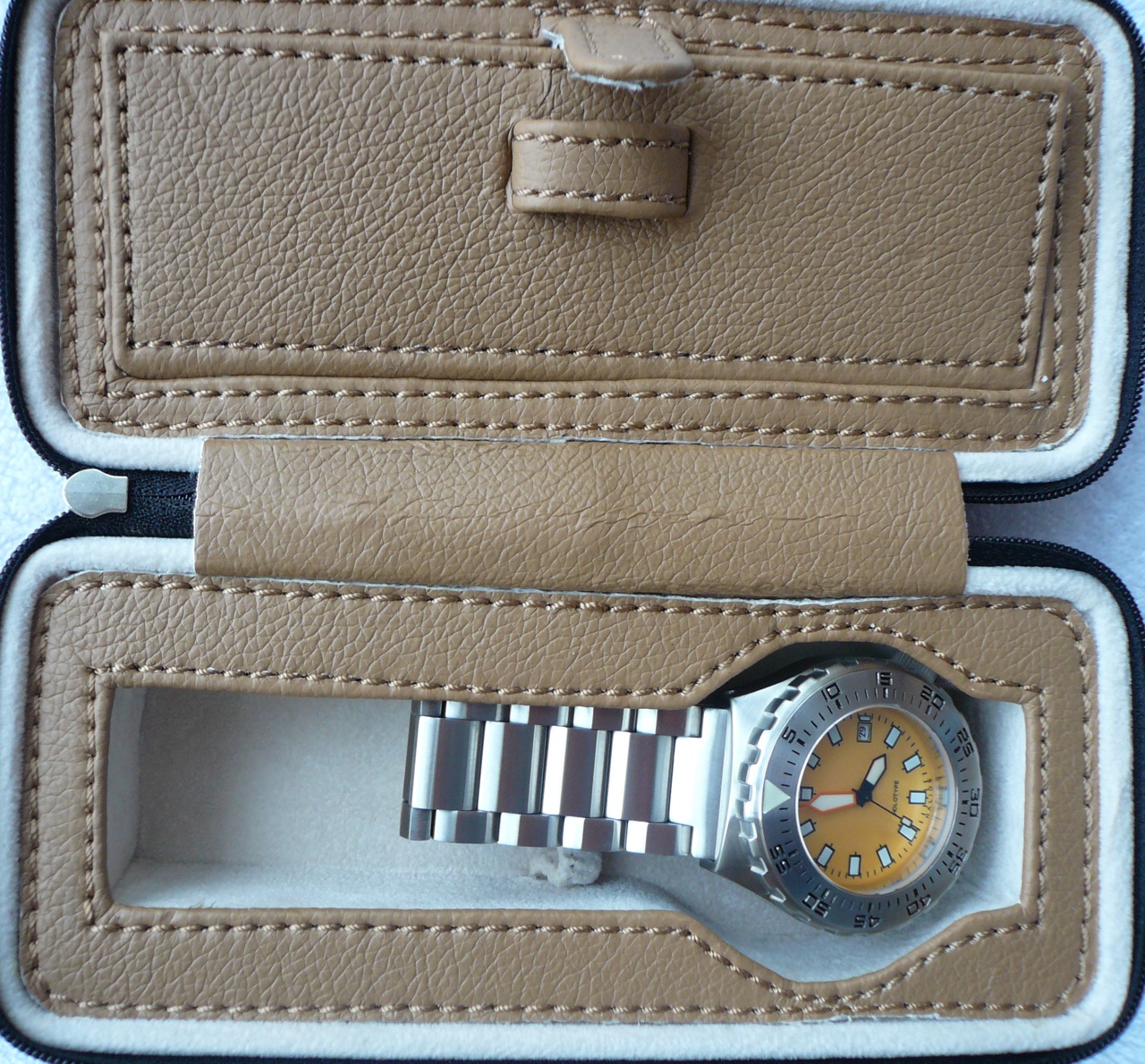 Apparently the newer watches from Halios will be shipped in the Pelican micro 1020 case.
Case, caseback, crown
The case on the Holotype is machined from a block of 316L stainless steel, in a vertical-sided design that defies shirt cuffs and understatement. The squared-off hooded lugs shown above reduce the length of the watch, which makes it wearable to people with smaller wrists. You can also see the crown recess, drilled lugs, screwed links and springbars as well. Note the triple-crescent Halios logo on the crown, quite nice.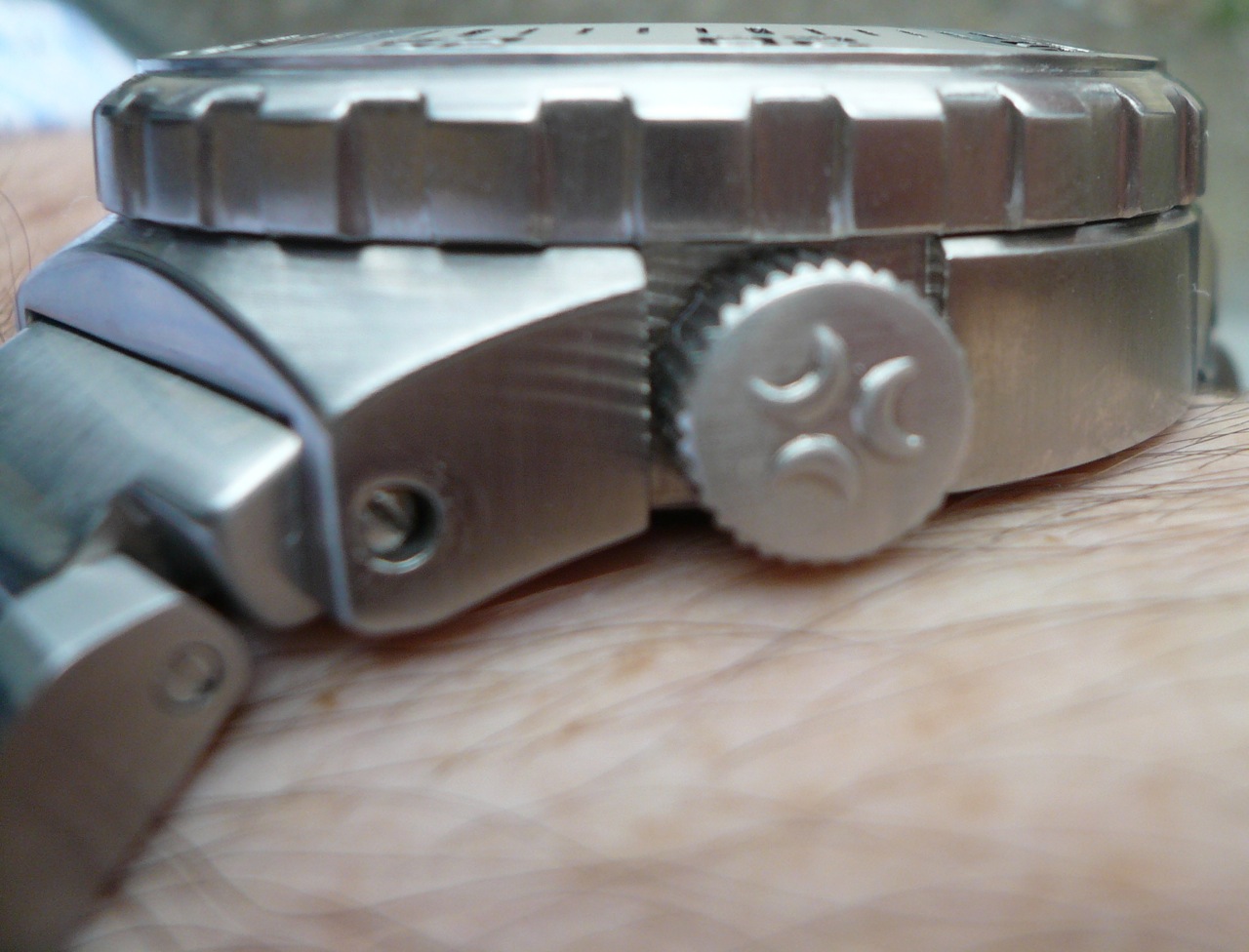 The screwdown caseback has an etched center section, serial number and basic information: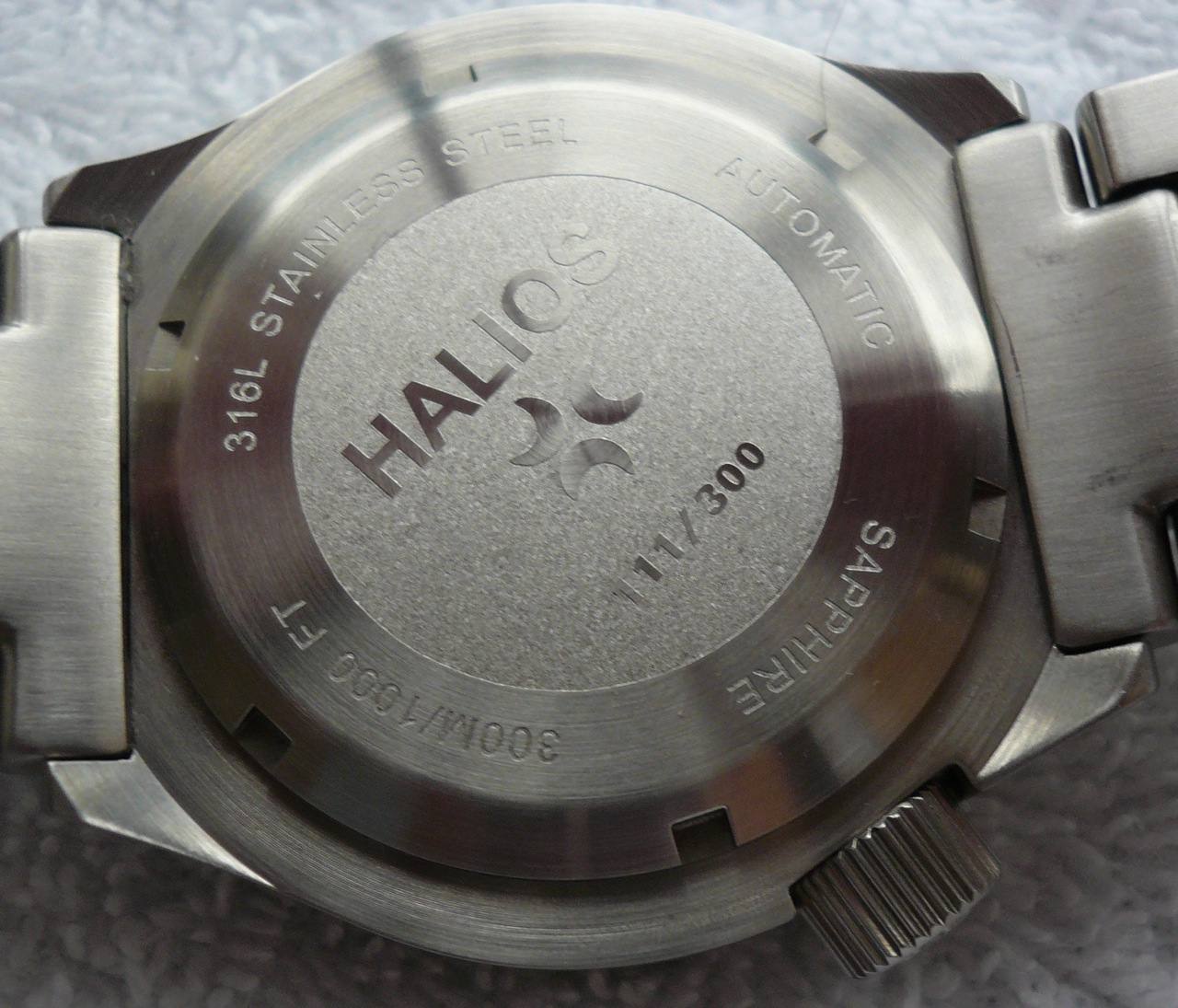 Here, you can see that the sides are a bit concave, not sure if that's on purpose or a milling imperfection:
That picture also shows the arched case above the hooded lugs, an unusual design touch. As you'd expect from its slab-sided profile, the Holotype tends to not slide easily under long sleeves.
Dial and bezel
The bezel is slightly tapered and sits perhaps 0.5mm above the crystal. Minute markers are etched or engraved and nicely filled with black paint. A closeup shows the construction and a few rough edges: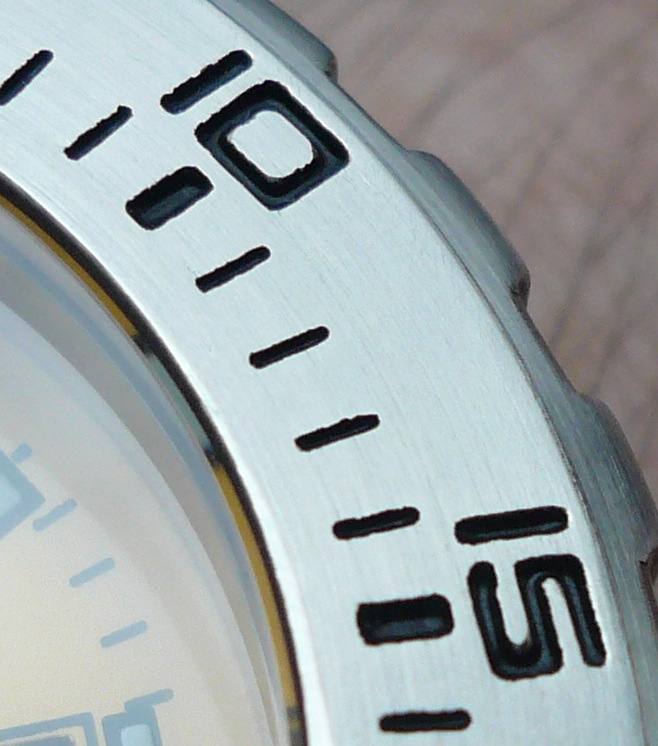 Heres a shot of the dial and bezel for perspective. Note the unavoidable reflection from the uncoated sapphire crystal:
The dial itself is an orangeish yellow, flat finish, with painted Seiko Lumibrite on the markers. A closeup shows some minor alignment issues with lume and ink: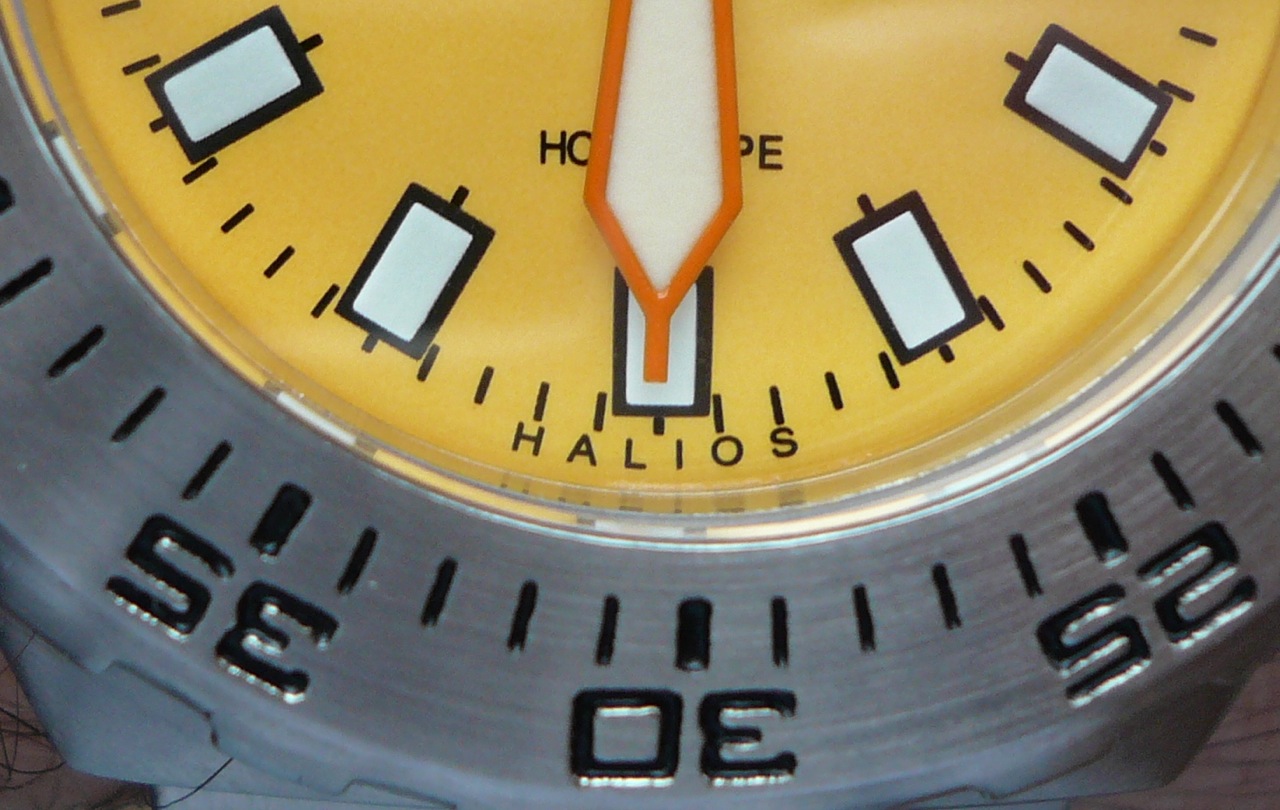 As noted above, the brandname and model name are quite understated.
Bracelet/strap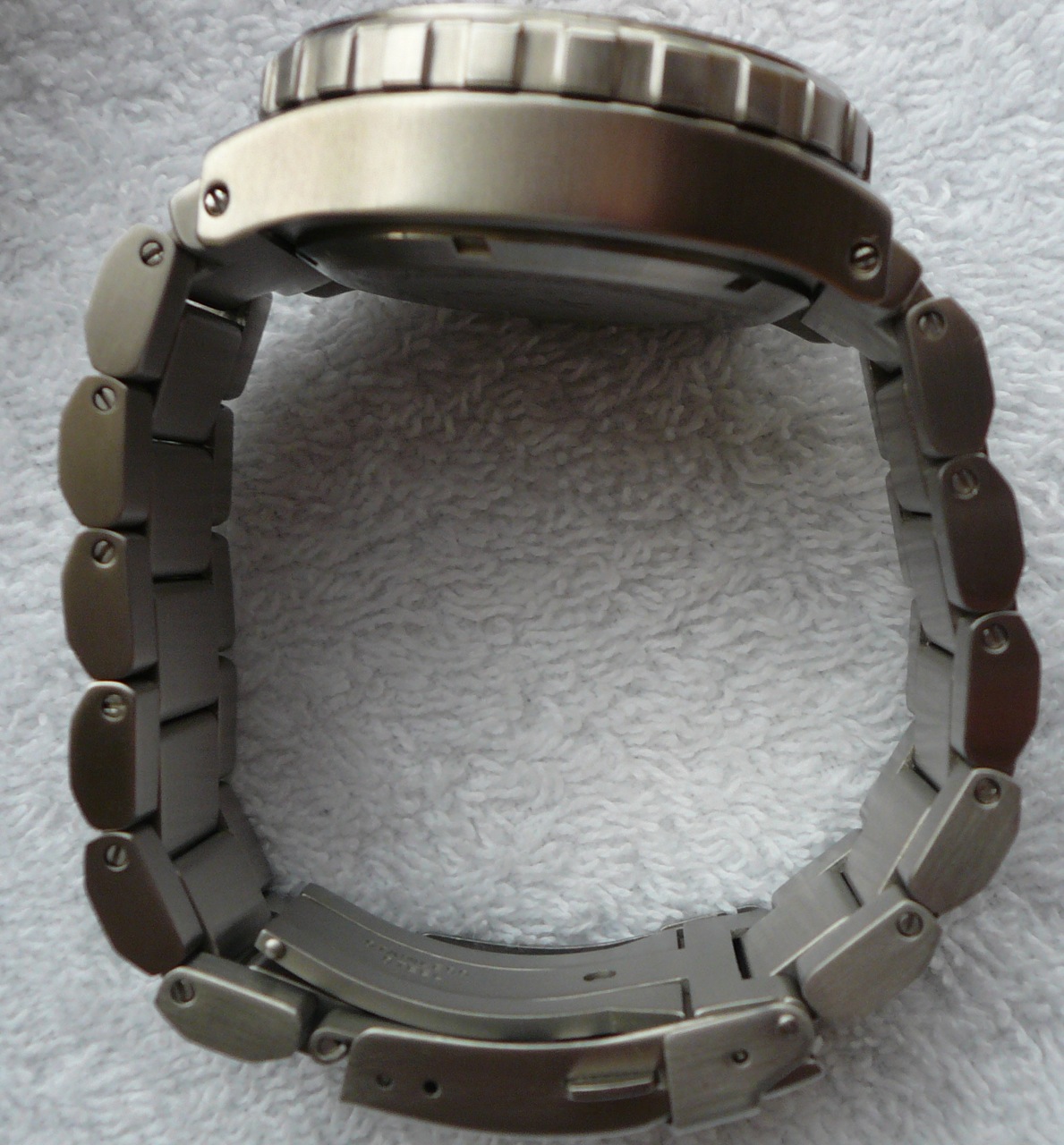 Here, you can see the screwed links, six-sided in shape. They're unusually thick and solid, well matched to the case. The clasp is signed, with a micro-adjustment and diver's extension:


Here is the clasp with pushbuttons and fliplock: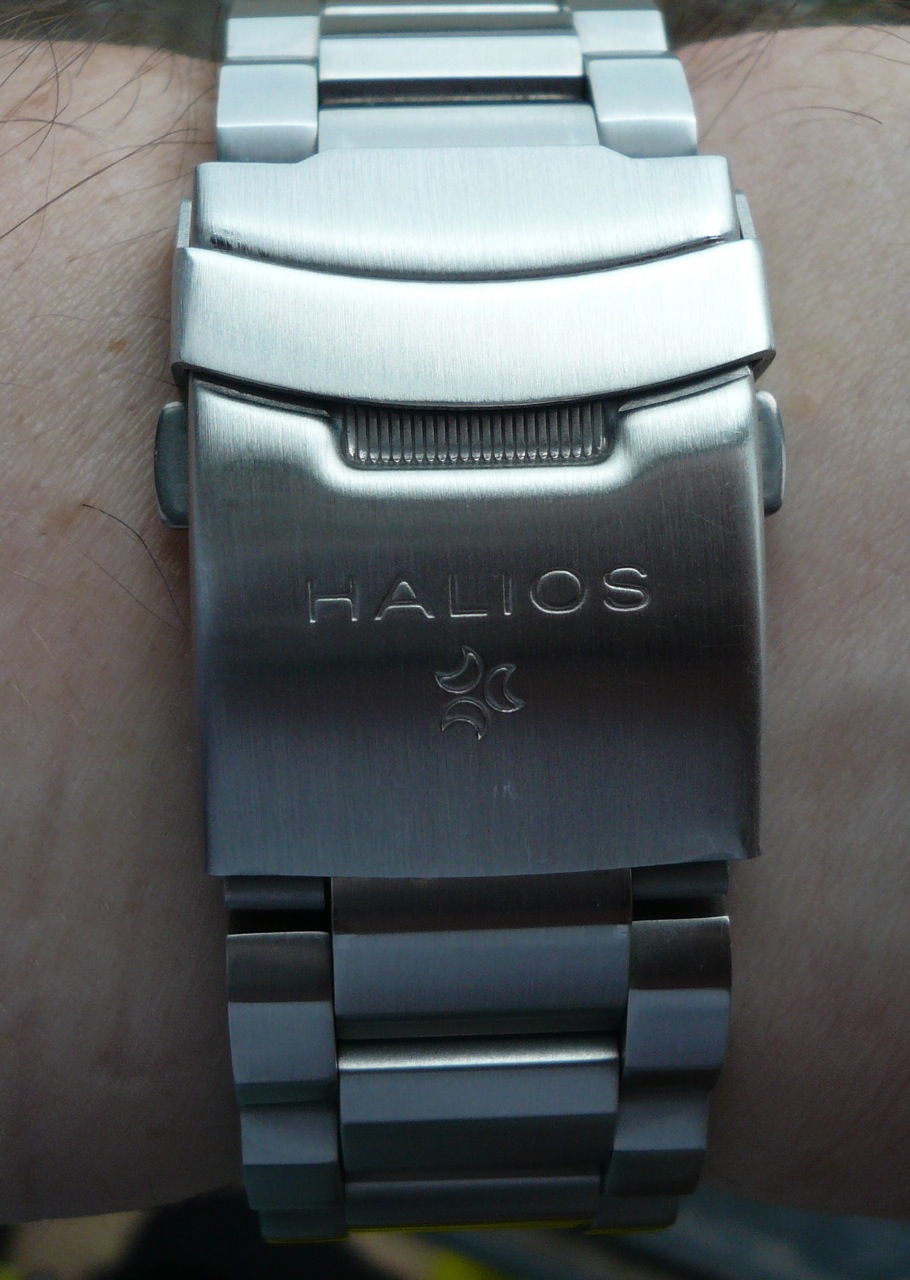 Luminosity
The Holotype uses Superluminova on hands, indices and bezel, and is quite bright. Easily visible 8 hours later after a full charge.
Movement
Please see the 8215 page for details. I'm still working on my watch timer, so I don't yet have performance data.
Opinion
Bezel, dial, face
The bezel is quite wonderful to use the bezel triangle is a solid block of lume, which is very bright at night. The 120-click bezel action feels like that of a bank vault, solid and precise. The rough edges of the etched numerals are only visible at close inspection, while the black-on-steel color is quite readable at a glance. As with all deep-dial watches, parallax between the bezel and dial makes accurate elapsed time readings tricky to get right if you want to read at one-minute or better accuracy. The bezel notches are pretty grippy, though I have to apply a bit more force when its wet; still quite usable with bare fingers or gloves.
The black-on-yellow hand/dial combination provides good contrast and readability in almost all lighting, though the orange minute hand is a bit less contrasty and thus less visible than Id like. Personally, Id prefer black for it as well, but even so its very readable once you get used to it. Visibility at night is excellent, with lume brightness and longevity a close second to Seiko divers.
Bracelet
From the outside, the faceting and oyster-style proportions remind me of tank treads. Its a cool look.
This massive and solid bracelet is an excellent match for the weight of the watch itself, and is well-matched in build quality and visual design. The screwed links are unheard of at this price, and with the included tool make sizing the bracelet something you can easily do yourself at home; bravo! I find it to be comfortable enough that Ive had no desire to fit the included silicone strap yet, even in 90 degree weather.
On the minor-negative side, the link profile between links is triangular, so combined with the close spacing it can sometimes pull a hair. Rare but worth noting. Generally extremely comfortable.
Build quality on the bracelet is first rate; no rattles, squeeks or ill-fitting bits to be found. It may well be the most impressive part of the whole watch.
Travel case
Halios made the smart decision to ship the Holotype in a reusable travel case instead of the usual presentation box that you immediately stick on a shelf. I immediately used the case when packing for my vacation, and am very pleased with it. A very thoughtful touch, as was the inclusion of silicone strap and required tool. They also have included (not pictured) two spare links and linkages for the bracelet.
Movement
The accuracy on mine is so-so, perhaps +10 seconds per day. I'd also prefer a hacking movement, as they're easier to set. However, for the price it's acceptable and can be adjusted for better performance.
Overall take
I love this watch!
Its hard to explain the appeal rationally, given the objective facts, but somehow the gestalt of design and build is compelling as hell. This is just an awesome watch, and even though Ive others with me its been my sole wearer for weeks now. The cheerful yellow face, hefty weight on the wrist and gorgeous bracelet add up to a unique watch thats superb to wear. As you can see from the first picture, it even works with a dress shirt if you're willing to be bold.
Its eminently practical as a dive watch or daily wearer, built as it is of first-rate materials. Stainless and sapphire are what I prefer to see, as its almost impossible to scratch the crystal. The brushed finish will ding up a bit, but to me that shows honest use and adds character. (You should see my Marinemaster after three years!)
The Halios blog is already starting to talk about the successor BlueRing and I cant wait to see one in person.
Its a keeper for sure. Highly recommended.
Context
There are a lot of new companies making small-run dive watches, see OceanicTime to learn more about them. Most cost more, typically 400-500$, so the Holotype is by comparison a better value.
Wrapup
Overall, is it a keeper? Yes, absolutely
Would I recommend it? Yes, without hesitation
Would I buy it? Yep!
Would I keep it? Yep!
Disclosure
Many thanks to Jason Lim of Halios for the opportunity to review and enjoy this watch. I offered to buy it, but he refused and I have my first donated watch!
Gallery
Related links
Attachments:

P1020908.jpg
(image/jpeg)

P1020902.jpg
(image/jpeg)

P1020903.jpg
(image/jpeg)

P1020911.jpg
(image/jpeg)

P1020900.jpg
(image/jpeg)

P1020906.jpg
(image/jpeg)

P1020901.jpg
(image/jpeg)

P1020905.jpg
(image/jpeg)

P1020910.jpg
(image/jpeg)

P1020913.jpg
(image/jpeg)

P1020904.jpg
(image/jpeg)