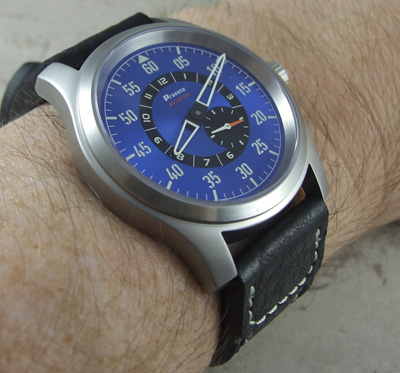 Things I liked
Cool blue dial, with nice bits of color here and there (e.g. second hand) and a subtle radial sunburst finish.
Good lume
Interesting refresh on the flieger design - not just Yet Another B-Uhr.
Nice packaging, really useful 4-watch rollup carrier with logo.
Well made and finished
AR coated crystal
Gorgeous strap and buckle
Things I disliked
Size. Just too large for my current tastes at 44mm. Interestingly, the co-worker that bought it was most interested in the larger watches, so perhaps I'm just out of fashion here.
Skeletonized hands. Meh. No need to see underneath them, and in my opinion they're less legible.
While the Miyota 8245 is a good movement, I'm getting picky about accuracy and want ones that hack.
Overall, I'd say the size was the dealbreaker for me. Which is wildly inconsistent, since I'll sometimes wear the 4mm larger Yes Inca. Inexplicable, that.
Links