Intro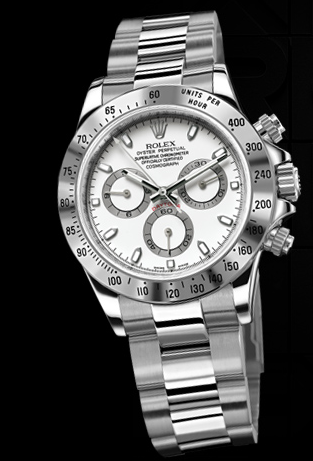 (Image credit: Rolex)
The Rolex Daytona is an iconic watch, distinctive in style and often difficult to purchase. Even by Rolex standards it is expensive, often near 15k in steel.
Personally, I don't like it very much - no date window (really?), low-contrast hands and the spectacularly useless fixed tachymeter bezel.
That, and even in steel it's way too blingy. This is a watch to demonstrate your wealth to all and sundry.
History
Introduced in the 1960s, the Daytona has used at least three different movements - the Zenith El Primero, the Rolex 4130 and at least one other, probably a Valjoux.
Links and more info
Attachments:

Screen shot 2011-05-21 at 9.36.15 AM.png
(image/png)

Screen shot 2011-05-21 at 9.36.01 AM.png
(image/png)