Watch page - Glashutte Original Sport Evolution GMT

The Narrative
I wore this one with great delight for over a year, then it started keeping non-chronometer time and I sent it in for a movement and a case service. That took several months (and $860) and when it came back I was, sadly, bored of its brilliance and prestige. So I left it wrapped up, figuring that it'd be lots easier to sell if I had full service papers and a 'LNIB, not worn since service' description.
I never got around to actually posting it for sale, though my WatchRecon habit had me contacting a few sellers to see if they'd swap for it. In the end, a super nice Nebraskan who collects Grand Seiko had this long-desired beauty, and we made a killer deal: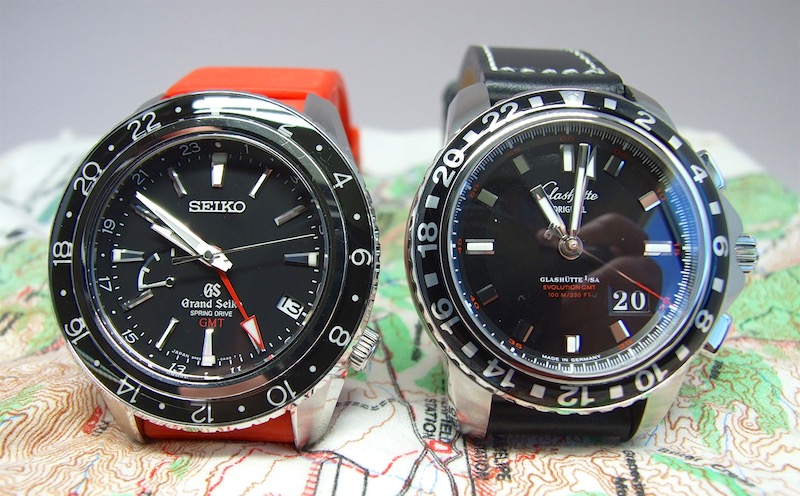 (Lots more on the SBGE001, up next!)
About a year and a half of ownership.
Pros and Cons
If you're looking to impress watch geeks, your wife, and that Tourneau salesman, Glashutte Original is aces. Hugely and uniformly respected, they are European, with in-house movements and impeccably designed. Very high-status watch, and probably the best 'prestige for the dollar' value I've known.
In a bit of cosmic irony, my job changed to zero travel, so I never got to use the signature feature of this model, the pushbutton timezone changes. I am sad about this. I still think it'd be an awesome watch for someone who's traveling multiple times per month. Boom, done.
Good lume, good to great legibility, and that in-plane big date is the best I've ever seen. Nicely detailed dial, gorgeous movement and the 20mm lugs made for a plethora of strap options.
Big negative - at 100m rating, I was afraid to get it wet, ever. 
What I learned
For me, and a daily-wear watch, I want to be able to shower or swim without worrying, and my distrust of depth ratings is a showstopper when a watch costs this dang much.
I also learned that, on a low-key strap, none of my co-workers registered it as a nice watch, which for a computer geek is a nice thing. I got to rock an awesome watch and not have to explain why: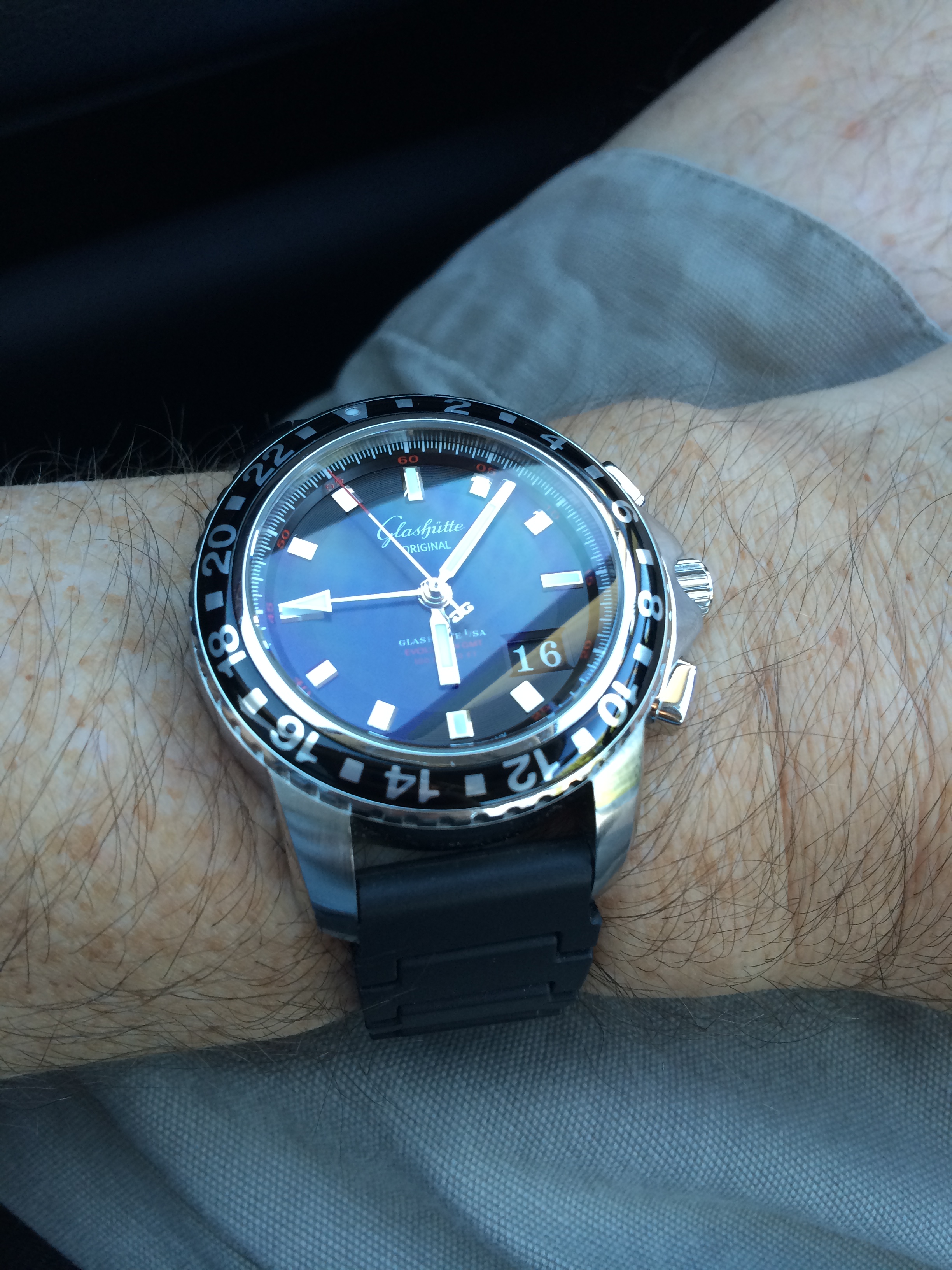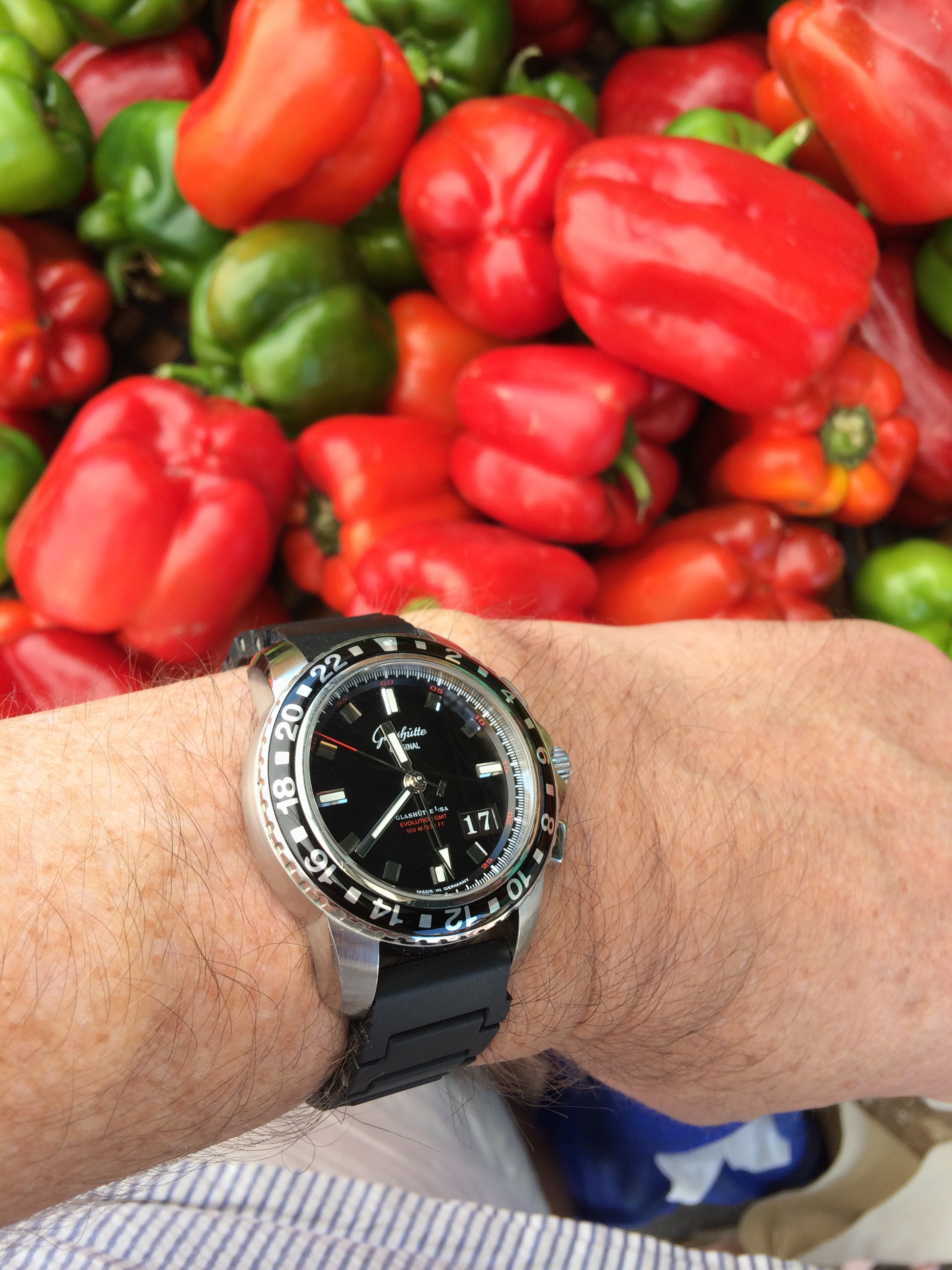 I need lume too, I had almost swapped for a non-lumed Grand Seiko but after sleeping on it I realized that I want to wear the same watch, non-stop, even at night, and I want to be able to see the time when I'm woken during the night.
I love drilled lugs too. I've already ordered three red-detailed straps for the Seiko.
Lug-to-lug distance and thickness matter a lot to me. Despite the similar diameter, the Seiko wears much more comfortably and that's a nice surprise.
Under a loupe, the casework, dial and hands of the Grand Seiko are all better made and finished than those of Glashutte Original. I had wondered, and yeah, I used the GO loupe to confirm it with my own eyes. GS finishing is better.
Summary
Would I buy it again? Ehh, hard to say. I suspect the improved timekeeping of the Spring Drive will make a convert out of me, and likewise for the value proposition. I did greatly enjoy wearing it, and didn't lose too much money, so maybe.
Dollars and cents
I paid $4400 to buy it, and $860 to have it serviced. I accepted the GS at $3700 value plus $1000 for the GO, or $4700. That's not bad, and much better than I've done before. I think it was a fair deal for both parties, and with a bit of luck I've made a new friend in the GS collector.
Links
Attachments:

wo-5.jpg
(image/jpeg)

2014-08-16 18.05.48.jpg
(image/jpeg)

2014-08-17 11.37.33.jpg
(image/jpeg)